A British Guard Wasn't The Only Fainting Officer During The Queen's Funeral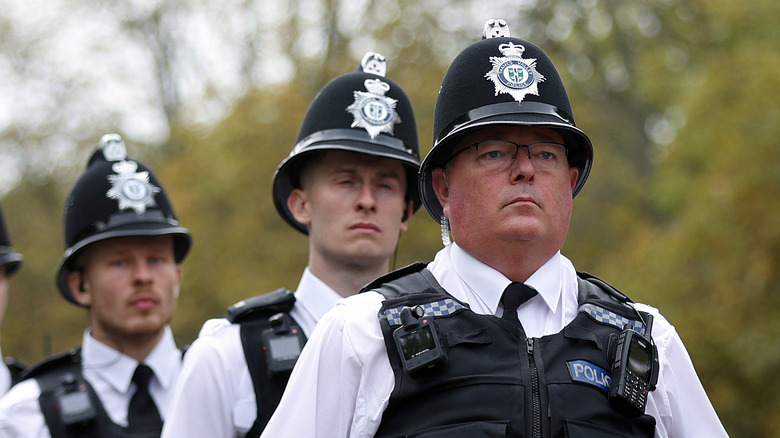 Alex Pantling/Getty Images
The state funeral for Queen Elizabeth II took place on September 19 at Westminster Abbey in London, after which time the monarch was laid to rest at St. George's Chapel on the grounds of Windsor Castle. These were the largest public events of their kind in recent London history (via CNN). Adequate crowd control and public safety for events of this scale and scope took a massive amount of planning, preparation, and personnel. 
Some 2,000 high-profile individuals from around the world attended the queen's funeral, and tens of thousands more gathered outside. Meanwhile, an estimated 2 million viewers tuned in to watch on the BBC, according to RadioTimes. Prior to her state funeral, the coffin of Queen Elizabeth lay in state for four days at Westminster Hall in London, during which time hundreds of thousands lined up to see it, with some waiting as long as 24 hours to get in. Likely overwhelmed and exhausted, by the time the state funeral took place, several British public safety officials, police officers, and members of the royal staff found themselves feeling faint.  Some passed out live on camera, as the Daily Mail explains.
One guard fainted inside Westminster Hall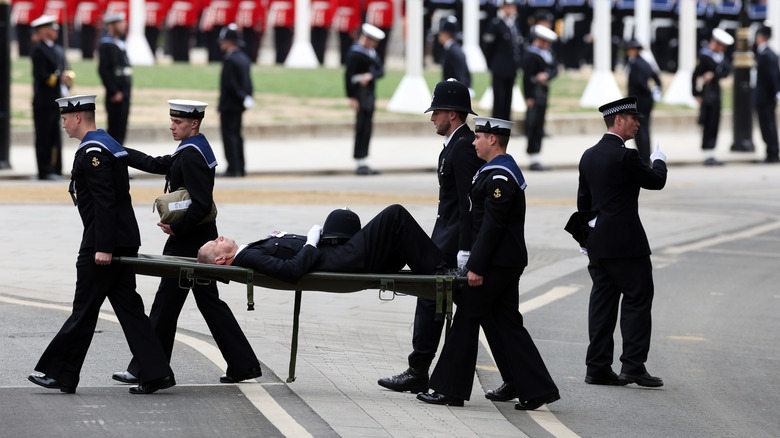 Wpa Pool/Getty Images
While lying in state at Westminster Hall, the queen's coffin was under 24-hour protection from public safety officers and royal guards. It was during this time that one guard swayed and finally fell before others rushed to his aid, based on Insider reporting. TikTok user @bg_8910 shared footage of the incident only moments before the live feed of the queen's coffin was cut off temporarily. It wasn't just British public safety officers who passed out while the funeral happened. While the queen's funeral procession made its way through the streets of London, two members of the Buckingham Palace staff and a British police officer also fainted. One is seen pictured above, carried off in a stretcher.
Elsewhere, a member of the elite Gurkha regiment (via the U.K. Army website) on Horse Guards Road reportedly appeared unwell, as the Daily Mail goes on to note. Each individual received medical attention and no serious injuries were reported. Fainting after prolonged periods of standing in one spot such as many did who attended the queen's service is not uncommon, and can sometimes be caused by orthostatic hypotension, also called postural hypotension — a type of low blood pressure. Isolated incidents of orthostatic hypotension are not serious, but it can require medical attention if such episodes happen frequently, according to Mayo Clinic.