One Of Dr. Seuss' Books Helped Make This Common Word Part Of Everyday Lexicon
For the most accomplished wordsmiths, writers and poets, it's very important to have a way with words. A vivid imagination is essential, too, in order to craft a work worthy of committing to the page in the first place, but that's nothing without the means of relaying it.
Rappers will often employ words that don't quite rhyme, safe in the knowledge that their rapid-fire tongue-twisting delivery and a rather odd pronunciation of a word will cover that nicely. Authors have been known to use similar word trickery: If there isn't a word that will quite fit the situation, simply coin your own.
Naturally, as language has evolved, some of the greatest writers have played a part in shaping it. According to the Shakespeare Birthplace Trust, the Bard of Avon himself is credited as having created over 1,700 words still used in today's English, including nervy, rant, and zany. Dr. Seuss, another acclaimed writer and manipulator of the English language, has left his own indelible mark upon it. It seems we have the children's author and illustrator to thank for making one particular modern, and very common, word.
A very early use of the word nerd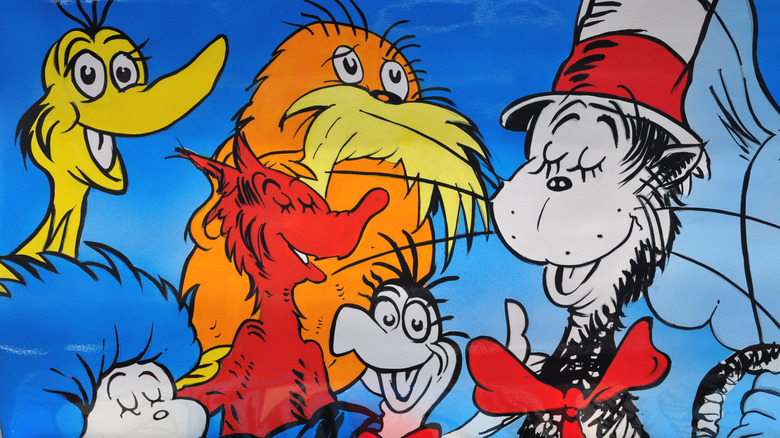 Ron Ellis/Shutterstock
Theodor Geisel, the illustrious Dr. Seuss, published his first children's book in 1937. Per Britannica, "And to Think That I Saw It on Mulberry Street" is the tale of a young schoolboy who imagines his walk home as a magical, impossible journey. This became Seuss's calling card: his sheer, unbridled creativity, his limitless imagination, his naming of such creatures as the Fizza-ma-Wizza-ma-Dill and Foo Foo the Snoo. With the freedom to shamelessly and brilliantly create new words and names as he wished, Geisel was never short of a rhyme. His books remain popular with children and families, partly because they're just such a riot to read aloud.
Some Dr. Seuss books are also controversial, however. In March of 2021, Dr. Seuss Enterprises issued a statement (per Seussville) announcing that a half-dozen of his books had been deemed to "portray people in ways that are hurtful and wrong." As a result, the books — "And to Think That I Saw It on Mulberry Street," "If I Ran the Zoo," "McElligot's Pool," "On Beyond Zebra!," "Scrambled Eggs Super!," and "The Cat's Quizzer" — are no longer published (per The New York Times). One of these volumes, "If I Ran the Zoo," has a curious distinction, however: It is believed to be the birthplace of the word nerd.
What was Dr. Seuss's nerd?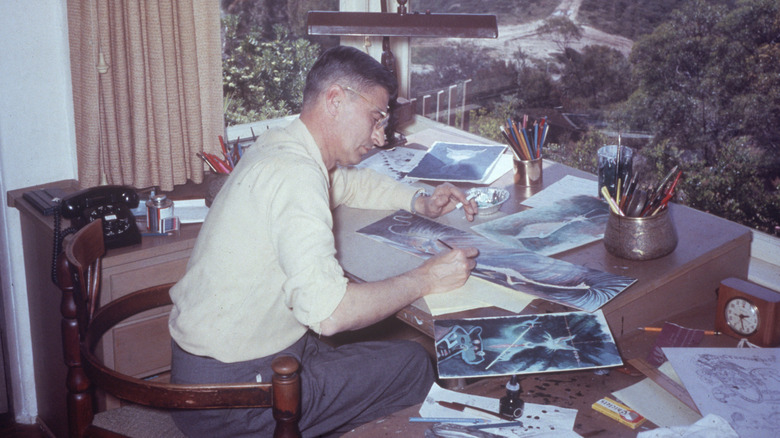 Gene Lester/Getty Images
Merriam-Webster defines the word nerd in terms that will surely be familiar. A nerd is, per the outlet, "a person devoted to intellectual, academic, or technical pursuits or interests." It's synonymous with geek, really, and both are very familiar terms for many English-speakers today. Curiously, Merriam-Webster points out that the word nerd does indeed first appear in Seuss's "If I Ran the Zoo," which was published in 1950. In the tale, however, the word doesn't carry the meaning it has developed today.
The book, as the title would suggest, features numerous fanciful beings of Seuss's creation, which the young Gerald McGrew claims would populate the zoo he daydreams about running. McGrew dreams of a journey to the fictional Ka-Troo, and bringing back equally fictional creatures such as a Nerkle and a Nerd. Per Jim Burrows of eldacur.com, Seuss's drawing of the Nerd "showed a grumpy humanoid with unruly hair and sideburns, wearing a black T-shirt."
According to the Online Etymology Dictionary, the word "nert" was popular slang for "stupid or crazy person" in the 1940s. By 1951, the outlet goes on, nerd was used in a similar context, and may have been derived from that. Seuss's characteristically silly-looking character may or may not bear any relation to this use of the word, but the popularity of the now-retired book might well have played a part in the now-common word's rise to prominence.