The Tragic Childhood Of President Richard Nixon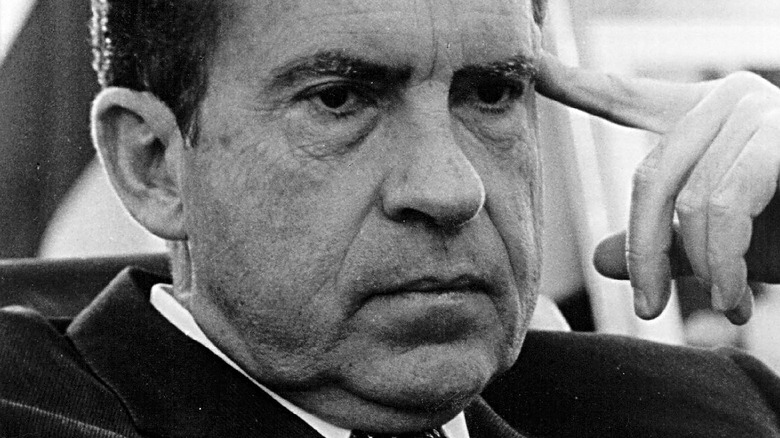 National Archives/Getty Images
Former U.S. President Richard Nixon is best known for his involvement in the Watergate scandal and his subsequent resignation, being the only president in American history to do so. What is less known though is his tragic childhood, which was often filled with death, loss, and financial suffering. Born in Yorba Linda, California in 1913, and was the second-born child to Frank and Hannah Nixon, Richard would learn struggle from a young age, according to Britannica.
Frank Nixon originally owned a ranch, but after struggling to be financially stable, he moved his family closer to Hannah's family in East Whittier, California, according to Nixon Library. Hannah Nixon was a devout Quaker, and this heavily influenced Nixon throughout his life. When the family moved to East Whittier, Frank Nixon opened a gas station that also operated as a grocery store where everyone in the family worked, though the family continued to face money problems (via Nixon Library).
Richard Nixon's School Career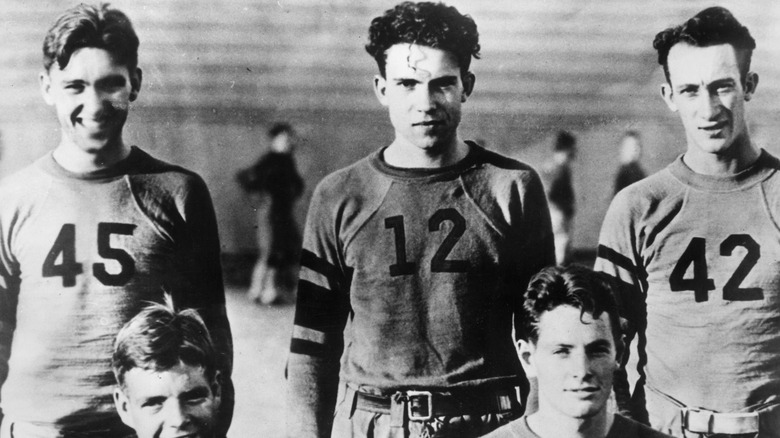 Fox Photos/Getty Images
Nixon's childhood was marked by the death of two of his brothers, Harold and Arthur Nixon. Harold was Richard's older brother and died in 1933, after suffering several years with an illness, whereas Arthur Nixon died in 1925 at the young age of seven, according to Nixon Library. Nonetheless, Richard still proved himself to be a successful student and participated in many different extracurriculars, including debates and the drama club, where he got lead roles, according to the Miller Center.
He later attended Whittier College in 1930 and joined similar activities as he did in secondary school, but he also joined the football team. He commuted to school and stayed at home to help his father run the family store, and in 1934 Nixon was given a scholarship to attend Duke University's School of Law, becoming president of the Student Bar Association and was a part of the law review.
The Legacy of Richard Nixon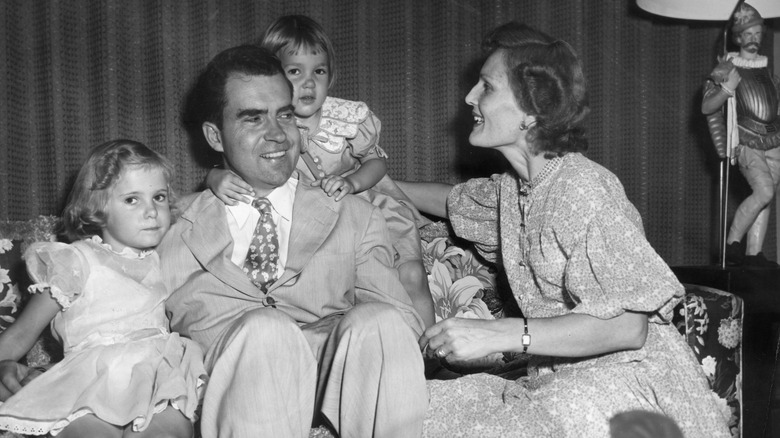 Keystone/Getty Images
After graduating from Duke University's School of Law in 1937, Richard Nixon applied for a job at the Federal Bureau of Investigation where he was denied and decided to move back home and work at a law firm in Whittier. During his time in Whittier, he was on the Whittier College board of trustees, and a part of the Whittier Community Players, according to the Miller Center. During this time, Nixon met his future wife, Thelma Catherine "Pat" Ryan, and married her in 1940 when he was 27 years old. When Pearl Harbor occurred on December 7th, 1941, Nixon enlisted in the Navy where he served until the end of World War II.
Nixon's later life was marked by hallmark achievements like becoming Dwight D. Eisenhower's Vice President in 1952 and serving this office until 1960 before attempting his own presidential run against John F. Kennedy in 1960, ultimately losing. However, he ran again in 1968 and defeated the Democrat candidate Hubert Humphrey. After winning reelection in 1972, he came under scrutiny for his involvement in the break-in of the Watergate Democratic Headquarters, which ultimately destroyed his reputation, forced his resignation, and made him a symbol for corrupt politicians in the United States.