The Secret About One Of Hawaii's Most Gorgeous Attractions May Be Out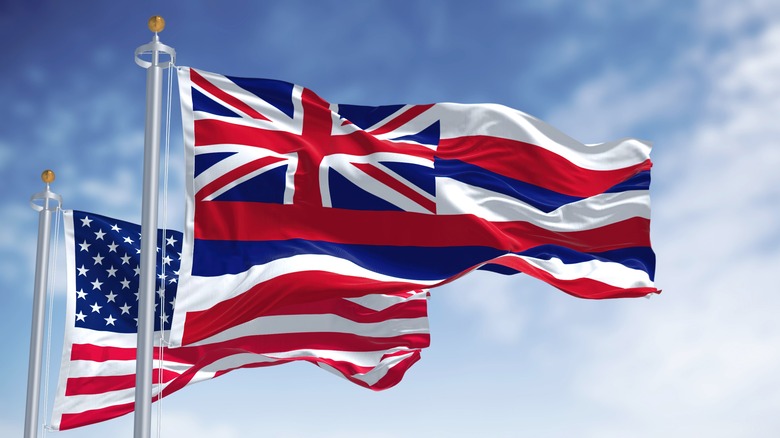 rarrarorro/Shutterstock
The beautiful Hawaiian islands in the North Pacific draw thousands of tourists each year, eager to take in the beautiful scenery, great food, culture, and attractions. At the height of the COVID-19 pandemic, visitor numbers dipped, but since then, tourism in the state has rebounded. When there's so much to enjoy in one place like Hawaii offers, tourists won't stay away for long. According to the State of Hawaii Department of Business, Economic Development, and Tourism (DBET), nearly 843,000 travelers arrived by air in Hawaii in June 2022 alone, spending some $1.8 billion. Meanwhile, an additional 1,100 cruise ship passengers stepped foot on dry land that same month. Most Hawaii Island visitors come from the United States, with western states slightly edging-out tourists from the east. 
Following that, most visitors to Hawaii come from Japan and Canada, as the remainder arrived from all other international markets. In total, tourists spent nearly $8.9 billion in the first half of 2022, as the Hawaiian DBET explains. Needless to say, when that many people arrive in one spot, all eager to take in the sights and sounds, things tend to get crowded. Maybe you're the type to avoid the most high-traffic spots on vacation, or rather, you're the type to see for yourself what the fuss is all about. Either way, there's one tourist attraction in Hawaii that gets lots of traffic, though whether or not it's a good place for you to visit could depend on just how adventurous you like to get.
Black Rock Beach on Maui gets lots of traffic
Based on foot traffic with a visit defined as lasting more than four minutes, Black Rock Beach at the north end of Ka'anapali Beach on the island of Maui gets lots of foot traffic, especially in the spring and summer months. As can be seen above, tourists on Black Rock Beach dipped during 2020, but those numbers shot up markedly in spring and summer of 2022, with 4,000 tourists stepping foot on Black Rock Beach in April and almost 5,000 over June and July. Servicing the area is the Hawaiians' second-largest airport, Kahului Airport, with an astonishing 24,000 travelers at Kahului on July 1, 2022, alone, based on Hawaiian News Now reporting. With fewer than 200,000 full-time Maui residents, most of those people were likely tourists (via the United States Census Bureau). 
Frequent busy flights to the Black Rock area notwithstanding, what draws many to this stretch are opportunities to cliff dive and snorkel and an abundance of wildlife, per MauiGuidebook.com. There are also nearby resorts, such as Kahekili Beach Park, with many other Maui resorts ranked in the top 20 in the island chain by Travel + Leisure. Naturally, when there are that many people in one spot, parking can be a struggle, as Hawaii Vacation Guide describes. Needless to say, don't visit Black Rock Beach on Maui unprepared for a beautiful — though crowded — experience.