The Canadian Town That Was Abandoned Just 18 Months After The First Families Settled There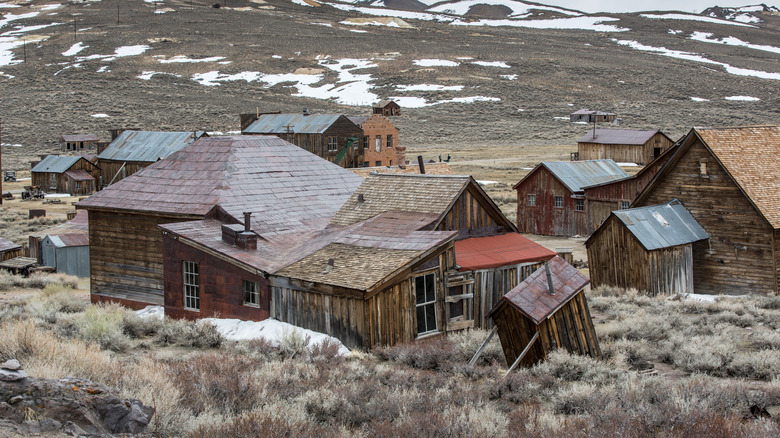 George Rose/Getty Images
A few visuals come to mind when picturing a ghost town. One is a creepy, run-down village where the streets are lined with dilapidated, condemned houses, whose innards are blanketed with dust and memories lost. Another visual might be an old-timey western town, with broken down carriages and tumbleweeds bopping across a desert road. What you wouldn't picture is a peaceful suburban town where lights in the houses still work, lawns are perfectly manicured, and the only thing missing are all the people who fled decades ago (via Amusing Planet).
Well, that's exactly what you will find in the small Canadian town of Kitsault. It's right by British Columbia's border with Alaska, just over 70 miles down a gravel road from the Canadian town of Terrace. Kitsault's streets are lined with beautiful houses, but just 1,200 people once lived there — and not for very long (via City News). Everyone who lived there moved in throughout 1981, when the town first opened, but by 1982, they all packed their bags again and you'll never guess why.
Where did everybody go?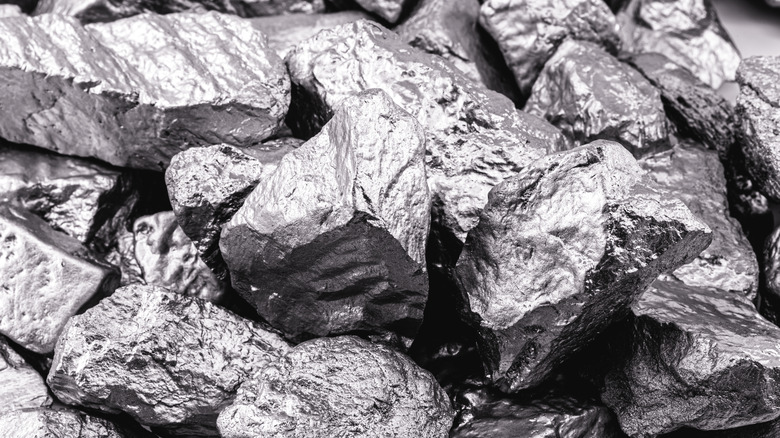 RHJPhtotos/Shutterstock
Plans for the town of Kitsault started in 1979, when workers began mining nearby for molybdenum, an element that can be thanked for the hard, corrosion-resistant nature of steel (via Amusing Planet). Miners had already been working there for decades, mining metals like silver and lead, but the mining of molybdenum had experienced several booms and busts. It had already been mined to depletion in parts of the United States and Canada, so when American mining company Phelps Dodge learned of its prevalence in this region, they quickly began construction plans for an entire mining village.
The property spanned several hundred acres, making way for over 100 houses, and seven apartment buildings with over 200 residences. The town featured everything anyone could want — restaurants, shopping centers, banks, a post office, a bar, a pool, and two recreation centers with hot tubs, saunas, and a movie theater. The only road in or out was the same gravel road that stands today, through the mountains from Terrace. Those in the town had cable, phones, and a sewage treatment plant that actually produced the cleanest water in the area. So one might ask, with all this and the prospects of high-paying employment, why would anyone leave this mountain oasis? And why does it look like they never left?
Anybody home?
With lights left on in houses, perfectly manicured lawns, and houses that seem like they have been frozen in time since the 1980s, it truly seems as if no one ever left Kitsault (via Amusing Planet). But leave they did. After 18 months of mining, workers' families had to move because the molybdenum market crashed amid the ongoing recession. The introduction of molybdenum by-products into the market didn't help either.
The original mining company cared for the property, until Indian-born millionaire, philanthropist and entrepreneur Krishnan Suthanthiran bought the town, located about 900 miles north of Vancouver, British Columbia, for just under $7 million (via National Post). He has invested over $25 million in the property, upgrading things and hiring over a dozen caretakers to maintain the homes regularly. His plans for the property have changed several times — from a place for artists and scientists to study, to a film studio, and a resort to, most recently, a place to convert waste into natural gas.
But he's hit several hurdles in his plans — one being Avanti Mining Inc., which began mining for molybdenum again in 2008. The company wanted to work with Suthanthiran to house miners in the nearby town, reviving its intended purpose, but the millionaire wanted nothing to do with it. Additionally, in 2018, Belgium authorities began investigating Suthanthiran for money laundering from his company in the amount of approximately $14.2 million. But regardless of these woes, or his plans for the little town, Kitsault exists as a fully-functioning ghost town. But don't go knocking on a door with its porch light on, because there's no one home.