Who Is Rita Isbell From Netflix's Monster: The Jeffrey Dahmer Story?
Jeffrey Dahmer sat without any emotion on display when the eldest sibling of one of his 17 victims began her impassioned statement during his sentencing hearing in 1992. As Dahmer's eyes remained fixed ahead, Rita Isbell introduced herself to the court as Errol Lindsey's sister, a 19-year-old man whom Dahmer tortured and murdered the year before. 
In her 35-second testimony, Isbell went from controlled rage to boiled-over hatred, as she left the courtroom podium and made her way screaming toward Dahmer. Calling her brother's killer everything ranging from a mother***** to Satan, Isbell approached him and threatened to kill him before she was restrained by deputies and escorted out of the courtroom (The Racine Journal-Times). Throughout Isbell's rage and threats, Dahmer seemed collected and unfazed, only moving from his seat when instructed by a bailiff to do so.
The emotions of Isbell might have been collectively shared by many others who appeared in court that day, some of whom gave their impact statements to the court. There's doubt that Dahmer's crimes devastated the lives of countless innocent people, and the eventual sentence of life without parole wouldn't necessarily satisfy some of the loved ones of the young men and boys that Dahmer raped, tortured, and murdered. 
Dahmer acted out violently on Lindsey in particular, perhaps adding extra fuel to his sister's uncontrollable anger.
Dahmer was trying to create a sex zombie out of Isbell's brother
All That's Interesting reports that Dahmer lured Errol Lindsey back to his Milwaukee apartment, only to drug the 19-year-old. While Lindsey was unconscious, Dahmer drilled a hole in his head and poured muriatic acid inside of his skull. He hoped to keep Lindsey subdued in this manner, creating a "sex zombie" that he could control (via The Chicago Tribune). Dahmer was growing tired of murdering and being forced to dispose of the bodies, and he hoped that this would provide a solution. When Lindsey regained consciousness and complained of a headache, Dahmer strangled him to death. He dismembered the teen's body, keeping the head and some of the skin as a souvenir (per Historic Mysteries). 
In the 2022 Netflix series "Dahmer-Monster: The Jeffrey Dahmer Story," Isbell's rage is brought to life in a performance by actress DaShawn Barnes (via Sportskeeda). In the eighth episode, Barnes depicts Isbell on the stand during Dahmer's sentencing hearing in a way that only the "This is Us" star could. Her portrayal of Isbell has been considered award-winning acting by many viewers who expressed their approval online.
Barnes accomplished in her few moments on camera the same impact that watching Isbell's real-life testimony had on those who have watched it. This portrayal can be seen along with the real courtroom footage from various places online (via LAD Bible).
Isbell later appeared on The Phil Donahue Show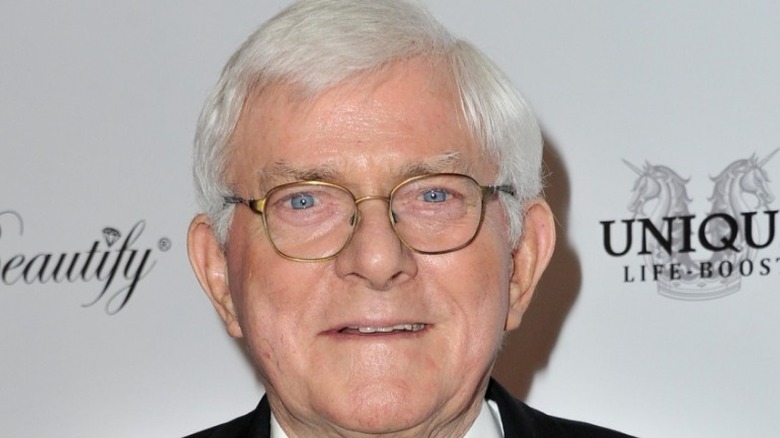 Allen Berezovsky/Getty Images
Isbell made news again after Dahmer's 1994 death, appearing on an episode of "The Phil Donahue Show." During her appearance, she told the host that numerous African-American men had contacted her after Dahmer's sentencing, assuring the woman that her brother's murder would not go unpunished behind bars. The Chicago Tribune reports that one of the men told her "Don't worry sister. It's all been taken care of." 
She made news again in November 1994 when the Baltimore Sun ran an article reporting that some of the family members of Dahmer's victims were entrenched in a legal battle over the contents of Dahmer's apartment. They hoped to auction off various items so that Dahmer's estate could pay down the millions of dollars awarded to them in a civil court settlement. Among the 312 items were the refrigerator he stored body parts in, a 55-gallon vat used to store and decompose the bodies of his victims, and his toothbrush.
In her statement to the media outlet, she said that she didn't necessarily want Dahmer to meet the end that her brother did, but that the killer "tore her family apart." She went on to say that her mother was crying "tears of joy" at the announcement of Dahmer's death.
Archive footage of Isbell's courtroom appearance can be seen in the 2020 TV series documentary "Mind of a Monster" and the 1992 documentary "The Trial of Jeffrey Dahmer: Serial Killer." She appears as herself in the 2001 documentary "Serial Killers: The Real-Life Hannibal Lecters" (per IMDb).