Shaquille O'Neal Called This Hall Of Fame Teammate The Worst Teammate He Ever Had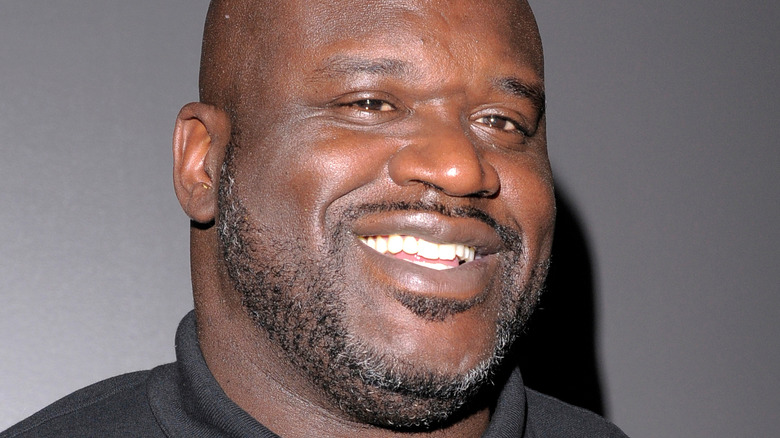 Ron Adar/Shutterstock
Sure, his name almost became synonymous with "bad free throw shooter," and he may have been a bit of a journeyman toward the end of his career. But there's a very good case to be made for Shaquille O'Neal as one of the greatest centers ever to play in the league. Billed at 7-feet-1-inches and 325 pounds (a modest estimate in the latter half of his career, if we're being honest), O'Neal was definitely as powerful as he looked, but was also surprisingly quick on his feet and capable of dominating on either end of the floor. Then you've got the four titles he won during his 19-year NBA career — three with the Los Angeles Lakers and one with the Miami Heat.
Though Shaq's success on the court cannot be disputed, his skills as a locker-room leader have sometimes been questioned, and his feud with Kobe Bryant often took up too much headline space while the two superstars were winning championships for the Lakers. But Bryant wasn't the only star teammate O'Neal had issues with; in fact, when Shaq revealed his least favorite teammate during a recent episode of his podcast, he named another Hall of Fame player with multiple championships to his name. Who is this player, and why did O'Neal refer to him as his worst teammate?
Shaq had no love for Dennis Rodman as a teammate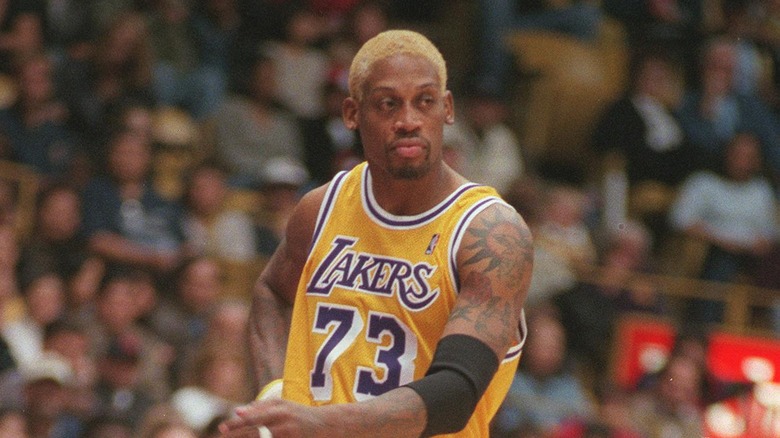 Denny Keeler/Getty Images
During his time with the Chicago Bulls dynasty of the 1990s, Dennis Rodman caused a lot of trouble on the court, but especially behind the scenes. He attacked a cameraman during a game (and got suspended 11 games for it), partied at all hours of the day, and skipped practice to wrestle at a WCW show. But while he was notorious for those shenanigans and others, he was an effective third superstar for the Bulls; he didn't score much, but he grabbed a ton of rebounds and played tough defense on a team led by Michael Jordan and Scottie Pippen. But when the Bulls dynasty crumbled, so did Rodman's career. 
It might not have seemed that way at first, as he joined the Shaquille O'Neal/Kobe Bryant Los Angeles Lakers late in the 1998-99 season. Going from one powerhouse team to another, it seemed that "The Worm" had an excellent opportunity to contribute despite being in his late 30s and a bit far removed from his peak as a rebounding and defensive specialist. But in a 2022 episode of "The Big Podcast with Shaq," O'Neal described Rodman as the worst teammate he ever had in his nearly two-decade-long NBA career.
"Worst teammate? Dennis Rodman," O'Neal said. "He was a great player, but he made it hard. Like when you try to corral the guys together and the people above you letting this one guy do whatever he wants."
Sounds like vintage Rodman indeed, as the Bulls often seemed to look the other way whenever the power forward was being as bad as he wanted to be. But what did he do to incur Shaq Diesel's ire during his ever-so-brief stint with the Lakers?
Shaq says Rodman showed up late to games ...and didn't shower afterward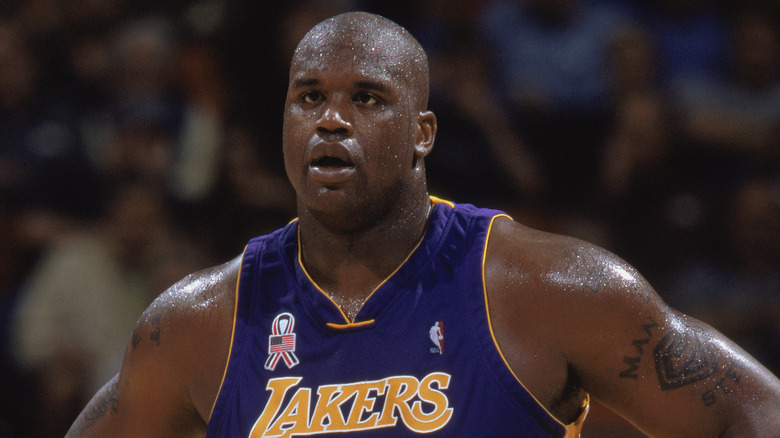 Andy Lyons/Getty Images
Going into the specifics of Dennis Rodman's apparent lack of professionalism as a Los Angeles Laker, Shaquille O'Neal said on "The Big Podcast with Shaq" that the Hall of Fame forward would arrive at the arena just 15 minutes before games while eating a pre-game meal — the Lakers were expected to be at the venue an hour before tip-off. "While the coaches are talking, he would jump in the shower," O'Neal continued. "Cold shower. Come and give you 15-20 rebounds. After the game, he don't take a shower and be in a club with girls ..."
O'Neal went on to explain that he had actually joined Rodman during one of his many nights out. Despite simply changing his clothes without bothering to take a post-game shower, Rodman apparently remained popular with the female patrons at the clubs he'd frequent. But even with those quirks in mind, Shaq admitted that he couldn't bring himself to chastise his hard-partying teammate. "He was kind of different, but you couldn't say nothing to him 'cause the man gave you 20 rebounds," the Lakers legend explained.
Unfortunately, rebounding was, as noted above, one of the few things Rodman did really well with the Lakers. Per Basketball-Reference, the then-37-year-old forward averaged 11.2 boards in 23 games with Los Angeles in the 1998-99 season, but also shot 34.8% from the field and 43.6% from the free-throw line and averaged 2.1 points per game — anemic figures even by Rodman's not-at-all-lofty offensive standards.