How 'Weird Al' Yankovic Got His Nickname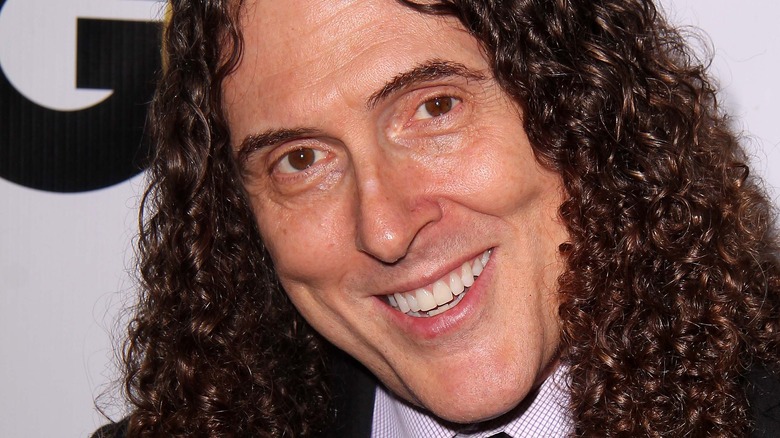 Kathy Hutchins/Shutterstock
In this newfangled age of TikTok and Instagram, song parodies aren't exactly difficult to come by. You can come up with a silly, rhyming concept in seconds, and share it with the world in a few more seconds. Naturally, the world might not take much notice, but some of the most elite parody writers accrue quite the following.
Some artists, however, have been in the business since before social media and influencers were things — even before the Internet itself. One of the most prominent satirical singers of all time is none other than "Weird Al" Yankovic.
Yankovic, his official website reports, has had a stellar career, receiving nominations for no less than 16 Grammys (and picking up five wins from among them). Even in an age of viral sensations jumping on the parody bandwagon, he has proven he can still mix it up (mix songs up, that is) with the best of them. He has an unmistakable look, incomparable style — particularly in the music video for "Tacky" (on YouTube) — and instantly recognizable stage name, but where did the nickname "Weird Al" come from in the first place?
'Weird Al' Yankovic was discovered by Dr. Demento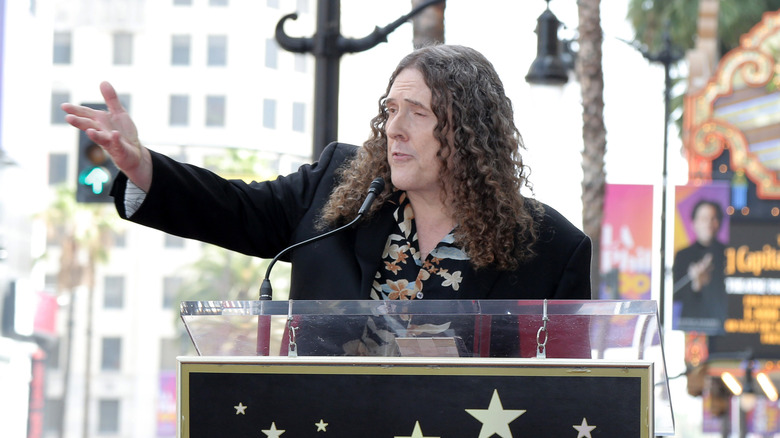 Kathy Hutchins/Shutterstock
Yankovic's official website goes on to state that, like a lot of aspiring musicians, he began by trying to get his work heard by those who could possibly elevate him to stardom. Armed with only an accordion and a dream, he reportedly sent recordings of his work to "The Dr. Demento Radio Show." In the liner notes for "Permanent Record: Al In The Box," a 1994 collection of Yankovic's works, Demento stated (via the Demented Music Database — dmdb) that he had "... known Al since 1976 (when I gave him his first-ever media exposure by playing one of his home-made tapes on the air)."
Three years previously, Dr. Demento wrote, he had spoken at Yankovic's school, Lynwood High. The then-13-year-old accordion enthusiast nervously gave the radio star a tape, which was his (ultimately failed, sadly) entry in a theme song competition Demento's show was running at the time. By the age of 16, Yankovic was regularly sending tapes of his works into the show.
Per Demento, he received the song "School Cafeteria" from the 16-year-old, and it proved incredibly popular on his show. This, really, was the making of the young satirist, but as his mentor noted, he was still plain old Alfred Yankovic at this point. It was during the next stage of his education, it seems, that the name "Weird Al" was coined.
A fellow college student reportedly coined the nickname 'Weird Al'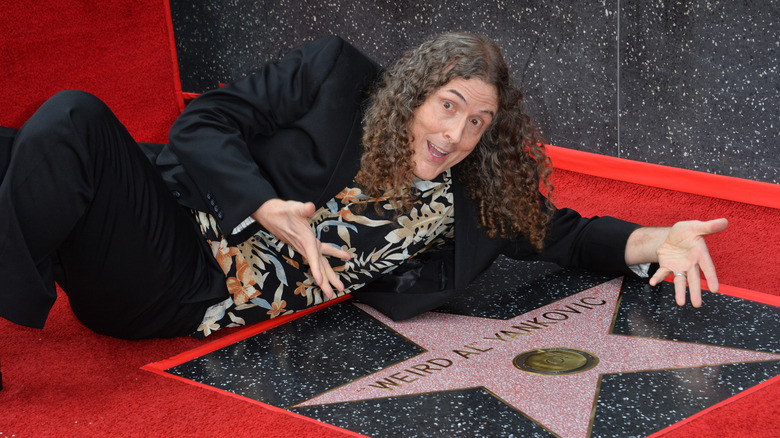 Featureflash Photo Agency/Shutterstock
In an interview from Forbes in November 2012, the eminent polka-medley-maker discussed his career and some of the secrets of his success. He tends to get a good response from the artists he parodies, he explains, because "I always get permission from the artists beforehand ... they're already in on the joke." Alfred Yankovic, however, may never have been afforded the opportunity to tackle the work of such high-profile stars as Madonna, Lady Gaga and Michael Jackson, if not for the cachet of "Weird Al."
The outlet asked when he took on the name, and Yankovic explained that, like most nicknames, it was largely chosen for him rather than by him. "I'm pretty sure that nickname was given to me by someone in the dorms during my freshman year in college," he told Forbes. It may not have been particularly complimentary, but the man himself seemed to appreciate it. In his second year, he hosted "The Weird Al Show" on weekends on the campus radio station, KCPR.
"Weird Al" has seen his star rise to an incredible degree. By August 2007, the Washington Post reported at the time, he had 12 million album sales behind him (and certainly millions since), proving beyond any possible doubt that he is far more than a niche performer. "Weird" he may be, but he's been a musical force to be reckoned with for decades, as has his incredible versatile and talented band.