The First-Ever College Football Game Hosted Far Fewer Spectators Than We See Today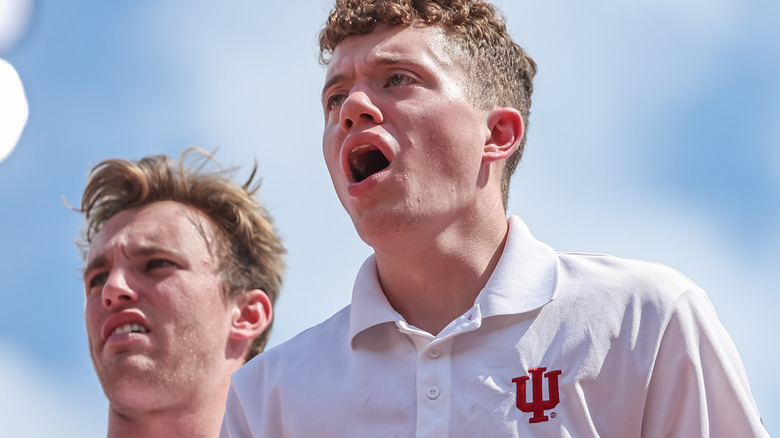 Michael Hickey/Getty Images
Today, college football is a multi-billion dollar industry, according to Sports Illustrated reporting. On Saturday each fall, hundreds of thousands gather in football stadiums to root for their favorite team, while many more fans watch from home. The largest college football stadium in the U.S., known as "The Big House," is in Ann Arbor, Michigan, home to the University of Michigan Wolverines, and capable of holding nearly 108,000 spectators, according to NCAA.com. What's more, that storied college football venue sells out regularly, according to numbers from the University of Michigan Bentley Historical Library.
Though a much different game than what's on the field today, college football in some form has been played since the late 1860s, as the NCAA.com elsewhere notes. With the number of tickets in mind that Michigan and other programs are able to sell, it might surprise some to learn that the first-ever college football game was witnessed by far fewer people than what stadiums like "The Big House" hold today.
The first college football game was between New Jersey and Rutgers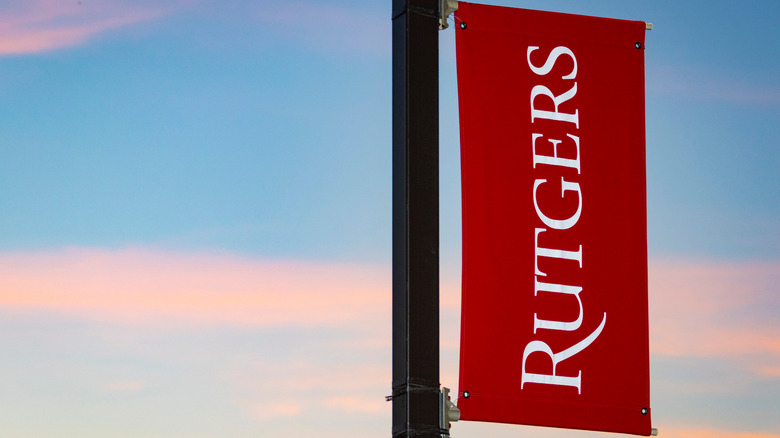 Benjamin Clapp/Shutterstock
Schools like Alabama and Ohio State are now known for their football programs, but what's generally accepted to be the first intercollegiate football game played in history was between Rutgers and New Jersey, now known as Princeton. Today, Rutgers plays in the Big 10 conference and Princeton is now part of the Ivy League (via NCAA.com). The game took place on November 6, 1869, and Rutgers won, 6–4. In a rematch a short time later, New Jersey bested Rutgers, 8–0.
If you were one of the few on hand at that early football match, the teams were far smaller, at only around 25 players, and the rules were very different. There was a different scoring system, and the ball could not be carried or thrown but had to be batted about instead using hands, feet, head, or torso. Even further, the game's objective at that time was not to score a touchdown, as in modern iterations of the game, but to kick the ball into the opposing team's goal. It utilized a soccer ball, rather than the football we know today, writes History. Both Rutgers and New Jersey finished their 1869 season 1–1.
That first game did not draw a huge crowd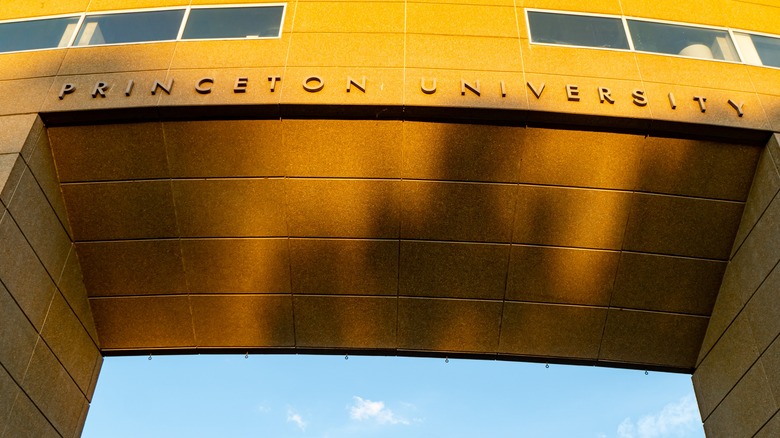 RebeccaDLev/Shutterstock
As NCAA.com goes on to note, only around 100 fans were on hand in 1869 to see the Rutgers-New Jersey matchup, a far cry from the crowds that fill modern stadiums. That being said, the rivalry between Rutgers and New Jersey was heated and longstanding, as Rutgers player John W. Herbert later remembered (via History). According to Herbert, speaking to a newspaper in 1930, "For years each had striven for possession of an old Revolutionary cannon, making night forays and lugging it back and forth time and again."
Not long before the first football game, "the canny Princetonians had settled this competition in their own favor by ignominiously sinking the gun in several feet of concrete," Herbert went on to add. Another issue was a very lopsided score in a New Jersey-Rutgers baseball game in 1866, with New Jersey scoring 40 points against Rutgers' 2. Rutgers issued the football game challenge perhaps as a way to try to even things up.
One of the few in the crowd on that day in 1869 was a writer for the Rutgers student newspaper, The Targum, who described the game as consisting of "headlong running, wild shouting, and frantic kicking" (per History). There was to be a third game between the two teams that year, but it was never played.