Franklin D. Roosevelt's Obsession With Oak Island Explained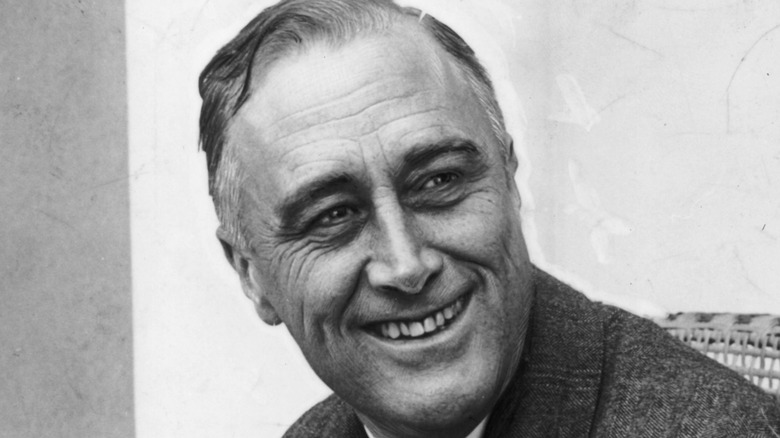 Hulton Archive/Getty Images
For centuries, Oak Island has been targeted by treasure hunters after the valuables rumored to be buried there. In the early 20th century, a company called The Old Gold Salvage and Wrecking Company traveled to Oak Island to try to solve the mystery. Playing a role in that company was none other than future United States President, Franklin Delano Roosevelt (FDR). Along with noted adventure, Henry Livingston Bowdoin and his crew, FDR traveled to Oak Island on several occasions, as the Oak Island Tours website explains.
The loot buried on Oak Island off the coast of Nova Scotia is said to be at the bottom of a deep shaft referred to as the "Money Pit." Despite rigorous digging, no one so far has reached it. In the meantime, stories of an island curse have also developed. Some speculate that what lay beneath the surface of the remote island could have once belonged to legendary pirates Captain Kidd or Blackbeard. Some also think what could be buried on the island could be original drafts of Shakespeare's plays, brought there by Francis Bacon (via History).
FDR was an investor in The Old Gold Salvage and Wrecking Company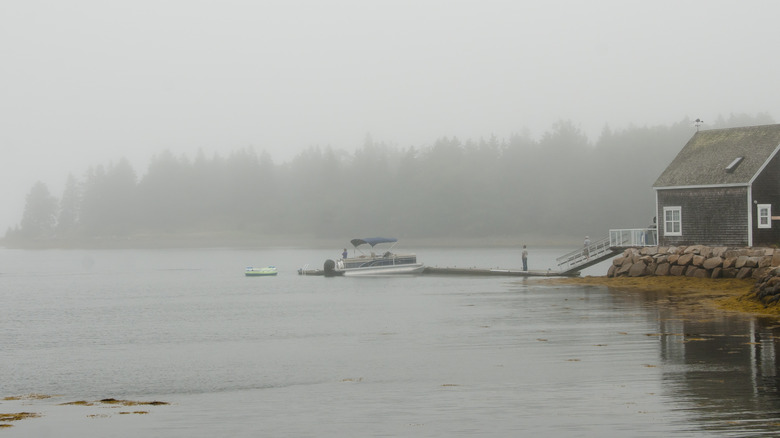 Adwo/Shutterstock
Years before FDR became president, he invested in The Old Gold Salvage and Wrecking Company, intrigued by their efforts to uncover treasure said to be buried on Oak Island FDR's interest in the Oak Island mystery began when he was a young man. His grandfather, Warren Delano Jr., who was a noted sailor and wealthy goods and commodities trader, had also financially backed Oak Island ventures, and stories of the treasure and rumored curse passed down through Roosevelt's affluent family, as Monsters and Critics explains.
Prior to FDR's involvement, The Old Gold Salvage and Wrecking Company had tried on several occasions to find the storied treasure. In 1909, with FDR's backing, Bowdoin and his crew continued their Oak Island dig, confident that their modern technology for the time would make some progress. Though they hit a cement barrier, no trace of treasure was ever found. Soon Bowdoin's agreement to dig on the site ran out and in a disagreement with the treasure trove license holder, Bowdoin and FDR discontinued their excavation, according to the Oak Island Tours website.
FDR traveled to Oak Island on several occasions
Prior to the failure of The Old Gold Salvage and Wrecking Company to discover any treasure on Oak Island, though, FDR traveled to the remote island on several times, and his interest in Oak Island treasure-island activities lasted throughout his presidency, according to Monsters and Critics. Legendary lost jewels of French King Louis XVI and Queen Marie Antoinette, which were said to have made their way to Canada around the time of the French Revolution, were also of interest to the president. As late as 1939, in fact, Roosevelt considered returning to Oak Island on a visit to Canada, but poor weather turned him back. He died six years later. 
The most recent progress on Oak Island is recorded in the History Channel show, "The Curse of Oak Island," as treasure hunters Rick and Marty Lagina attempt to solve the mystery (via IMDb). Despite the best efforts of the Lagina brothers, and generations of adventurers before them, including FDR (fifth from left, above), no significant treasure site on Oak Island has so far been found.