The Truth About The Relationship Between Curly Howard And Ex-Wife Elaine Ackerman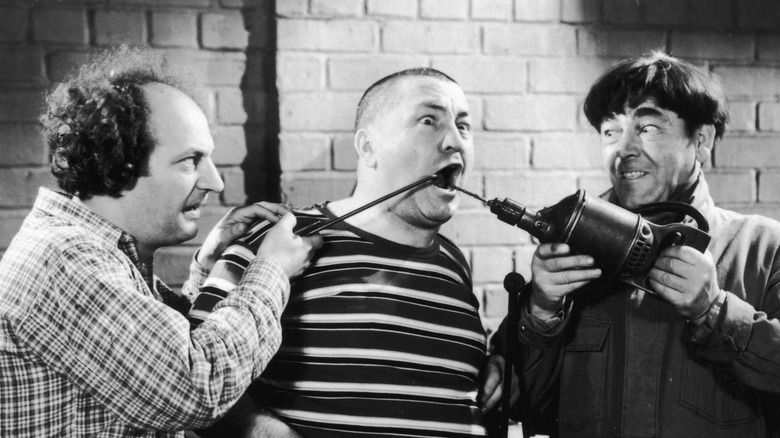 Hulton Archive/Getty Images
As one of The Three Stooges, Curly Howard was famous for his high-pitched voice, wild physical comedy, and vocalizations ("soitenly" and "nyuk-nyuk-nyuk," among others) but his personal life wasn't so funny. In his short life — he died after a series of strokes when he was just 48, per The Three Stooges — he was married four times, with many of the relationships fizzling out quickly, sometimes in mere months.
Curly Howard, born Jerome Lester Horwitz, in Brooklyn, in 1903, met his second wife, Elaine Ackerman, in Los Angeles in 1937 while she was working at a fur store as a model, per ReelRundown and "Curly: An Illustrated Biography of the Superstooge." He was 32, and she was a decade younger, per The Los Angeles Times. Ackerman had never heard of the Stooges even though they were already quite famous, per "Curly: An Illustrated Biography." Their first meeting didn't go all that well as Howard, nervous, was rather quiet. But their relationship soon blossomed.
Elaine Ackerman Never Really Got to Know Curly Howard
"He swept me off my feet. He seemed to think it was meant to be." Elaine Ackerman recalled in "Curly: An Illustrated Biography." They married less than a year after they met, and had a quiet wedding ceremony at her house, per The Los Angeles Times, followed by a disastrous honeymoon spent at a dude ranch in Nevada. Neither of them liked horses, per the biography. Right after the honeymoon, Ackerman joined Howard and the other Stooges — Curly's brother Moe Howard and their friend, Larry Fine — on a publicity junket, but soon found herself at home alone. This regular occurrence would define and ultimately end their relationship.
A year after they married, Ackerman gave birth to their daughter, Marilyn, but even with a child at home, Curly Howard put his career ahead of all else, per the biography and The Los Angeles Times. Even when he wasn't filming or promoting the Stooges films, he preferred to go out alone. "I really didn't get to know him all that well," Ackerman said in the biography.
The Marriage Lasted Longer than Curly's Others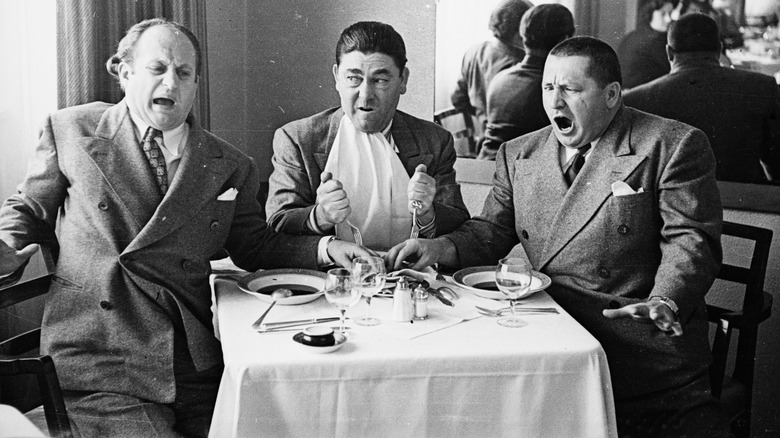 Fox Photos/Getty Images
Curly Howard's jealousy was another issue, as were the families of both Elaine Ackerman and Howard. Ackerman's parents objected to the marriage because Howard and Ackerman were so different. Ackerman had a college education and Curly hadn't finished high school, per "Curly: An Illustrated Biography" and ReelRundown. Curly's mother also had issues. Howard's first marriage ended in annulment because his mother didn't approve, according to TV Guide. Elaine Ackerman called her "a very cold woman," per the Curly Howard biography.
In June 1940, Elaine Ackerman sued Curly Howard for divorce, per The San Bernardino Daily Sun. According to the newspaper article dated June 14, 1940, the divorce petition alleged Howard had been physically abusive and "associated with other women." But in the biography, Ackerman doesn't mention this aspect of the relationship. Following the divorce, Howard became depressed and began drinking heavily and overeating, which seriously affected his health, per "The Three Stooges" by Ellen and Mark Scordato, and "The Three Stooges Scrapbook." He would marry two more times, with one marriage lasting only three months, before his untimely death in 1952, per ReelRundown.
If you or someone you know is dealing with domestic abuse, you can call the National Domestic Violence Hotline at 1−800−799−7233. You can also find more information, resources, and support at their website.