How NFL Player Jerome Bettis Got His Iconic Nickname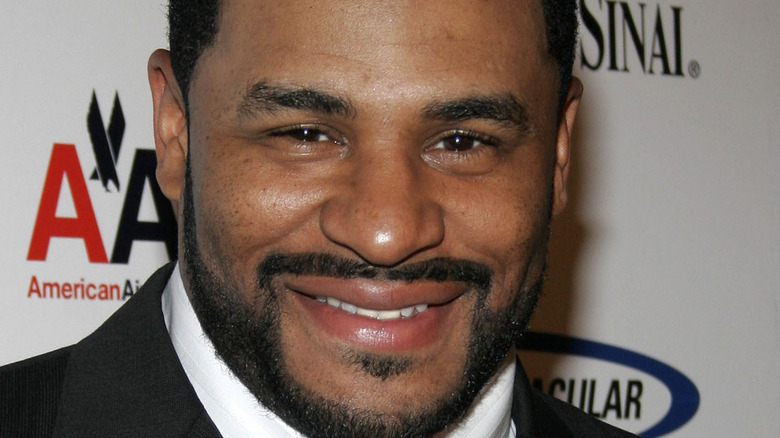 Tinseltown/Shutterstock
Nearly all athletes are given a nickname by their teammates or from fans. Few, however, have a nickname that matches so perfectly with their style of play that it simply becomes how everyone refers to them. Jerome "The Bus" Bettis is one perfect example.
Bettis had a 13-year NFL career playing for the Rams (1993-1995) and Steelers (1996-2005), amassing 13,663 rushing yards before retiring. But, according to Bleacher Report, "The Bus" moniker didn't come from his NFL days, but instead goes all the way back to his college career playing for the Notre Dame Fighting Irish. Bettis can thank a student reporter from the Observer, Notre Dame's student run newspaper, for the nickname with which he became synonymous, according to the Times Online. Bettis, who stood 5'11" and weighed in at 255 pounds during his playing days, was known for his size and for his aggressive and powerful running style that left a defense battered and bruised.
Nobody stops the Bus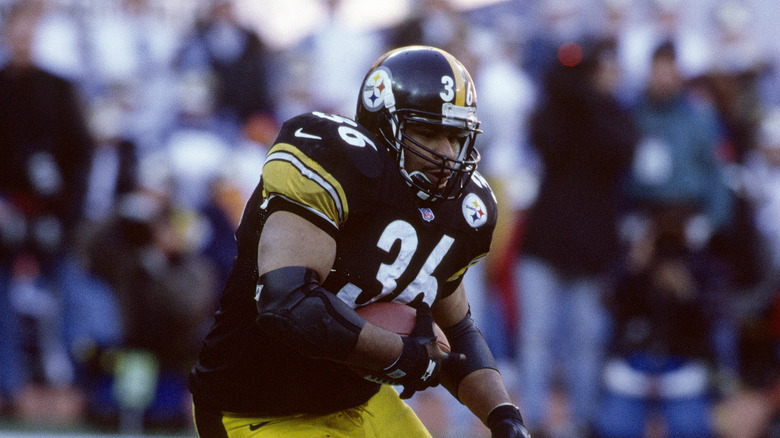 Focus On Sport/Getty Images
Bettis was known for running through defenders and that's where the idea for "the Bus" nickname came from. "They wrote an article saying something about how I looked like a bus or something like that and I was taking guys for a ride, and it just kind of stuck," Bettis said. "So the student body would chant, 'Nobody stops the bus,' when I was playing at Notre Dame" (via the Times Online).
Bettis, who played for the Fighting Irish from 1990-1992, made sure to live up to that nickname rushing for 1,912 yards and 27 touchdowns in his three years before turning pro (via Sports Reference). Bettis entered the NFL Draft following his junior year and was drafted 10th overall by the Los Angeles Rams. According to the Times Online, while playing for the Rams, first in Los Angeles and then in St. Louis following their move in 1995, Bettis went by the nickname "Battering Ram." Following his three years with the Rams, "The Bus" was reborn after being traded to Pittsburgh.
The Bus is back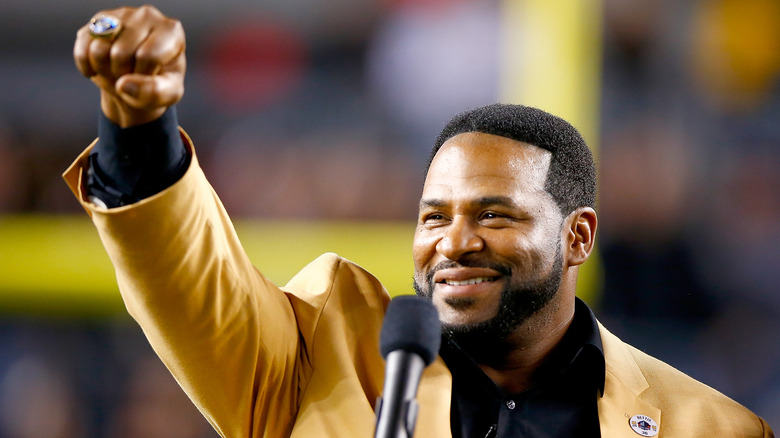 Jared Wickerham/Getty Images
According to the Times Online, the city of Pittsburgh has a large Notre Dame following, making many of the fans already familiar with Bettis when he began playing for them in 1996. Bettis grew up in Detroit, Michigan and felt that he really connected with the fans in Pittsburgh. "I was a blue-collar guy, and Pittsburgh, a blue-collar town," Bettis said. "And they loved the name, and it kind of just stuck with me. And I've been going with it ever since. I don't have a problem with it" (via Times Online).
The trade to Pittsburgh revitalized Bettis' career. After failing to rush for 700 yards in his last year with the Rams, Bettis topped 1,000 yards in each of his first six seasons with the Steelers (via Pro Football Reference). He was named to the Pro Bowl three times during this stretch and six times overall in his career. After retiring at age 33 following the 2005 season with Pittsburgh, "The Bus" made one final stop in Canton, Ohio in 2015 after being elected to the Pro Football Hall of Fame.