A Famous David Bowie Song Took Aim At Another Musician In A Brutally Honest Way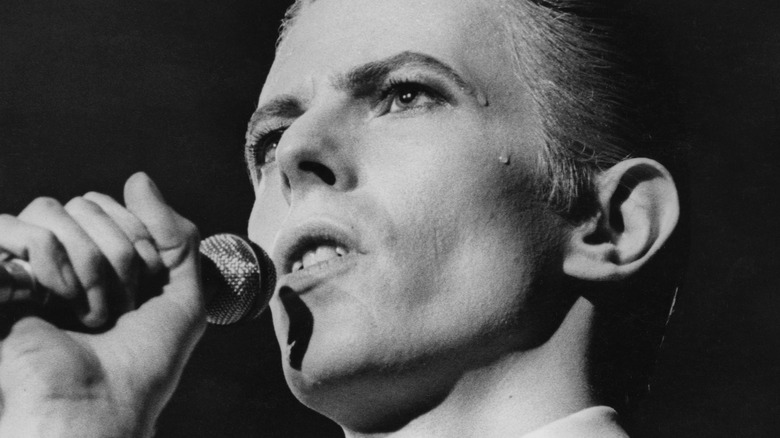 Central Press/Getty Images
There's a stereotypical picture of a rock star. You know the one: A self-obsessed, crowd-beguiling, lavish guitar smasher. They live a life of excess, traveling the world, performing just about everywhere and relishing the media spotlight.
For many of the genre's greats, this has been the case. The Who's Keith Moon, for instance, was the living embodiment of destructive rock spirit. To celebrate his 21st birthday, according to Far Out Magazine, he destroyed a hotel room of a Michigan Holiday Inn with an enormous birthday cake food fight, before releasing the handbrake of an unfortunate bystander's Lincoln Continental and rolling it straight into a swimming pool. Now that's rock and roll.
British icon David Bowie made himself at home in the rock genre, just as he did with the many other styles of music to which he turned his considerable talents. Bowie was an intellectual, a deep thinker; trashing hotel rooms wasn't really his style. What he did do on occasion, however, was indulge in another time-honored musical tradition: the feud with a fellow star. In one classic track, the "Let's Dance" hitmaker took aim at Gary Numan.
David Bowie didn't see eye to eye with Gary Numan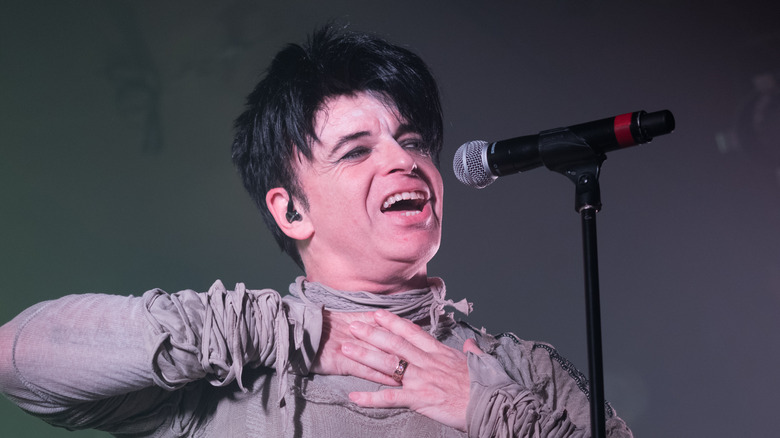 Tracy Daniel/Shutterstock
Musician Gary Numan, like so many of his generation, idolized David Bowie. It isn't difficult to see why, either. Bowie's career had spectacular highs and equally dramatic lows, like any other, but he just kept going. He both defined and redefined himself while refusing to allow himself to be defined, ever the musical chameleon, ever the ethereal creative powerhouse.
For Bowie, perhaps, there was no greater transgression than conformity, and Gary Numan represented just that. According to Chris O'Leary's "Ashes To Ashes" (via an extract in The Guardian), Numan once said, "image is to be copied. That's the essential reason I created mine." This, surely, didn't gel with Bowie, who seemed to have a certain disdain for his fellow artist as a result.
In October 2019, Numan told Uncut that he thought Bowie considered "people like me as little upstarts." According to him, both stars were booked to appear on "The Kenny Everett Video Show" near the end of its run. On learning Numan was also there, Bowie reportedly "... asked for me to be thrown out of the studio and then taken off the programme," per Numan. This was devastating for Numan, who professed to have been a huge fan and collector of Bowie's works at the time.
In "Teenage Wildlife," it seems that Bowie couldn't resist some lyrical digs at Numan.
The New New Wavers were reflected in Teenage Wildlife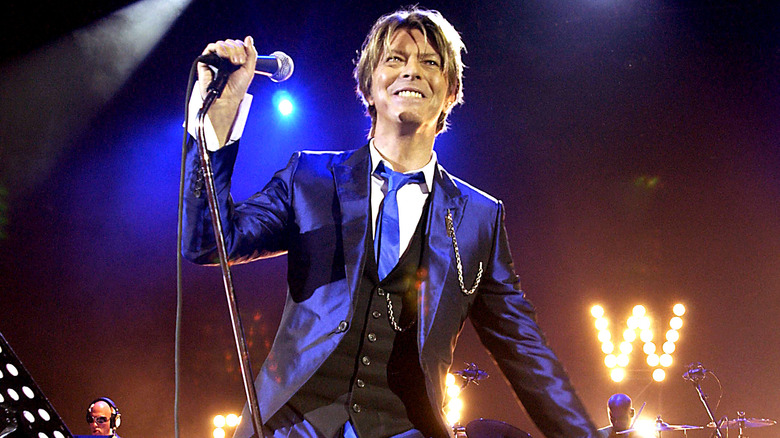 Dave Benett/Getty Images
"Teenage Wildlife" appears on Bowie's 1980 album "Scary Monsters (And Super Creeps)." This, it seems, was a troubling time for the artist, a time when competitors were popping up everywhere. Per Rolling Stone, his album from the previous year, "Lodger," had not been a hit, while "The Pleasure Principle," from a certain Gary Numan, certainly had. For these reasons, perhaps, Bowie disapproved of his fellow star, and he seems to voice some of his dislike in the song "Teenage Wildlife."
Lines such as "still you push, still you push your luck. A broken nosed mogul. Are you one of the new wave boys?" and "they move in numbers and they've got me in a corner. I feel like a group of one" suggests that the New Wave stars who appeared in Bowie's wake were perceived as a threat to him. Maybe Numan was the face of this threat.
Speaking to Uncut, Numan went on to say that Bowie seemed to soften in his approach to him as time went on. "He was still a young man, with ups and downs in his own career," Numan said. "... later he said some nice 
things about me." The song's lyrics don't offer the most pointed attack, perhaps, but it seems quite clear what he was saying and why. The man who styled himself as Ziggy Stardust, after all, always seemed to know which way the wind was blowing.