Iowa's Unique Response To A Troubling Halloween Trend Still Exists Decades Later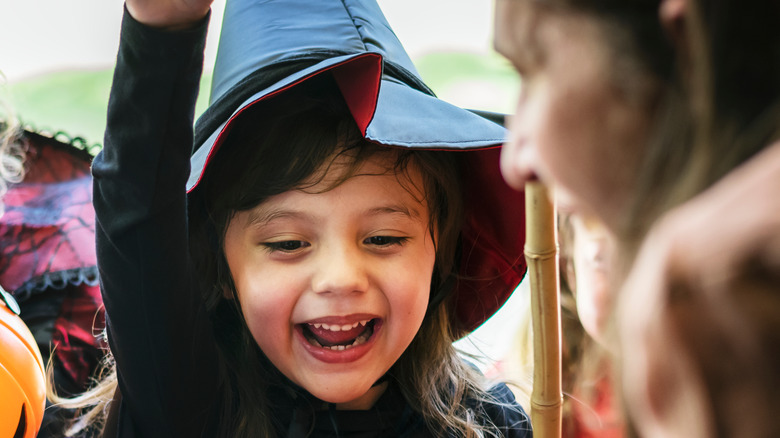 Rawpixel.com/Shutterstock
Christmas has "Merry Christmas," Hanukkah has "Happy Hanukkah," and New Year's Day has "Happy New Year." One common phrase associated with a popular holiday perhaps more than any other, though, is "trick or treat." Those three words are shouted by thousands upon thousands of children in many parts of the world on Halloween as they knock on their neighbor's door, dressed up as a ghoul or goblin or something else entirely, hoping to score some sweets. According to History, it's a tradition that dates in one form or another to pre-Christian Celtic society before it was co-opted into Catholic culture, and finally, the commercial juggernaut that the Halloween holiday is today (via Big Think). 
In 1930s Des Moines, Iowa, though, teens took the "trick" part of the trick-or-treating tradition a bit too far. This often resulted in serious incidents of vandalism all across the city. In response, a unique citywide tradition was instituted in the Des Moines area, and that annual Halloween tradition still exists to this day, as the Des Moines Register reports.
In 1938 there were more than 500 reports of vandalism in Des Moines on Halloween
As the Des Moines Register goes on to note, in 1938 there were some 550 reports of vandalism in Des Moines on Halloween night, a city of roughly 140,000 people at that time, according to Biggest US Cities. Clearly, authorities had to do something: windows were soaped, thrown bricks were reported, and incidents of arson occurred. As a possible alternative activity, city official Kathryn Krieg came up with something called "Beggars' Night," which instead of taking place on October 31, the date of Halloween, would happen the night before, on October 30.
Krieg hoped "Beggars' Night" would help make Des Moines more peaceful during the Halloween season. Instead of shouting "trick or treat," young folks in Des Moines were instructed to say "tricks for eats" after they knocked on a neighbor's door. In other words, the old binary of "give me sweets or else you'll get tricked" embedded in trick-or-treating was reversed: The children themselves must perform a trick (a joke, pun, or song) and in doing so, they earned their sugary reward.
Beggars' Night helped make Iowa's capital city safer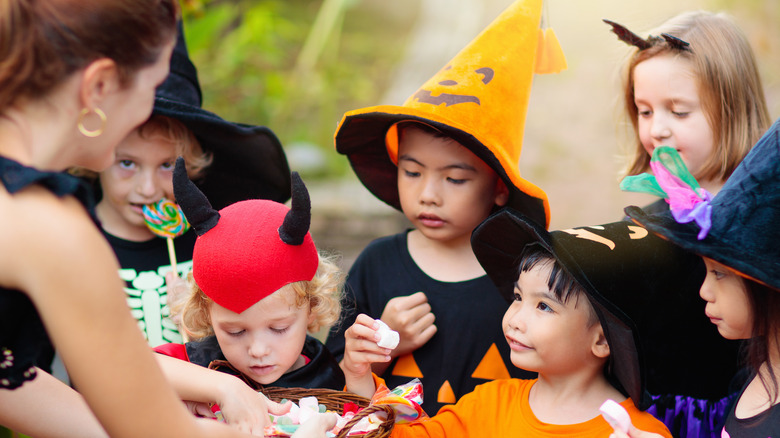 FamVeld/Shutterstock
Over the years, Krieg's popular "Beggars' Night" tradition caught on and grew. In the 1940s it even became part of the war effort — damage caused on the homefront wasted valuable resources needed by the troops — and as a result, reports of vandalism on and around Halloween were cut in half, as the Des Moines Register writes. Today, Krieg "Beggars' Night" is all part of Des Moines' Halloween tradition. In the years intervening, "Beggars' Night" celebrations have spread beyond just Des Moines to the Washington D.C. area, among other places, according to WeatherNation.
One such place is Buffalo, New York, where in 2019, Buffalo news outlet WKBW reported thousands of area families participated in "Beggars' Night" celebrations. One area of Buffalo where "Beggars' Night" is especially popular is called Kaisertown. In 2015, Buffalo's WIVB reported as many as 4,000 kids and their families attended. That year, Buffalo resident Debbie Barile, who'd attended Kaisertown's "Beggars' Night" celebration at that point for nearly three decades, said in that neighborhood people go all out for the event. "They're on their porches, they've got dance music down there, lawns are loaded with stuff," Barile added (via WIVB).