Two Broken Hands Didn't Stop This NFL Hall Of Famer From Making A Nearly-Impossible Play
Inducted into the Pro Football Hall of Fame in 1978, the career of St. Louis Football Cardinals free safety Larry Wilson is notable for a number of reasons (via Pro Football Hall of Fame website). In the league for 13 seasons, Wilson, who played college ball at the University of Utah, was undersized but nonetheless had 52 career interceptions. He was drafted into the league in 1960, made the all-NFL team six times, and among other accomplishments, is credited with innovating the free safety position — not to mention a play called the free safety blitz.
In his career, Wilson ran those 52 interceptions back for 800 yards and five touchdowns, according to the St. Louis Sports Hall of Fame. One of those career TD runs came in the 1965 season, when Wilson made one incredible play in particular against Steelers quarterback Bill Nelson. Wilson's feat on that day with two broken hands helped secure his place in the annals of NFL history, as Pro Football History explains.
Wilson broke both his hand playing the New York Giants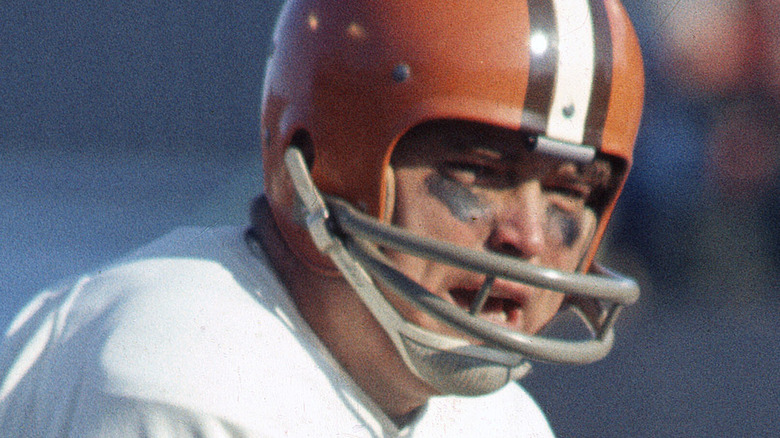 Focus On Sport/Getty Images
As Pro Football History goes on to explain, it was a Halloween game in 1965 against the New York Giants when Larry Wilson broke both his hands on two separate plays. A typical player might take at least one game off, but Wilson instead put bandages on both his broken hands and suited up to play the next game, against the Steelers at the old Cardinals venue, Busch Stadium, according to The Big Red Zone website.
Bill Nelson (pictured above, later in his career with the Browns) was QB for the Steelers that day, and he said though he knew Wilson had two broken hands, he was concerned he'd still make an interception. Remembering that fateful game, Nelson later said (via The Big Red Zone) "Lying awake the night before the game, I was thinking there was no way he could catch one with his hands wrapped up to protect his fractures, but I knew he was going to get one."
Wilson intercepted Nelson with two broken hands
Nelson's fears came to pass when Wilson did exactly that: He intercepted a Nelson pass with both his hands wrapped up in bandages, held the ball against his chest, and ran the ball back 35 yards into the Steelers' red zone (via St. Louis Sports Hall of Fame). Wilson's Cardinals went on to win the game, though in the pre-Super Bowl era the Green Bay Packers would win the NFL championship game that same season, per Bleacher Report.
Wilson, being only human after all, would require surgery on one of his fingers, and wound up missing four games, as The Big Red Zone goes on to note. He returned for the final game of the '65 season against the Cleveland Browns who would face the Packers for the championship. Wilson's team lost. Despite all the accolades and accomplishments in his career, Wilson only played in one NFL postseason game, per Pro Football History.