Why Abducted In Plain Sight's Jan Broberg Says Her Parents Were Also Victims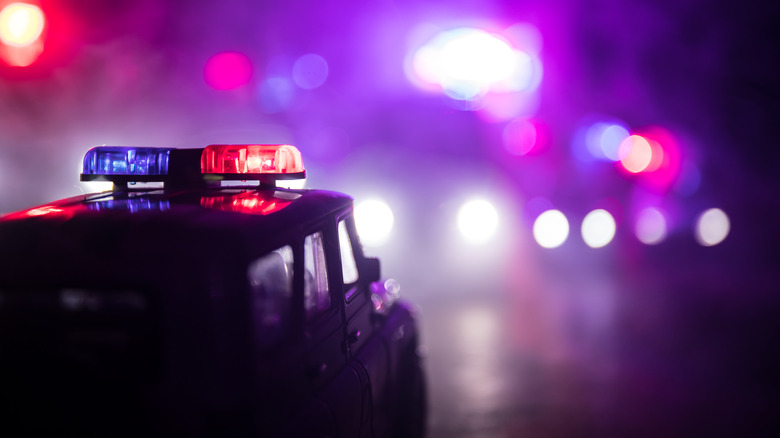 zef art/Shutterstock
The following article includes allegations of domestic abuse and sexual assault.
The Netflix true crime documentary "Abducted in Plain Sight" features all the nail-biting frustration viewers feel when watching a horror film actress stumble through a hazy forest or make her way into a dank, dead-end basement knowing the killer's down there. The shocking twist, in this case, is that the events that took place in the gritty Netflix family saga are not a work of fiction. These heinous acts took place in real time, and they happened to real people.
To summarize the plot, "Abducted in Plain Sight" tells the harrowing tale of a young Jan Broberg growing up in a secluded town where her family befriends a psychopath and child sexual abuser named Robert B. Berchtold, who successfully kidnaps Jan ... twice (via Refinery29). In addition to committing repeat kidnappings, the "master manipulator" — as Jan Broberg describes him in an interview with Vulture — also talked his way into permission to sleep in the same bed with Jan.
As you might imagine, true crime viewers are constantly wagging their fingers at Jan Broberg's parents, appalled at their naivete for letting this psychopath into their lives and beds. But Jan Broberg says this is not a fair assessment because her parents were victims as well (per Refinery29).
Her parents were groomed
True crime enthusiasts might be familiar with the term "grooming," a technique often used by predators to seduce young victims by winning their trust. The New York Times reports that grooming isn't technically a crime in itself; however, this technique is often central to criminal acts involving the kidnapping and/or sexual assault of young people. While many crimes happen quickly under the cover of darkness, grooming takes place over an extended timeframe, beginning with actions that seem innocent and slowly gravitating toward more sinister forms of abuse.
According to Refinery29, Robert B. Berchtold had an arsenal of grooming tactics that he unleashed not only on Jan Broberg but also on her doting parents, who Jan described as trusting and ill-prepared for his advances. For example, in between kidnappings and sexual assaults, Berchtold sexually seduced both of Jan's parents, Mary Anne and Bob Broberg. Berchtold's brand of brainwashing and manipulation created chaos for the entire family, making it difficult for them to see the true nature behind his façade. He first created a string of personal and shameful secrets, which he later weaponized as blackmail against each parent.
On a broader note, Berchtold infiltrated the entire Idaho church community by presenting himself as a carefully crafted character — loving father, God-fearing, kind, etc. The man behind that mask was a fervent predator hiding in broad daylight amid the tight-knit church-going community.
Her parents were both sheltered, trusting, and forgiving
Dmitry Demidovich/Shutterstock
Vulture reports that culture and upbringing played a massive role in Mary Anne and Robert Broberg's naive attitude toward their predatory neighbor. Both parents had been raised in small rural towns and lived somewhat protected from the cruel realities of the world. Mother Mary Anne explained her sentiments, stating, "You just don't know not to trust the world if nothing's happened to you. You don't have any data."
According to Refinery29, "trusting" and "sheltered" are not the only adjectives that appropriately describe the Brobergs, either. Another character trait Jan Broberg says her parents exhibit in abundance is forgiveness. A tenant of faith and family, Broberg's parents centered their lives around the theme of forgiveness, of moving past things, and of assuming the best of people. It is a bittersweet twist of irony that the world has not bestowed this same kind of forgiveness upon Mary Anne and Robert. The Broberg family presented their story to the world, warts and all, with the hopes that they could save the next trusting, forgiving family from following in their footsteps, maybe even yours.
If you or someone you know may be the victim of child abuse, please contact the Childhelp National Child Abuse Hotline at 1-800-4-A-Child (1-800-422-4453) or contact their live chat services.
If you or anyone you know has been a victim of sexual assault, help is available. Visit the Rape, Abuse & Incest National Network website or contact RAINN's National Helpline at 1-800-656-HOPE (4673).