Jeffrey Dahmer's Favorite Movies Inspired A Terrifying Part Of His Look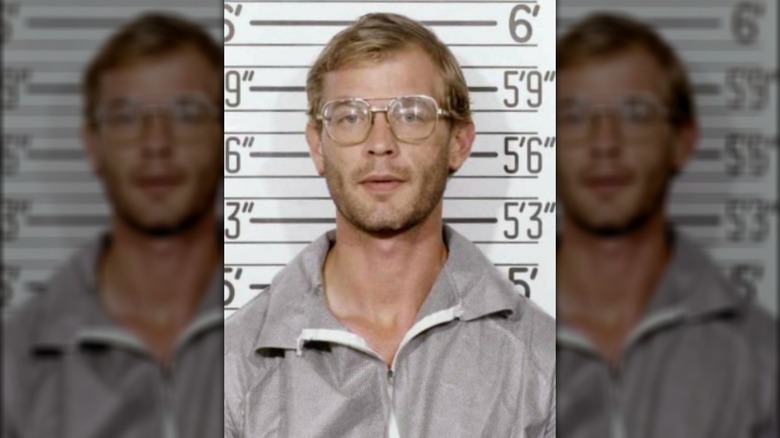 Milwaukee Police Department
A highlight for many who watched the 10-part Netflix series "Dahmer Monster: The Jeffrey Dahmer Story" was actor Evan Peters' performance in the lead role (via Netflix). Adding realism to Peters' harrowing portrayal of Dahmer was his appearance, which included the distinctive aviator-style glasses Dahmer was known to wear. In 1992, Dahmer was given 16 life sentences for a string of brutal murders of young men and boys, mostly in the Milwaukee, Wisconsin area. Those crimes included instances of cannibalism and necrophilia. In 1994, while in prison, Dahmer was killed by Christopher Scarver, another inmate (per Britannica).
Also referenced in the Netflix show are the unsettling yellow-tinted contact lenses Dahmer wore while he hunted his victims at Milwaukee nightlife establishments (via Seventeen). As true-crime author Gisela K. writes in her book "The Milwaukee Monster," Dahmer really did wear contact lenses that color, and the look was inspired by villains from two of his favorite movies.
One of Dahmer's favorite movies was The Exorcist III
The first movie villain Jeffrey Dahmer patterned his yellow-eyed look after was the Gemini killer from "The Exorcist III," a deceased serial killer inspired in part by the real-life Zodiac killer (via IMDb). In the story, the soul of the Gemini killer possesses others, causing them to commit murder. As Gisela K. writes in her book (via Seventeen), Dahmer watched the movie repeatedly in the months leading up to his arrest. 
Referring to the third "Exorcist" movie, Gisela K. wrote (via The U.S. Sun), "[Dahmer] resonated so much with the main antagonist, the Gemini killer, that he bought yellow contact lenses to feel and look like him," According to, Dahmer reportedly revealed his affinity with the fictional Gemini killer in FBI interviews. "FBI profiler Robert Ressler reasoned that Dahmer's interest in the movie was about the power the possessed had over the minds and bodies of the rest of the world, and over reality," she wrote.
He also admired Emperor Palpatine from Star Wars
Jeffrey Dahmer also had an affinity for Emperor Palpatine from the "Star Wars" series, according to The U.S. Sun. Prior to his arrest, Dahmer was known to frequently mention both "Star Wars" and the "The Exorcist III" while he worked at a chocolate factory. Indeed, Dahmer related to both Palpatine and the Gemini killer to such an extent that he bought yellow contacts to mimic their on-screen appearances.
Park Dietz, a forensic psychiatrist, said at Dahmer's 1992 trial (per A&E): "What these characters have in common is that they are evil and corrupt and powerful, and both have the ability to use special powers to control others. He's consistently told me that making others suffer was not his desire sexually, but that he did identify with the power of these characters."
"It happens that both those characters are portrayed in the films with yellow eyes that give them an eerie look," he added.