Inside The Friendship Of Judy Tenuta And 'Weird Al' Yankovic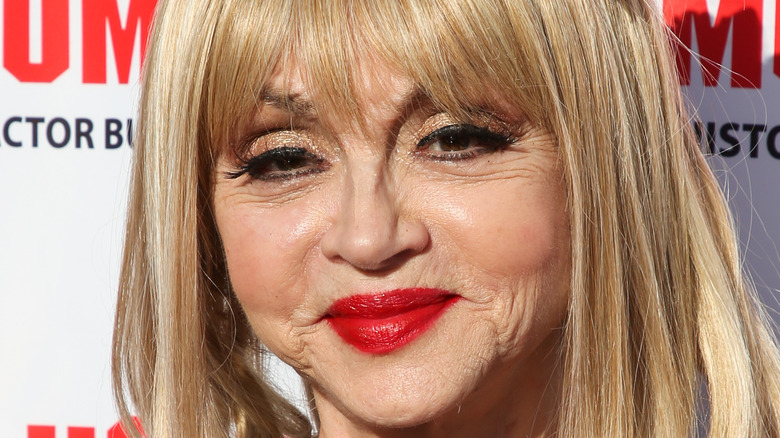 Paul Archuleta/Getty Images
Stand-up comedian, musician, actress, and author Judy Tenuta died October 6, as The New York Times reports. Her cause of death was ovarian cancer, according to her longtime manager, Roger Paul. Tenuta was born in 1949, making her 72 when she died, but she rarely mentioned her age publicly, as The Times also notes. As news of Tenuta's death spread, comedians took to Twitter to share their condolences. "I sure did love Judy Tenuta," Paul Reubens (Pee-wee Herman) tweeted.
As an accordion playing comedian, Tenuta's zany, award-winning act may remind some of another singing funny person who plays the same instrument: "Weird Al" Yankovic. Tenuta and Yankovic shared a long friendship, and Tenuta worked with the parodist on several occasions throughout their respective careers. Joining Reubens, among others, Yankovic also shared his thoughts on Twitter upon hearing of his friend's death. They shared far more than an appreciation for the comedic possibilities of the accordion.
Tenuta appeared in 'Weird Al' music videos
As Deadline reports, Tenuta had a cameo in Yankovic's 1994 parody of the Crash Test Dummies' hit song "Mmm Mmm Mmm Mmm," called "Headline News" (the video is posted on YouTube) (via AllMusic). In it, Tenuta plays a knife-wielding caricature of Lorena Bobbitt, arrested and charged with the 1993 genital mutilation of her abusive husband. Tenuta also appeared in Yankovic's music video for his song "White & Nerdy," a 2006 parody of the hip-hop Chamillionaire hit "Ridin'" (via AllMusic, and also posted on YouTube). In "White & Nerdy," Tenuta plays the wife of Yankovic's "nerdy" husband character, as she receives a birthday gift: an extension cord power strip.
In addition to parodies, in 1997 Yankovic also had a short-lived Saturday morning TV series on CBS, "The Weird Al Show," in which Tenuta made five appearances (via IMDb). The "Weird Al Show" was only on the air for one season. The full series of 13 episodes, including those featuring Tenuta, is available to stream now on Peacock.
Yankovic was devastated by Tenuta's loss
In 2021, Tenuta referenced her Stage 4 ovarian cancer diagnosis in "Kicking Cancer's A**," a "Weird Al"-style accordion tune, a little less than two minutes long, in which she documents her cancer treatment (it's also posted on YouTube). In her career, Tenuta also hosted episodes of "Night Flight" on the USA Network alongside another frequent Yankovic collaborator, comedian Emo Phillips, to whom Tenuta was once married. Yankovic also made many early appearances on the series, per Night Flight Plus.
Among other tweets mentioning Tenuta, Yankovic remembered his old friend upon hearing of her death. His tweet read, "Devastated to hear of the passing of my dear, dear friend, the lovely Miss Judy Tenuta. I can't believe she's gone. Earth has truly lost a goddess," referencing "The Love Goddess," as Tenuta often called herself, The New York Times reports. As Deadline notes, Tenuta died in Studio City, California. Surviving Tenuta is her longtime partner, Vern Pang, and her siblings, nephews, nieces, and a grandniece.