The Dallas Cowboy Legend That Manned A Bomber Plane Over War-Torn Europe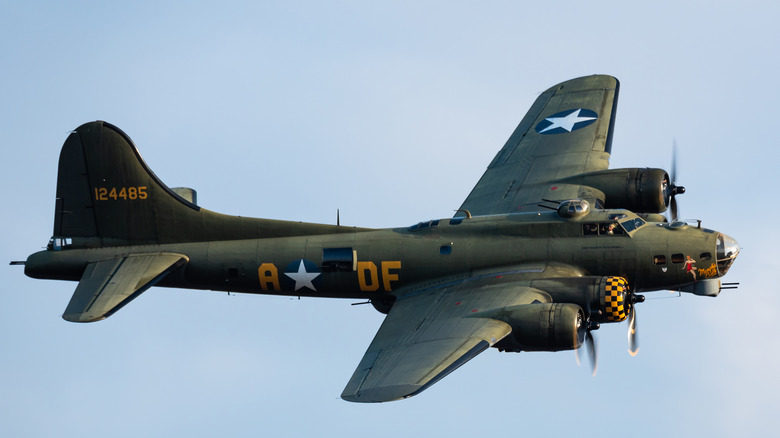 BeAvPhoto/Shutterstock
On November 21,1944 a young Texan left England on his first bombing run into Germany as a copilot on a B-17 bomber, a mammoth plane known as a Flying Fortress, in a convoy of 2,000 planes, according to "The Last Cowboy: A Life of Tom Landry" by Mark Ribowsky. Their target was the industrial city of Merseburg, per the book, where synthetic oil production was helping to keep the German military going in the waning days of World War II's European theater of combat.
As the plane, which was freezing cold, unpressurized, and loud, made its way toward its target, the night sky would periodically flare into light as the Nazi artillery burst around them. Lt. Tom Landry had a "helpless, sinking fear" as they moved towards their goal. This first combat experience would be nothing compared to two later missions in which Landry, a member of the 493rd Bomb Group, 860th Bomb Squadron, nearly died, per The McAlester News-Capital and The Last Cowboy.
Near misses and crash landings
After a bombing run over the Netherlands, Lt. Tom Landry, just 20 years old, and his 10 fellow crew members were heading back to base in Ipswitch, England, when they began having engine trouble, according to "The Last Cowboy." All four engines suddenly cut out, and the plane went into a nosedive and the crew prepared to bail out. Just before they jumped, Landry tried one more trick to get the engines up and running. It worked, and they were able to pull the plane out of its nosedive but were forced to fly low to the ground the rest of the way as they zigzagged to avoid Nazi artillery.
On another bombing run, this one all the way to Czechoslovakia, ended in a crash landing in France after they ran out of fuel. Landry would eventually fly 30 combat missions before being honorably discharged, per Together We Served. Tom's older brother, Robert, wasn't as lucky. His bomber went down over the North Atlantic near Iceland in 1942, per The McAlester News-Capital. His body was never found.
The stoic, cool head of 'America's team'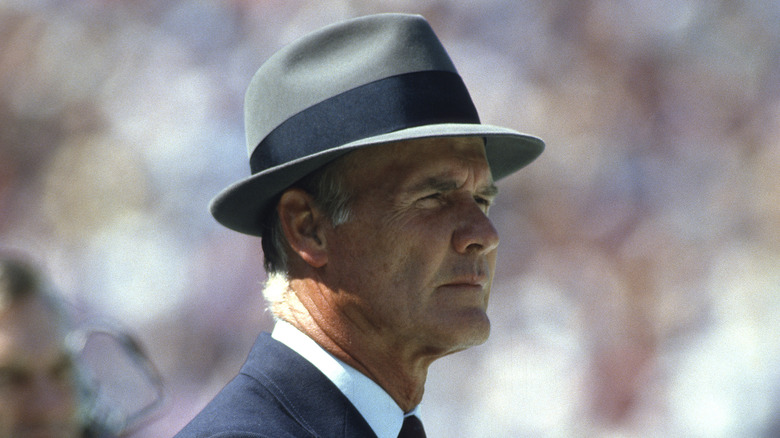 Focus On Sport/Getty Images
After leaving the military, Tom Landry went back to doing what he loved most, playing football. In high school, he was a fullback for Mission High School, with a stunning record his senior year in which his team outscored their opponents 322 to 0, per The New York Times. Before joining the war effort, Tom Landry had been attending the University of Texas at Austin and returned there to continue his studies and play football after being discharged.
His professional football career included a stint with the New York Yankees (the short-lived All-America Football Conference team that lasted from 1946-1949, per Lucky Show) before joining the New York Giants in 1950. There he not only played defensive halfback and became an All-Pro, he was soon a player-coach and then a defensive coach, per The New York Times. Landry would begin his long storied career with the Dallas Cowboys in 1960, when Clint Murchison Jr. launched the NFL expansion team. He led the Cowboys to 20 straight winning seasons and two Super Bowl wins, per the Pro Football Hall of Fame. Landry was unceremoniously dumped in 1989 after 29 years when Jerry Jones bought the team, per The Dallas Morning News. In his later years, Landry again took to the air. He flew general aviation aircraft for fun before he died of cancer in 2000 at age 75, per the Lone Star Flight Museum.