BB King Went To Bed Every Night Listening To This One Legendary Album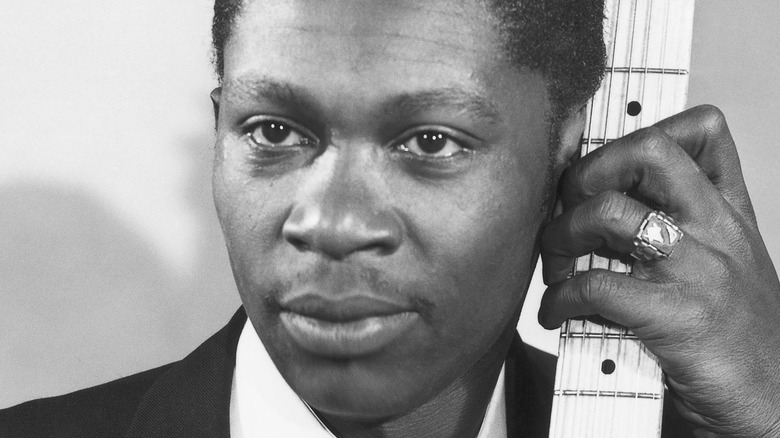 Michael Ochs Archives/Getty Images
Legendary blues artist B.B. King first gained fame in the 1940s. His ability to blend guitar playing styles from Blind Lemon Jefferson and T-Bone Walker as well as mix genres like jazz, blues, and even pop was a skill that influenced subsequent guitar players for decades to come. Among those influenced were Eric Clapton and George Harrison (per King's website). After making his way from a small town in Mississippi to Memphis, Tennessee and on to international recognition, he crossed paths with countless present and future stars.
He began recording at Sun Studios in Memphis during the 1950s. It was here that he met Johnny Cash, Jerry Lee Lewis, and Elvis Presley, who all worked with Sun Records owner Sam Phillips, who many credit as a catalyst for the spread of rock 'n' roll. King later performed at a charity event in Memphis, during which he spent time with Ray Charles and Presley at a time when all of their careers were taking flight (per Literary Hub). Among all of the namedropping that King can do, there was another artist with whom he connected during his decades-long career.
B.B. King was a self-proclaimed Sinatra nut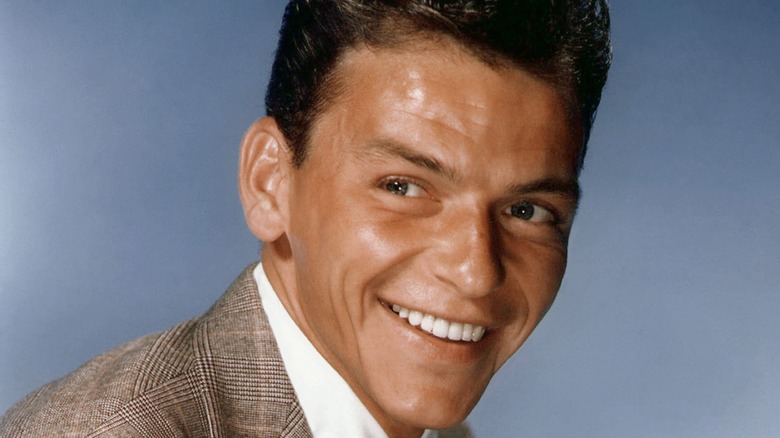 Donaldson Collection/Getty Images
In his 1996 autobiography, "Blues All Around Me," B.B. King expressed his reverence for Frank Sinatra. "No one sings a ballad with more tenderness. I practically put that 'In the Wee Small Hours' album under my pillow every night when I went to sleep," he stated after referring to himself as a "Sinatra nut." Turns out, Sinatra was a fan of King as well. He helped book King at multiple venues in Las Vegas during the 1960s, even at venues that were not accustomed to Black performers at the time (per Far Out).
This album that King loved enough to play on the regular was Sinatra's ninth studio album, released in 1955. Apple Music credits this album as one that contributed to the Great American Songbook, which refers to influential songs recorded from the 1920s to the 1960s and often involved theater productions and Hollywood musicals. These songs are commonly known as "standards." A few of the 21st-century artists who have recorded versions of these songs include Lady Gaga and Tony Bennett (who released duet albums comprised of standards in 2014 and 2021), Sting, and Harry Connick Jr.
B.B. King and Frank Sinatra both died on May 14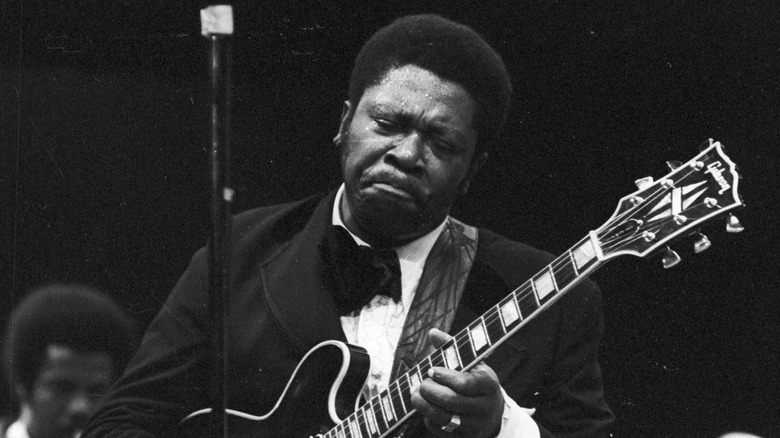 Michael Ochs Archives/Getty Images
The Desert Sun reported that B.B. King did not frequently meet with Frank Sinatra, despite the visibility that Sinatra helped him gain. However, their mutual friend, Sweets Edison, brought the two together in the 1970s as both were performing at Caesar's Palace. Sinatra did not stay long, but told King, "I got some booze and some broads. Help yourself." King opted not to share in Sinatra's party antics, but they did go onto share something else. Both artists died on the same day, May 14, although King died 17 years after Sinatra. 
The Blues Foundation Hall of Fame inducted King in 1984, as did the Rock and Roll Hall of Fame in 1987. Even after this, he performed around 250 shows per year and opened a blues club on Memphis' famous Beale Street. He followed this with clubs in Los Angeles and New York City. Not bad for a guy who got his start from hitchhiking to Memphis all those decades ago (per his website).