NFL Kicker Justin Tucker Has A Wildly Unexpected Talent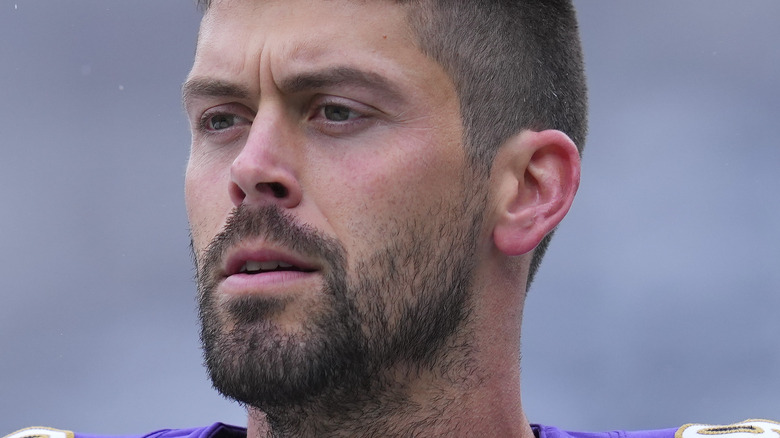 Mitchell Leff/Getty Images
To play any position in the NFL would be enough for many who love the game of football, the outcome of countless hours of practice, workouts, and game-time throughout childhood or as a student athlete. Athletic pursuits such as football are not the only endeavors in life that require dedication and perseverance, though. Those two traits are also crucial to perform at the highest level in the arts.
On that note (so to speak), not only has NFL player Justin Tucker — who as of this report is placekicker for the Baltimore Ravens — set an incredible record on the field, he also possesses a truly unexpected artistic talent. Tucker's unique ability relates to what he studied in college at the University of Texas in Austin, and it couldn't be further removed from the brutality of the sport he plays professionally. As Sports Illustrated explains, Tucker also has no qualms about demonstrating this skill whenever he's off the field.
Tucker kicked the longest field goal in NFL history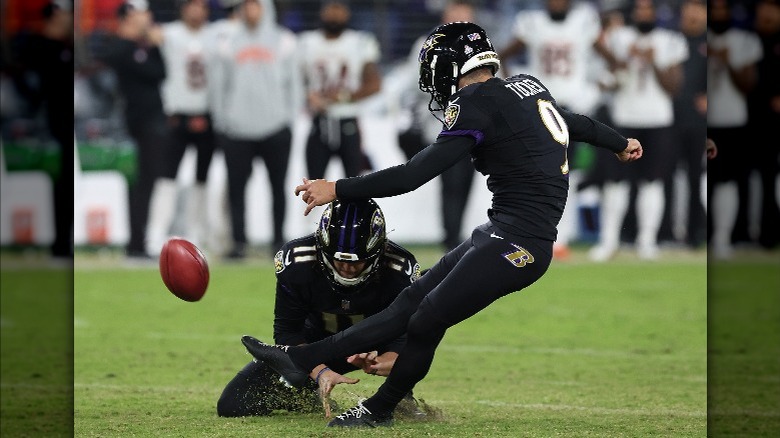 Todd Olszewski/Getty Images
When not wowing audiences with his artistic expression, Tucker is often considered the best and most accurate kicker in NFL history, with an NFL-record 66-yard field goal completed against the Lions in the 2021 NFL season, according to NFL website reporting. As ESPN goes on to note, Tucker's completion record is typically more than 90%, making his accuracy rate among the highest in the league, if not in history. Kickers don't often get the kind of publicity that quarterbacks do, but as the official Baltimore Ravens website reported in the 2022 NFL season, all combined, Tucker often gets touted as the most underrated player in football. 
In 2021, Tucker spoke to Sports Illustrated about the standard of excellence he sets for himself both on and off the field. Tucker said (via S.I.), "Honing in on your craft and developing a technique that looks a certain way, time and time again — that requires much preparation and hard work. To make something that is actually difficult appear easy, I think there's a level of artistry in that idea." That statement could also relate to Tucker's notable off-the-field talent.
Tucker also sings opera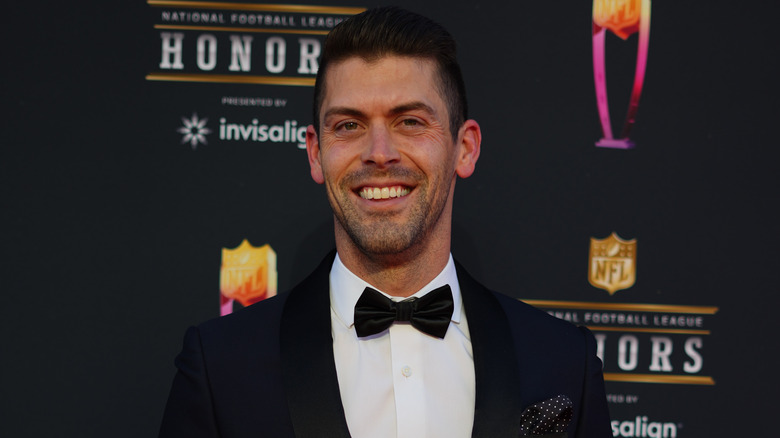 Cooper Neill/Getty Images
As Sports Illustrated goes on to explain, Tucker is also a classically-trained opera singer. Singing in the bass-baritone range, Tucker performs frequently, such as in 2015 when he sang Bach's "Ave Maria" in the Baltimore Basilica Cathedral. In addition to playing football, Tucker had a passion for music in his youth, and studied recording technology while at the University of Texas. When asked about the "bel canto" — or beautiful singing — technique Tucker uses, one of Tucker's Texas professors, Nikita Storojev, uses terms of physicality, appropriate for a pro athlete. 
Storojev said (via S.I.), "You need to use your intellect and your physical potential ... It's based on muscle coordination. [Tucker] had to learn how to support every note, how to concentrate, how to use his diaphragm. And if you work in sport, you're able to use your diaphragm." Incredibly, there's another NFL player besides Tucker who also sings opera, former linemen Ta'u Pupu'a, a tenor — though as a player, Pupu'a failed to set any records, according to CNN. Footage of Justin Tucker singing "Ave Maria" is available to stream now on YouTube.