Why Prince Always Wore The Color Purple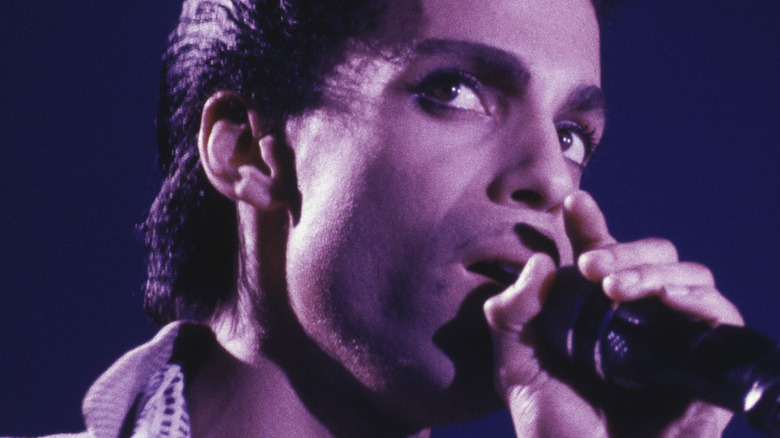 Michael Putland/Getty Images
What makes a true musical icon? Well, some of the same factors that can contribute to success in any avenue of life: Motivation. Drive. Talent. Opportunity. A chance encounter can also change the course of somebody's life. It's about more than that, though. To truly stand the test of time and become a pop culture legend, a certain persona is needed. A sense of style. Those rare musicians that ascend to the very pinnacle of success have something very special. They have a commanding presence and a look that sees audiences eating from the palms of their hands.
Prince was an icon in the truest sense of the word. In a January 1997 interview with Ebony, embracing his then-identity as the Artist Formerly Known As Prince, he gestured around his lavish property and said, "as you can see, I'm not broke as some rumors have it." The publication acknowledged he had sold over 100 million records globally at the time. Prince or not, there was something of royalty about the star, and this seems to have been part of why he so enjoyed wearing the color purple.
The lofty connections of Tyrian purple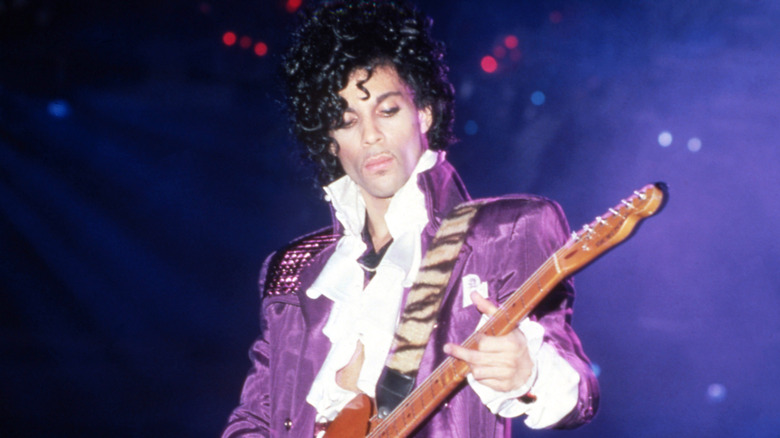 Icon And Image/Getty Images
The world's nobles, royalty, and other VIPs tend to have a taste for the finer things in life. This penchant for luxury often comes with traveling in loftier circles, as, historically, has a liking for being adorned in the color purple.
The Cooper Hewitt Smithsonian Design Museum's head librarian, Jennifer Cohlman Bracchi, has explained the reasons for this association, and how far back it dates. Per Smithsonian Magazine, a dye known as Tyrian purple was something rather more special than simple combinations of blue and red colors. Tyrian purple reportedly dates back to the Phoenicians of 1200 B.C. The mucus of snails was used to create this rare hue, and so painstaking and costly was its creation that it seems only the upper echelons of society were worthy of it.
According to History, the Byzantine Empire's leaders lavished themselves in Tyrian purple, as did some Roman Emperors, who reportedly forbade their people from wearing the color. They needn't have worried, really — Tyrian purple was such a rarity that the shade alone was revered, and so costly to make that a year's wages would buy the average worker just a small amount of the wool.
Around 250,000 Bolinus brandaris sea snails were required to make an ounce of the dye, making it clear that it was the very last word in opulence. Prince, being quite the superstar himself, seems to have taken a liking to purple for just this reason.
Prince's favorite color: Purple or orange?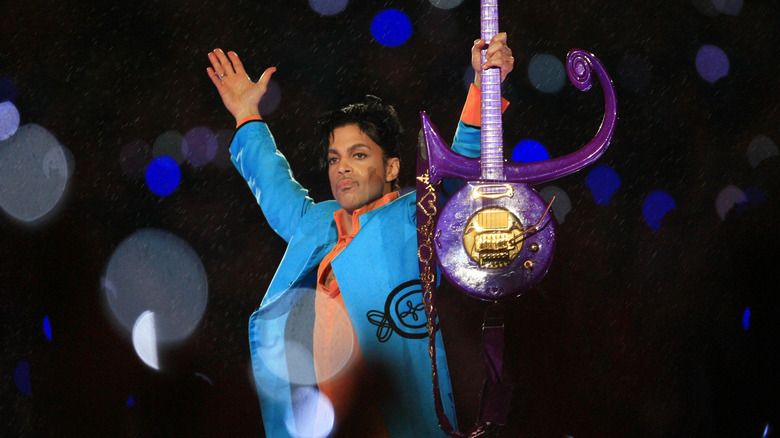 Jamie Squire/Getty Images
Prince's name, per Huffington Post, was his real given name: Prince Rogers Nelson. He became a worldwide attention-grabbing star, of course, and it seems his great fondness for wearing purple tied into the persona he created for himself.
In August 2017, Associated Press reported (via Billboard) that Sharon Nelson, Prince's half-sister, had discussed the subject. She stated that wearing purple "always made him feel Princely," going on to say that "he especially loved the color purple because it represented royalty."
Nelson also noted, however, that The Purple One had room in his heart for other colors besides. It seems an entirely uncontroversial statement to make on behalf of the "Raspberry Beret" hitmaker, but there's been some debate on this score among Prince's family.
That same month, his sister Tyka Nelson discussed the "My Name Is Prince" exhibition (which opened in London in October 2017 and showcased a lot of memorabilia owned by the icon) with the Evening Standard. Among the rarities was a Cloud guitar Prince had used in prominent performances a decade prior. Of the bright orange guitar, Tyka Nelson told the outlet, "it is strange because people always associate the color purple with Prince, but his favorite color was actually orange." Tragically, the music maestro himself is no longer around to settle the debate, but it's fitting for the colorful life he led.