Serial Killer DeAngelo Martin's Prison Sentence Explained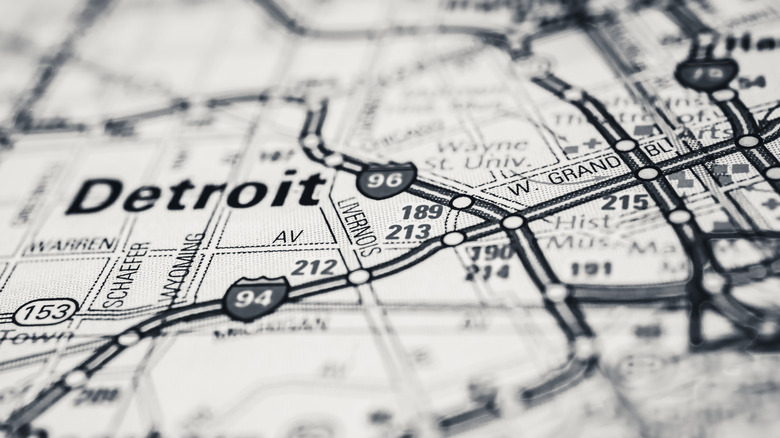 Alexander Lukatskiy/Shutterstock
In March 2019, the body of Nancy Harrison, who was 52 when she died, was discovered in a vacant home in Detroit, Michigan. She died from blunt force trauma, according to Fox 2 Detroit. Shortly thereafter, three more bodies were discovered in and around the area of the city. Based on similarities in how the women were killed and details found at the crime scene, then Detroit police chief James Craig announced that there was a serial killer and serial rapist on the loose, as Click on Detroit notes.
By June of that year, Detroit resident DeAngelo Martin was identified as a person of interest in the case and soon after, he was arrested and charged with murdering those four women. In September 2022, only a matter of days before his trial was set to begin, Martin plead guilty to four counts of second-degree murder and the sexual assault of 10 others. On Thursday, October 6, 2022, Martin's sentence was announced, and Martin's plea deal played a part in how much time he will spend in prison.
If you or anyone you know has been a victim of sexual assault, help is available. Visit the Rape, Abuse & Incest National Network website or contact RAINN's National Helpline at 1-800-656-HOPE (4673).
Family of those killed spoke at Martin's sentencing
As Fox 2 Detroit reports, family members of the four women Martin is now convicted of killing spoke at his sentencing. At the hearing, Timothy Harrison, the brother of Martin's victim, Nancy Harrison, said it had been a rough three-and-a-half years since his sister died, and every day since then, the Harrison family thought of Nancy. "This gentleman here knows my sister. He knew my sister. He knew Nancy had a heart. Shame on him. I'm going to say a prayer for this gentleman. I'm bitter. Very much so," he said.
Based on further reporting from The Detroit News, Martin's sentencing was agreed upon before he pleaded guilty, and his sentence was announced by Wayne County Circuit Court Judge Regina Thomas. After the sentencing, Wayne County Prosecutor Kym Worthy said in a statement, "The women Deangelo Martin violently killed all had families that loved them dearly. Hopefully, they will find some peace knowing that he will be in the Michigan Department of Corrections and off the streets."
Martin will spend at least 45 years in prison
At the sentencing hearing of DeAngelo Martin, it was learned that the serial killer will spend 45 to 70 years in prison for murdering four women and sexually assaulting two others, as Click on Detroit reports. As part of Martin's plea deal, those sentences will be served concurrently. Michigan has no death penalty, according to Fox 2 Detroit. Martin is thought to be involved in the murder of two additional women but he was never charged for those crimes. Martin also spoke at his sentencing hearing, during which time he said the crimes for which he's convicted were not his "wrong-doing" despite pleading guilty. 
In addition to Harrison, the three women that Martin is now convicted of killing are Annetta Nelson, 57, Trevesene Ellis, 55, and Tamara Jones, 55, as The Detroit News reports. There was evidence of sexual assault in each case. Detroit authorities are criticized for the time to take Martin into custody. At least one other potential Martin victim escaped, according to The Washington Post.