Jeffrey Dahmer's Teenage Years Still 'Astound' My Friend Dahmer Author John Backderf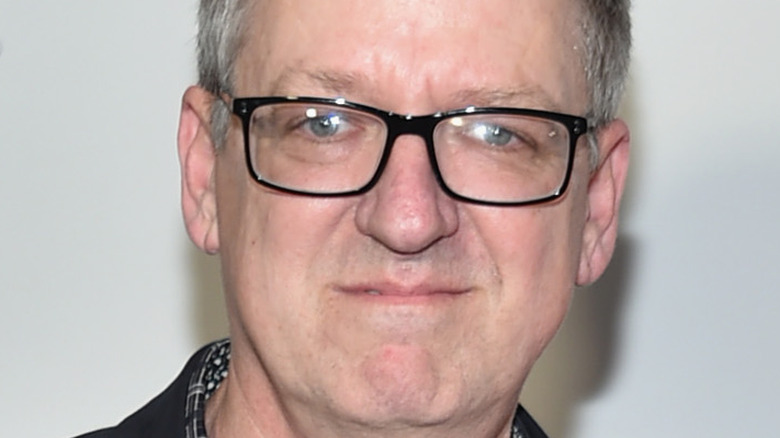 Mike Coppola/Getty Images
In 1994, Jeffrey Dahmer was killed by a fellow prison inmate, Christopher Sarver, while Dahmer served 16 life sentences for the brutal murder of 17 young men and boys, mostly in the Milwaukee, Wisconsin area, per Britannica. The Dahmer case is one of the most high-profile and horrific examples of serial murder in U.S. history, as Dahmer engaged in necrophilia and cannibalism with some of his victims. Like anyone, though, Dahmer had a childhood, and though it offers no excuse for the crimes he committed later on in his life, examining Dahmer's teenage years does provide crucial insight into how Dahmer could perpetrate such acts. It also perhaps offers guidance into how others with similar dark compulsions might be helped.
Someone who knew Dahmer while young was the graphic novelist John "Derf" Backderf (pictured), author of "My Friend Dahmer," a 2012 graphic novel account of the experiences Backderf had with Dahmer while they were friends in high school. Backderf's book was adapted into a 2017 feature film starring Ross Lynch as young Dahmer (via IMDb). As Backderf records in his book, and as the author told Independent in 2018, there were signs that Dahmer was in trouble even then, if only the adults in his life knew where to look.
There was always something different about Dahmer
According to Backderf, speaking to Independent, he counted Jeffrey Dahmer among his friends while in high school, though there was always something about young Dahmer that compelled Backderf to keep his distance. As a result they were mostly social in the school setting. Bath, Ohio, where Backderf and Dahmer grew up, is a small town, and as a result, friend options were limited, Backderf said. As Dahmer began to act out while in high school, he drew a friend following of sorts due in part to that dark charisma, as he threw fits for attention and pulled other types of wild and dangerous stunts and pranks, such as inserting himself into school group photos.
According to Backderf (via Independent), "We were bored stiff and just looking to get through the day, and Jeff was entertainment. He was a little bit dangerous, he was a little bit unpredictable, and that was fun for us." Around that same time, as Backderf goes on to recall, Dahmer began to drink heavily, and after that point, his teenage antics grew darker, and his teenage friends group was concerned.
Dahmer's problem with alcohol was evident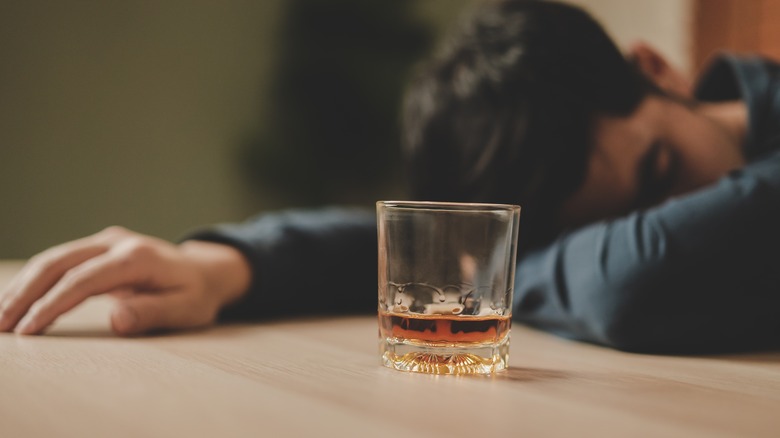 Kmpzzz/Shutterstock
As Backderf goes on to note, after Dahmer began to drink heavily while in high school, in part to suppress his emerging sexuality and urges toward necrophilia, his behavior became increasingly dark and members of his social circle, including Backderf, were worried, according to Independent. Dahmer's parents had split, and Dahmer's mother dealt with mental health challenges. All told, Dahmer's potential for darkness was apparent at that time and his drinking was clearly a problem, but adults and even Dahmer's friends — who were nearby in 1978, when Dahmer killed and dismembered his first victim, Steven Hicks — failed to take action.
According to Backderf, speaking to the Phoenix New Times in 2017, Dahmer's friends also dealt with their own personal problems at that time, like divorce, "But the teachers and school officials were no better," Backderf said. "That still astounds me, because he was completely out of control and it was so apparent to us kids," he added. Backderf also said (via Independent) that the adults in Dahmer's life at that time "[P]ushed him along and figured, 'Well, next year he'll be somebody else's problem.' And of course he was somebody else's problem," Backderf said.