Halloween-Related Accidents Created An Unsettling Statistic Regarding Children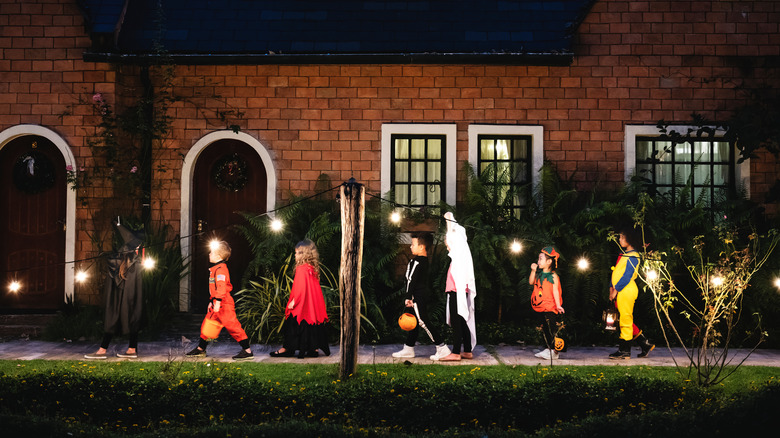 Rawpixel.com/Shutterstock
As children trick-or-treat on Halloween, some parents are fearful of tampered-with candy. Though there are isolated instances of children receiving candy laced with drugs, razor blades, or other harmful objects, generally speaking those fears are unfounded, based on Fox News reporting. According to Wisconsin Public Radio (WPR), though, there are some risks for children on the Halloween holiday, as revealed in a 2019 study using federal data.
The danger posed to children on Halloween has less to do with the candy itself, and more to do with the dark costumes children tend to wear, the time of day when trick-or-treating often takes place, and that the Halloween holiday occurs on whatever day of the week October 31 happens to fall on. As WPR also notes, similar hazards as those revealed in the 2019 study remain for children all throughout the holiday season, according to a 2021 study conducted by Hill Law Firm, a Texas agency.
The threat to children on Halloween comes from drivers
Jeenah Moon/Getty Images
As The Washington Post reported in 2019, children are three-times more likely to be hit and killed by a car on Halloween than on any other day of the year. What's worse, children 4 to 8 are ten-times more likely to die in a pedestrian-vehicle accident on the holiday. Those conclusions were reached using federal traffic data on fatal pedestrian accidents from 2004 through 2018. Setting the timeframe much longer, a 2019 study "Pedestrian Fatalities Associated With Halloween in the United States" published on JAMA Pediatrics on the JAMA Network used four decades of data from the National Highway Traffic Safety Administration. 
That study showed similar findings: Pedestrians killed by cars jumped 43% on Halloween, with the highest increase among minors, and especially children under 8 (via WPR). As WPR goes on to explain, The Hill Law study found there was increased risk for pedestrians during any holiday season, even the 4th of July in the summer. The worst months of all, though, were October through December.
Some think Halloween should always be on Saturday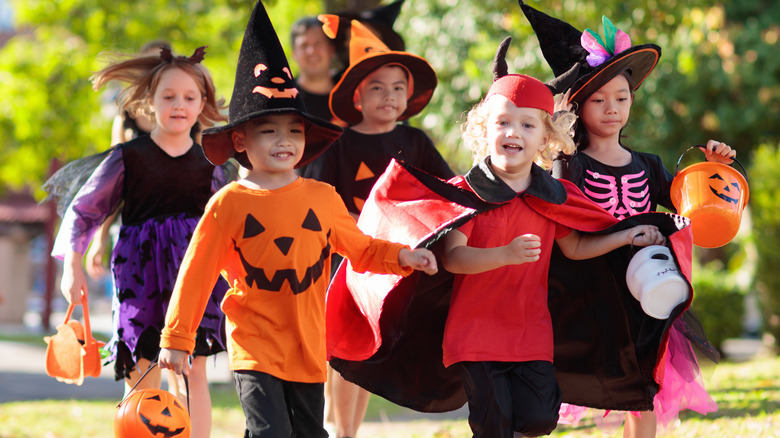 FamVeld/Shutterstock
What some studies also found, is that traffic accidents involving pedestrians are far fewer when Halloween falls on a Saturday, and for this reason some advocate for the holiday to be permanently moved to Saturdays, regardless of which day October 31 might fall on that year (per WPR). In fact, A 2021 study from Autoinsurance.org even found that fewer pedestrians die in auto accidents when Halloween falls on a Saturday than on a typical Saturday.
Pedestrian safety on Halloween and other holidays largely has to do with the darker conditions in the evening hours when trick-or-treating tends to take place, and that there are simply more pedestrians — and more children — on the street at night. To stay safe, experts say to remain mindful of visibility when choosing a Halloween costume and to trick-or-treat in the open and away from alleys or hard-to-see places. They also advise staying away from high traffic areas as much as possible.