The Monster Mash's Lesser-Known Sequels Are So Bad They're Good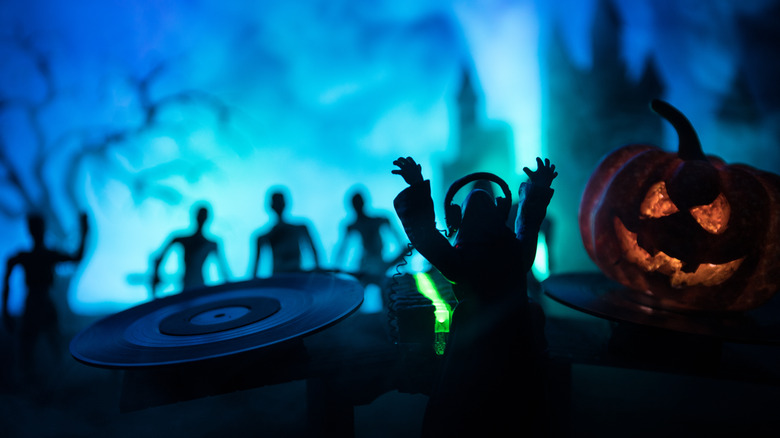 zef art/Shutterstock
We have all heard the "Monster Mash," and we all know it's a "graveyard smash." But did you know its creator made other Halloween bangers that never quite made it out of the crypt? But let's take it back to when the king of spooky songs first came out, in 1962 (via Smooth Radio).
It was a crisp fall night ... Wait. No, it was a hot August day in the early 1960s, when everyone was grooving and jamming, years before the Summer of Love. A young actor from Massachusetts (via IMDb) named Bobby Pickett had been performing with a band called The Cordials by night, and auditioning for acting roles during the day, when he and a buddy came up with the idea for "Monster Mash." For the song, he put on a creepy mad scientist's voice, but surely that scientist did not discover time travel — otherwise he'd know this smash-hit would be played religiously on countless radio stations for the next 60 Halloween seasons.
The story of the Mash
Although the "Monster Mash" released during the summer of 1962, it skyrocketed to the top of the U.S. charts by Halloween of that same year (via Smooth Radio). But Bobby Pickett never intended to become famous for his kooky vocal abilities. In fact, the idea for the song came from a bit he did during a show with The Cordials. During a concert, as an intro to their cover of The Diamonds' "Little Darlin," he did an impression of horror movie actor Boris Karloff. The crowd loved it, and his fellow band member Lenny Capizzi told him to lean into the talent.
The duo created "Monster Mash" as we know it today, which has been played for the last six decades. The band Pickett and Capizzi created to record the track were "The Crypt-Kickers," featuring Leon Russell, Johnny MacRae, Rickie Page and Terry Berg. With back-up vocals by The Blossoms (who are weirdly chanting "ooh, tennis shoe, wah-ooh," but that's a whole other story) (via The Hill), the group used Pickett's creepy impressions, combined with sound effects like coffins opening and cauldrons bubbling, to create a track that changed Halloween history.
Songs buried in time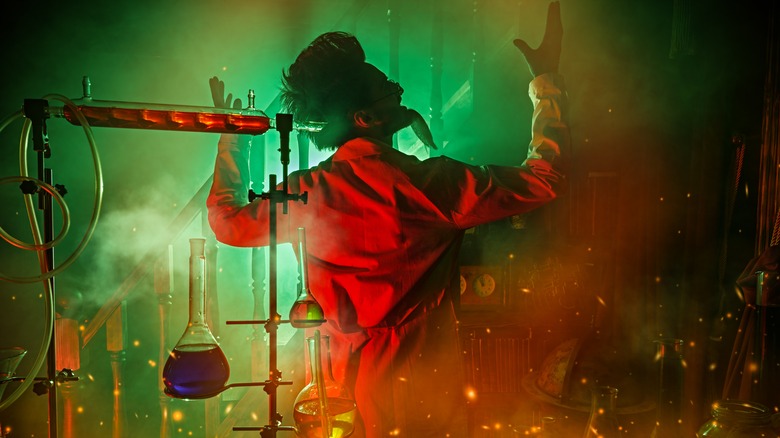 Kiselev Andrey Valerevich/Shutterstock
Although "Monster Mash" has been played for decades, Pickett's mad scientist alter ego created other Halloween tracks, much like the monster he creates in the original song. But these creations didn't make it quite off the slab (via Smooth Radio). Around the same time as the release of "Monster Mash," Pickett released "Monster's Holiday," which is a Christmas song recounting the Yuletide celebrations of monsters (via YouTube). Their tree is decked with werewolf fangs and vampire wings, and the background sound of jingle bells dances eerily behind a "Monster Mash"-esque beat. But this isn't the only song he made that sounds vaguely similar to his golden ticket hit.
He also wrote "Monster Swim," about monsters learning how to do a dance by that name, but funnily enough, Dracula mentions in it how he misses the "Monster Mash" (also via YouTube). Then, skip forward to the 1980s, when Pickett dropped an interesting house-music bop where the mad scientist from "Monster Mash" is annoyed that he can't teach his monster to talk (also posted on YouTube). Luckily, the monster learns how to rap (which is pretty jarring), but the mad scientist has to sedate him because he just won't stop. Although these sisters to the king of spooky songs are still royalty, "Monster Mash" is what truly brought Pickett his fame. Pickett died of leukemia in 2007 at age 69 (via The New York Times).