How Did Nina Simone Get Her Name?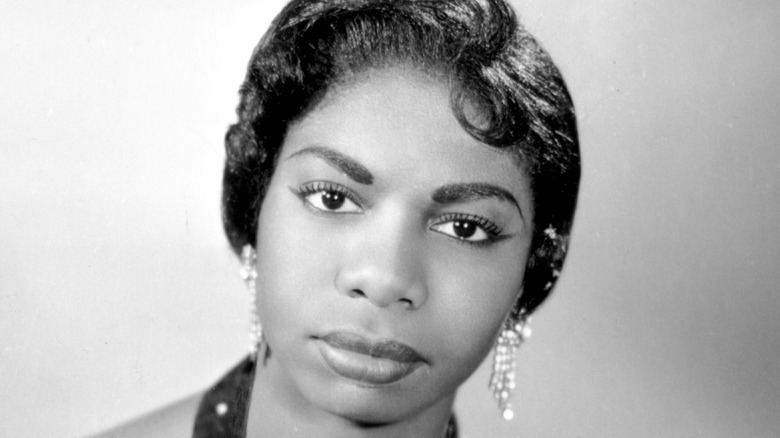 Michael Ochs Archives/Getty Images
In 1954, Eunice Kathleen Waymon walked into a bar for the first time in her life. She'd just arrived in Atlantic City from Philadelphia. The child prodigy who began playing piano at age three and had attended the prestigious Juilliard School of Music in New York City until she ran out of tuition money, was about to embark on a new career and the club, the Midtown Bar and Grill, located just off the boardwalk, was to be her launching pad, per Biography and the book "Princess Noire: The Tumultuous Reign of Nina Simone."
Waymon had been working as a piano teacher, but her precarious finances pushed her to try something new. She wanted to be a concert pianist playing classical music. Until that happened, she'd have to play piano and sing pop tunes, something she'd never done. It was just for the summer, she believed, and the money was good. After her time at Julliard, she'd moved to Philadelphia hoping to attend the Curtis Institute of Music on scholarship but didn't get accepted, which she believed was because of racism, per "What Happened, Miss Simone? A Biography."
A Spanish word and a French actress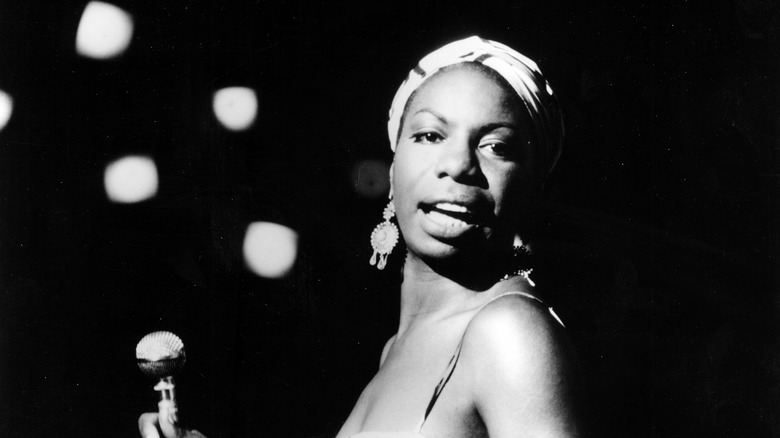 Michael Ochs Archives/Getty Images
Waymon's mother was a Methodist preacher who considered popular music sinful, so Eunice Waymon decided she would need a stage name if she would be performing in a bar. "It was kind of like a gimmick for me when I first chose it," Simone told the Commercial Appeal in 1969. "It was just to be for the summer in a little bar. But what I didn't realize was that all the kids who came to the bar thought of me as Nina Simone, so I kept it."
Waymon's new appellation combined a Spanish word and the name of a famous French actress. She used a pet name given to her by a Spanish-speaking former boyfriend who called her "niña," the Spanish word for girl or child, and borrowed the first name of the French film star Simone Signoret for her last name, according to the Encyclopedia of Music in the 20th Century. Signoret, who began her acting career in the 1940s, had by the 50s become a celebrated international star. "The two just seemed to go together," Nina Simone told The Philadelphia Inquirer in 1993.
Eunice Waymon rockets to stardom as Nina Simone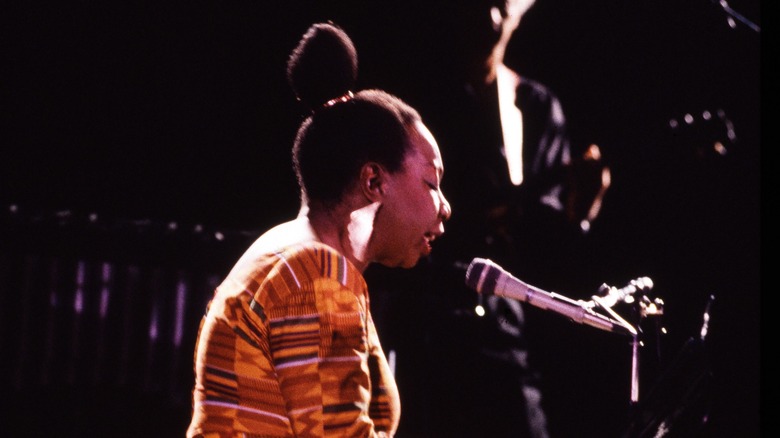 Michael Putland/Getty Images
Born in Tryon, North Carolina on February 21, 1933, Nina Simone went to New York City to attend Julliard thanks to the support of her music teacher who created a fund for her, per Biography. After her Atlantic City gig in 1954, she began playing around Philadelphia and was signed to the Bethlehem record label. She scored a top 20 hit in 1957 off her first record, "Little Girl Blue" with her version of "I Loves You Porgy" from the musical "Porgy and Bess." 
Simone, known as the "High Priestess of Soul," would become an international star who blended jazz, blues, pop, and gospel. Besides playing piano and singing, she composed. Simone was also a Civil Rights icon. She spent the last 20 years of her life living in Europe and died in France in 2003 at age 70 after a six-year battle with cancer, according to Jet. If not for a chance summer job in Atlantic City, the world may never have been blessed by the gifted singer and pianist with an unforgettable stage name.