There Is More To Kareem Abdul-Jabbar's Goggles Than Meets The Eye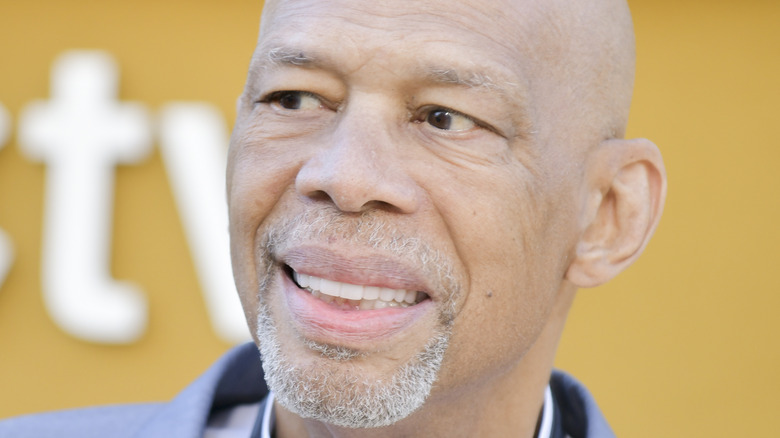 Rodin Eckenroth/Getty Images
Kareem Abdul-Jabbar is one of the greatest basketball players to ever perform in the NBA. He was a dominant force throughout his 20-year career that included stints with the Milwaukee Bucks and Los Angeles Lakers. Abdul-Jabbar's list of accomplishments is long, a 19-time All-Star, six-time NBA Champ with two Finals MVPs, six regular season MVPs, 1969-70 Rookie of the Year, 11 time All-Defense and a member of the Hall of Fame (via Basketball Reference). His career total for points, 38,387, remains the most ever scored (via Basketball Reference), although LeBron James is quickly approaching this total.
Abdul-Jabbar's trademark hook shot, that his 7'2" height allowed him to easily shoot over defenders, was one of the most effective, unstoppable, and iconic shots in NBA history. He was one of the most important players on the Showtime Lakers, arguably one of the best dynasties that the NBA has ever seen. Another part of Abdul-Jabbar that became a trademark feature of his was the goggles he wore throughout the majority of his professional career.
College career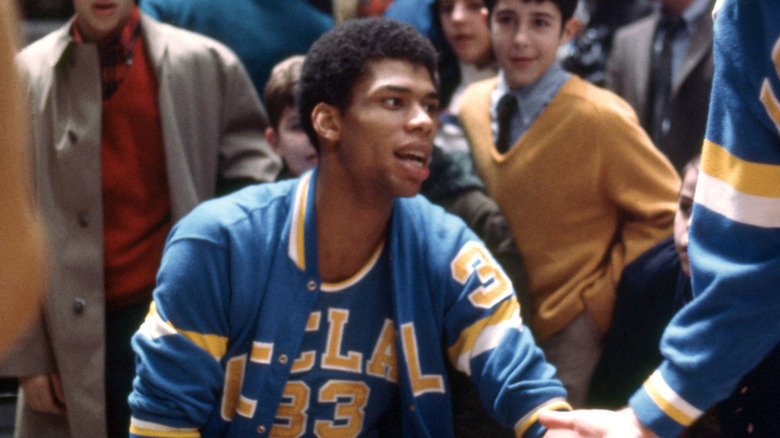 Icon And Image/Getty Images
Before dominating in the NBA, Abdul-Jabbar, still going by Lew Alcindor at that point, was playing under John Wooden at UCLA during UCLA's dynasty. He spent his time at UCLA perfecting his craft, especially his patented sky hook. According to NCAA, Abdul-Jabbar averaged 26.4 points and 15.5 rebounds per game over his 1966-69 career at UCLA. He also led UCLA to an impressive 88-2 record and three NCAA Championships during his three years (via NCAA). Even then, Abdul-Jabbar's height was one of the major aspects of his game that separated him from his peers.
His frame also made him a great defender. According to Basketball Reference, he was a four-time league leader in blocks and averaged 2.6 per game for his career. In the midst of his overwhelming accomplishments, however, there was one major drawback that would eventually lead to him donning what became his trademark goggles on the court.
Eye protection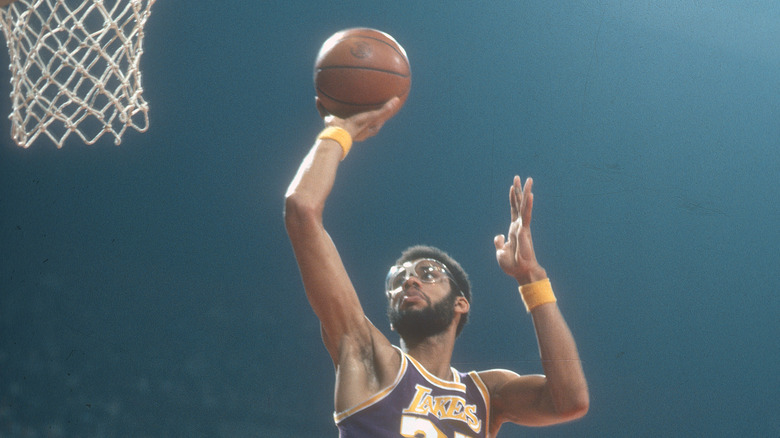 Focus On Sport/Getty Images
During his time at UCLA, Abdul-Jabbar suffered multiple scratched corneas, first in a game against Houston and then later in a game against USC (via "Talk Basket," posted on YouTube). Since he was much taller than most of the players he was going up against, he was frequently poked in the eyes. His skyhook shot, which was nearly unblockable due to how he released the ball, in particular, led to him catching many accidental eye pokes.
At the beginning of his NBA career, he was able to avoid the eye pokes for the most part. That is, until a 1974 preseason game against the Boston Celtics. According to "Talk Basket," in that game he took a fingernail to the eye and out of frustration he punched the stanchion underneath the hoop, breaking two bones in his hand. This caused him to miss the first 16 games of the season, and when he returned, he was wearing the goggles (via "Talk Basket"). Due to the scar tissue from the constant years of being poked in the eye, he developed recurrent corneal erosion syndrome that caused sensitivity to light and irritation in the eyes (via Basketball Noise). He would miss sporadic games throughout his career due to this.
After returning from the broken hand, Abdul-Jabbar rarely ever played without goggles, and they became a staple of his playing attire. However, these eye injuries and having to wear goggles did nothing to slow down his dominance throughout his career.