What Rob Gronkowski Has To Say About His Former Teammate, Aaron Hernandez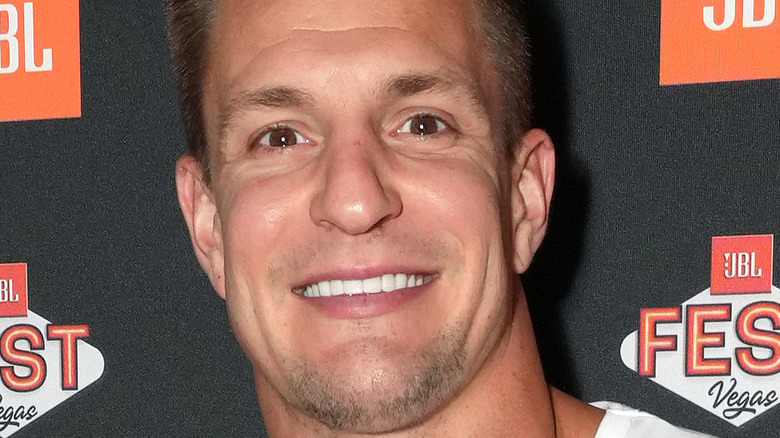 Kevin Mazur/Getty Images
In 2017, former New England Patriots tight end Aaron Hernandez died by suicide in a Massachusetts prison, according to The Sporting News. At that time, Hernandez had been convicted of murder and sentenced to life behind bars. During his time with the Patriots, Hernandez played alongside three-time Super Bowl champion Rob Gronkowski, who also played tight end for the Patriots (via Sports Illustrated). For years, Gronkowski, who is now retired from the Tampa Bay Buccaneers, kept mum on his player experience with Hernandez and his reaction to Hernandez's legal trouble and untimely death.
In 2021, though, Gronkowski, who became a Fox football analyst in 2022, appeared on the "10 Questions with Kyle Brandt" podcast (via The Comeback). That episode is available to listen to now on Spotify. When Brandt asked about the Hernandez situation, Gronkowski was unusually forthcoming. It was the first time ever that the future hall of fame tight end publicly addressed his experience with Hernandez, as well as the personal struggle and criminal history of his former teammate.
Hernandez was a great player, Gronkowski said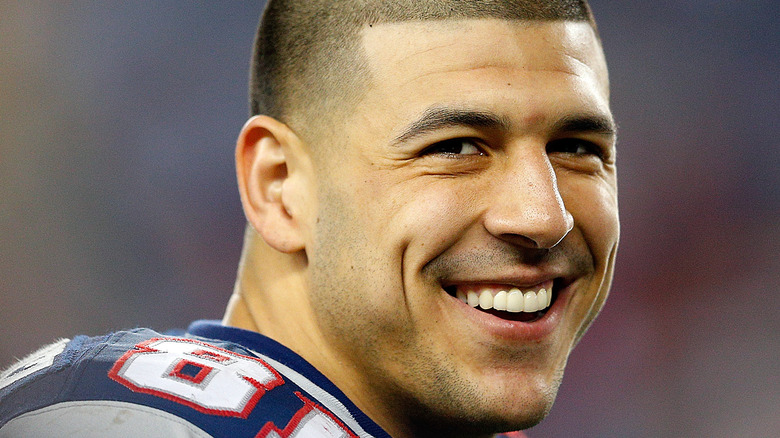 Jim Rogash/Getty Images
On the Kyle Brandt podcast, retired NFL tight end Rob Gronkowski spoke generously of the on-the-field talent of former tight end Aaron Hernandez. Speaking with Brandt, Gronkowski — sometimes called "Gronk" — said Hernandez was a great player. In 2012, Gronk played alongside Hernandez in Super Bowl XLVI, a game in which New England lost to the New York Giants 21-17 (via Biography). With Tom Brady at quarterback, Hernandez had 563 receiving yards that season.
After his 2013 arrest for the murder of Odin Floyd, a semi-pro football player, Hernandez was released by the Patriots, per The Sporting News. Speaking with Brandt in 2021, Gronkowski, who played with Hernandez from 2010 through the 2013 season, said that while he respected Herndandez's game, he typically didn't get too close to other players. "I just try to keep it simple and light. He was a great football player but that does not mean anything," Gronk said (via People).
Gronk was 'shook' when he found out what Hernandez had done
Jared Wickerham/Getty Images
As Rob Gronkowski went on to add on the Kyle Brandt podcast (via People), he was "shook" when he found out about Hernandez. "I get questions like that all the time about him and everything. And with everything going on, I was definitely shook when I heard that, when I heard everything about it. Because being his teammate and everything and you just, you really don't see that," Gronk said.
After Hernandez's death, the autopsy revealed he lived with severe Stage 3 chronic traumatic encephalopathy (CTE) caused by repeated head trauma, as The Sporting News goes on to note. Among other symptoms, signs of CTE include impulsive and aggressive behavior, as Mayo Clinic explains. In 2013, Gronk reportedly almost walked off "CBS This Morning" after repeated questioning about Hernandez (via the New York Post). According to CBS News, while in prison, Hernandez wrote a letter in which he called Gronk "the BEST TE ever to walk on a football field' GRONK!"