The President Who Established The First National Park In The US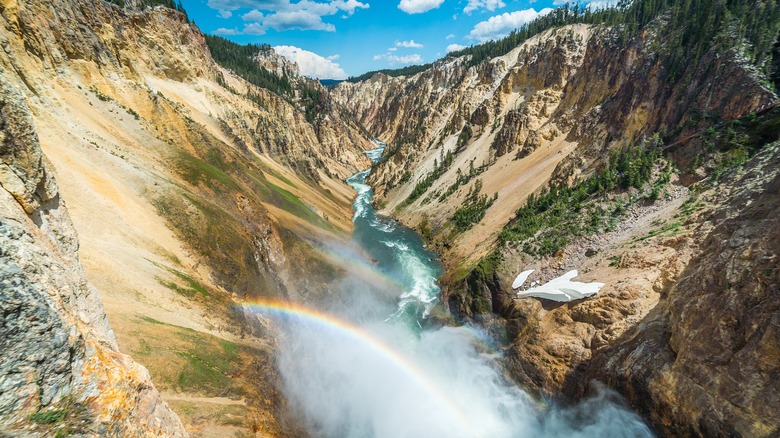 Roman Khomlyak/Shutterstock
National parks have long been a beloved part of American culture. As the fourth biggest country in the world by land area, the United States boasts varying types of land, from tropical islands to ice-capped mountains. National parks highlight these unique landscapes and stress the importance of protecting natural spaces. In fact, a PBS documentary declared the U.S. national parks "America's best idea."
The National Parks Service lists 423 national parks in the U.S. Though some parks see more visitors per year than others — such as Zion and Yellowstone — nearly 300 million people visited a national park in 2021. Some parks, like the Great Smokey Mountains National Park, saw record numbers in 2021 as well. It is clear that spending time in the outdoor landscapes of the U.S. is valuable to Americans and international tourists alike. So who do these tourists have to thank for hatching "America's best idea"?
Yellowstone National Park was established in 1872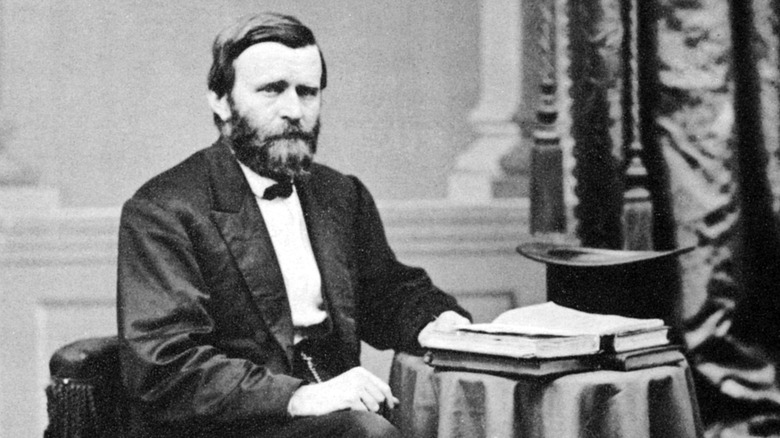 Print Collector/Getty Images
The first national park in the United States was Yellowstone in Wyoming, and for good reason. Yellowstone encompasses uncommon land features like geysers, hot springs, and canyons all in one place. Explorers reported back to the U.S. federal government and wanted Yellowstone to be protected from private development in a similar way to how Yosemite Valley in California had received protections, though as a state park. President Ulysses S. Grant (above) signed the Yellowstone National Park Protection Act in 1872 to establish Yellowstone as the first national park. However, there were no laws to prevent people from hunting wildlife or harming the land's natural features. Therefore, President Woodrow Wilson signed the National Park Service Organic Act to help create a parks management system, which became the National Park Service.
Grant set his sights on Alaskan wildlife during his presidency as well, urging that federal land in the territory to be set aside for seal habitat. National Geographic credits this as a first for wildlife protections. Aside from Wilson, multiple presidents after Grant took interest in national parks and land protection.
Teddy Roosevelt established five national parks during his presidency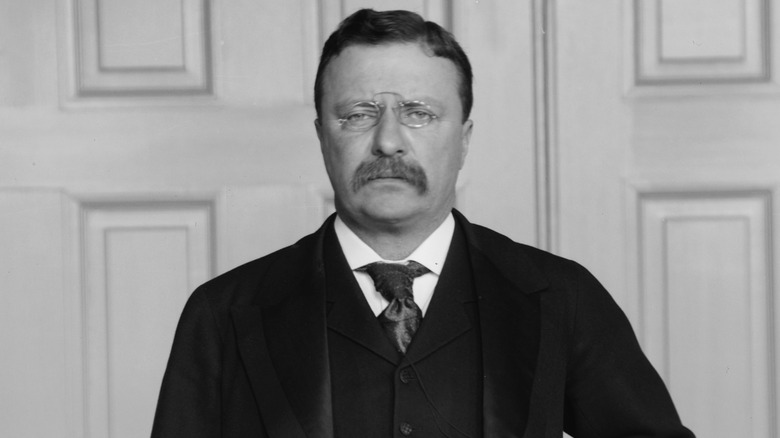 Heritage Images/Getty Images
President Grover Cleveland granted protections for Stanislaus National Forest in California. President Teddy Roosevelt (above) designated the first wildlife refuge in the United States and added five more national parks. In total, he set aside over 230 million acres of land for preservation. President Bill Clinton added another 27 million acres in the 1990s (per National Geographic).
Unfortunately, not everyone agrees when it comes to preserving natural lands. While The Washington Post reports that in 2022, private land owners have shown more interest in setting aside their land for nature conservation, the 21st century has also shown a trend in economic development trumping conservation, even in national parks. The 2018 federal budget proposed a lower budget for the National Parks Service (per National Parks Conservation Association). The Bureau of Land Management (BLM) considered allowing oil drilling near Zion National Park in 2017, but pulled back proposals after facing public outcry, as reported in the Salt Lake Tribune. As human desires expand, environmental issues will likely remain a source of contention in politics worldwide.