An Old Friend Of Steve Irwin's Once Roamed The Galápagos With Charles Darwin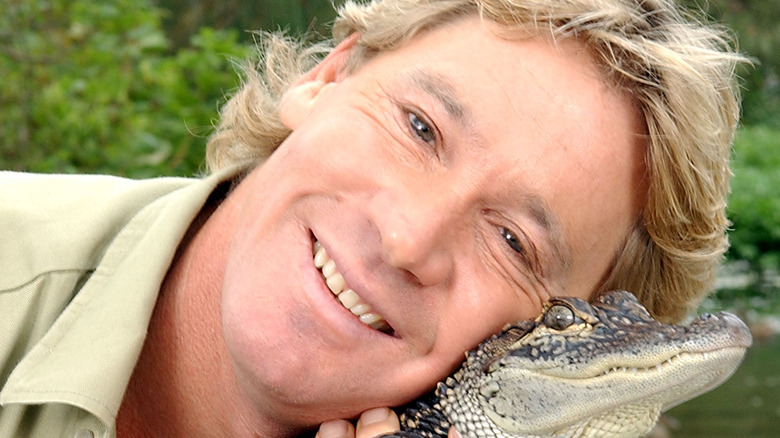 Justin Sullivan/Getty Images
Steve Irwin, the enthusiastic wildlife expert from Australia best known for his television show "The Crocodile Hunter," had lots of famous friends and admirers. At his memorial in September 2006, following his tragic death from a stingray barb while filming at the Great Barrier Reef, several celebrities paid homage to him, from actors like Russell Crowe and Hugh Jackman to the former Australian prime minister John Howard, according to People.
But Irwin had a very special famous friend whom he considered to be part of his family. Unlike these other celebrities, this female named Harriet was less interested in the limelight and life in the fast lane and more interested in hibiscus flowers and slowly moving around her home. Harriet, you see, was quite old. Old enough, in fact, to have spent time with Charles Darwin, the father of evolutionary biology, according to NBC. Irwin and Harriet met at his family's zoo and had a two-decade-long friendship, per Australia Zoo.
Harriet's globetrotting adventures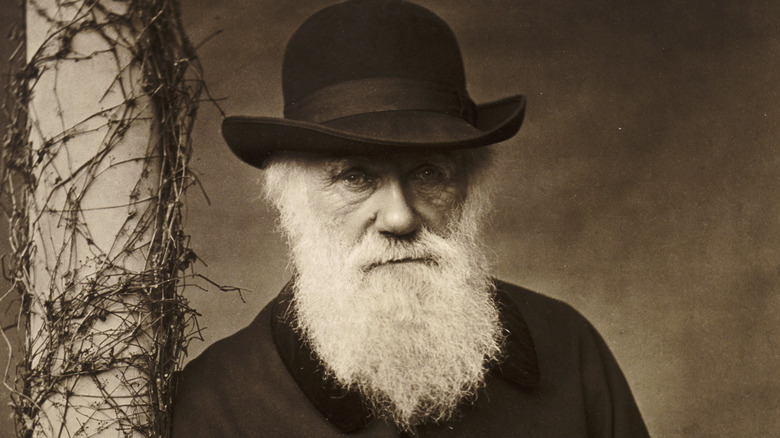 Heritage Images/Getty Images
Harriet, a giant tortoise, was born around 1830 in the Galápagos Islands, the chain of volcanic islands in the Pacific Ocean off the coast of Ecuador. It was there that she allegedly met Charles Darwin in September 1835, when the young British naturalist was visiting as part of his five-year worldwide voyage on the HMS Beagle with Captain Robert FitzRoy, according to the Australia Zoo and Britannica.
Darwin, in his early 20s, was struck by the variety of different giant Galápagos tortoises, along with other flora and fauna on the island chain, and how they subtly differed from those on the mainland, which helped him formulate his revolutionary theory of evolution by natural selection, according to the American Museum of Natural History. The legend goes that Darwin took Harriet, along with several other local tortoises, back to England. From there, Harriet's journey took her to Australia with John Wickham, a naval officer, and friend of Darwin, in 1842 (per the Australia Zoo.)
Steve Irwin and Harriet 
Once in Australia, the tortoise lived at the Brisbane Botanical Gardens where she acquired the name Harry — her keepers had no idea she was female until 1952 when she moved to the Gold Coast and her new owner discovered he was a she and renamed the tortoise Harriet, per Scientific American. There is a long-running dispute about whether Charles Darwin actually brought Harriet to England. The writer Paul Chambers, in his 2006 book "A Sheltered Life," disputes this version of events based in part on Harriet's DNA that pinpoints her coming from Santa Cruz island, one of the Galápagos Islands Darwin didn't visit.
What we know for sure is that Harriet was considered one of the oldest animals on earth when she celebrated her 176th birthday and that she spent her last 20 years at the Australia Zoo in Queensland where she met Steve Irwin, per the Australia Zoo. Irwin considered her an honorary grandmother. When she died in June 2006, just three months before Irwin himself would die at age 44, he told NBC that her death was "not only a great loss for the world but a very sad day for my family. She was a grand old lady."