Why An Iconic Monet Painting Was Attacked With Mashed Potatoes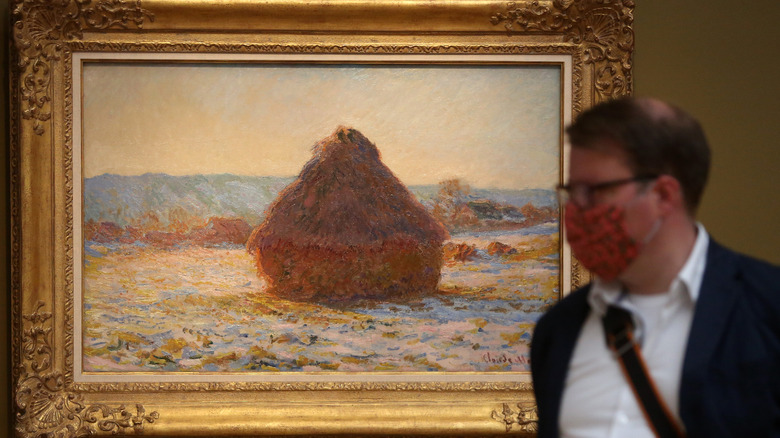 Adam Berry/Getty Images
First it was Van Gogh and a can of tomato soup. Now it's Monet and some mashed potatoes. This may sound like a strange culinary game of Clue, but in fact the vandalism incidents occurring in museums across Europe are anything but fictional. A multitude of activist groups — many of them climate-focused — have decided to take their protests into gallery spaces. And the medium with which they choose to express their ire? Thrown foodstuffs.
The series of incidents can be traced back to summer of 2022, when activists in London glued themselves to a centuries-old painting, according to The Guardian. A group of protestors in Italy soon followed suit by gluing themselves to a painting in the famous Uffizi gallery in Florence. Later, other activists decided to up the ante even more by getting food involved: also in London, a pair of protestors threw tomato soup on a multi-million dollar Van Gogh (via NBC News).
But what's the motivation behind the protests? According to activists, they're meant to draw attention to what they see as skewed societal priorities. "We are in a climate catastrophe," said one protestor in a video. "And all you are afraid of is tomato soup or mashed potatoes on a painting" (via NBC News).
Mashed potatoes on a Monet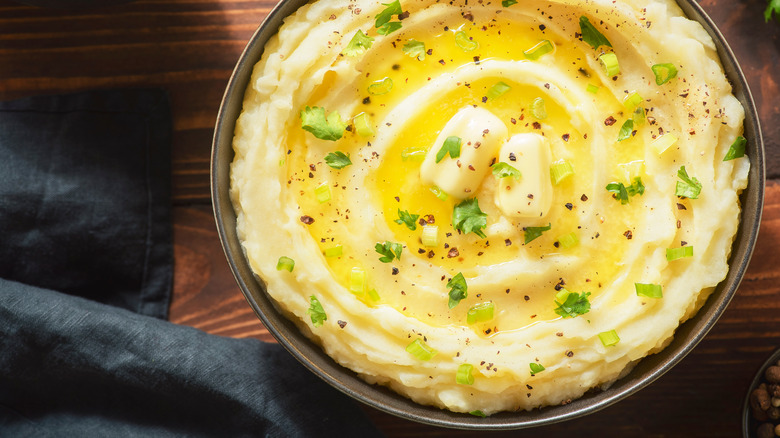 Dina Saeed/Shutterstock
The most recent attack took place in Potsdam, in Germany, at the Museum Barberini, according to The Guardian. The museum has art from a variety of different countries and periods, but has a particularly large collection of Impressionist pieces, including pieces from famous artists like Auguste Renoir, Camille Pissarro, and, of course, Claude Monet (via Museum Barberini Potsdam). In fact, according to the museum's website, "there is no venue in Europe outside of Paris where visitors can see more works by [Monet]."
Even amongst Impressionists, Monet stands out: He helped found the Impressionist movement, according to Britannica, and was particularly well-known for his series of paintings that included the same motif over and over again. That includes his haystacks series, painted between 1890 and 1891. The Museum Barberini has at least one of these paintings, called Les Meules, or Haystacks. It was this painting that was attacked by protestors in October 2022.
So what happened on the day of the attack? Armed with mashed potatoes, two protesters entered the museum and made their way to the Monet painting. There, they threw food on the painting and quickly glued themselves to the gallery walls in order to make themselves harder to remove, according to NBC News.
The museum's response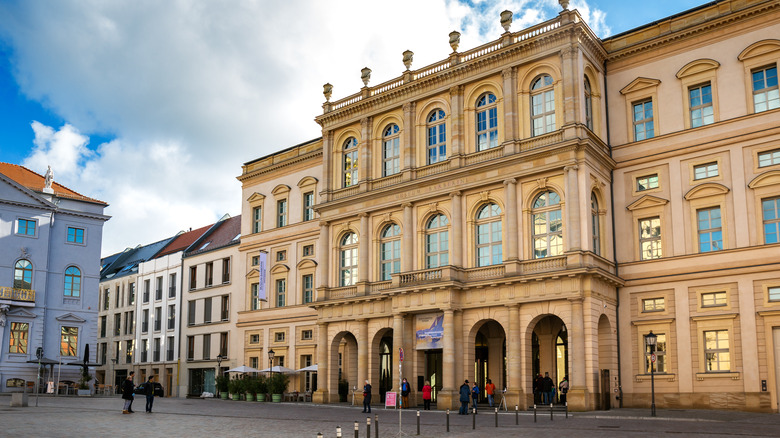 Pani Garmyder/Shutterstock
After the activists' stunt, museum employees quickly called the police. When they arrived, they were able to remove the protestors from the gallery despite the glue, according to The Guardian. In a statement on their website, the museum credited "the quick and prudent actions of the custodians and the Potsdam police" with helping to resolve the situation.
But what about the painting? The $110 million piece of art was undamaged, NBC News reported. Because it had a pane of glass in front of it, the mashed potatoes didn't permeate the painting itself, making this a relatively harmless — if briefly heart-stopping — demonstration.
However, the activists are still being investigated for property damage, per NBC News. They're part of German climate group Last Generation, who Tweeted about the incident, saying, "We make this #Monet the stage and the public the audience. If it takes a painting – with #MashedPotatoes or #TomatoSoup thrown at it – to make society remember that the fossil fuel course is killing us all: Then we'll give you #MashedPotatoes on a painting!" (via NBC News).
Other consequences affected innocent museum-goers. Following the mashed potato attack, the museum shut its doors until October 30th, according to the museum's website. That means anyone planning a vacation to Potsdam during that time would have to find an alternative way to satiate their thirst for art.