Who Is Iranian Rock Climber Elnaz Rekabi?
Elnaz Rekabi quickly walked into the competition area and began ascending the gray wall covered with blue and yellow climbing holds. The 33-year-old is one of Iran's top female sport climbers with more than 80 medals from both national and international competitions under her belt, according to the Financial Times. So Rekabi definitely wasn't out of place at the International Federation of Sport Climbing Asian championships in Seoul, South Korea, on October 16, 2022.
But there was something amiss, at least in the eyes of Iran's authoritarian theocratic regime. Rekabi wore a top in the colors of the Iranian flag — red, white, and green — black leggings, and a black headband, but what she didn't wear soon got her into a world of trouble. Whether she was competing at home or abroad, Rekabi, like all female Iranian athletes, is required to wear a hijab, a type of headscarf worn by many Muslim women, per CNN.
Elnaz Rekabi becomes a symbol of women's rights in Iran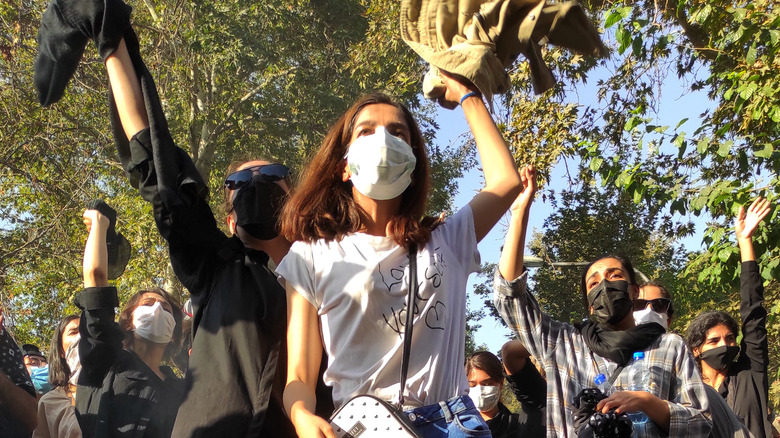 Contributor/Getty Images
Elnaz Rekabi later said not wearing the hijab had been an oversight. She told reporters and made a statement on social media that she had inadvertently forgotten the headscarf when she was unexpectedly called to compete, according to USA Today. The BBC later reported that Rekabi had been forced to make the statement by the government or face losing her family's property. Whether or not Rekabi had intended to make a statement, the incident occurred amid a growing protest movement across Iran for women's rights.
The death of a 22-year-old Iranian woman, Mahsa Amini, on September 16 while in police custody for allegedly wearing her hijab improperly kicked off street demonstrations and calls for regime change, per CNN. The country's security forces have killed 244 people as of October 22, 2022, including 32 children, and arrested more than 12,500 demonstrators, per Alarabiya News. When Rekabi arrived at the Tehran airport, after being forced by Iranian officials to leave Korea a day early, a large crowd of supporters enthusiastically greeted her, per the BBC.
Elnaz Rekabi climbs to the top but her future remains uncertain 
Elnaz Rekabi, known as the "spider woman," was born into a conservative religious family in Zanjan in 1989 and followed her older brother into competitive climbing, according to the Financial Times. Davoud Rekabi is also a world-class climber, per the International Federation of Sport Climbing. Elnaz Rekabi got into climbing at age 12 and has steadily ascended to the top levels of the sport internationally, mostly without a coach, due to rules in Iran that say a woman can't share gyms with men, per the Financial Times. In 2017, she won a gold medal at the Asia Cup in China and a Bronze in the International Federation of Sport Climbing World Championships held in Moscow in 2021, per the IFSC website.
Now, the Olympic hopeful for the 2024 games in Paris, France, faces an uncertain future. After her return to Iran, plainclothes security forces held her at Iran's National Olympic Committee building until she met the country's sports minister, per the BBC. She remains under house arrest.