The Darrell Brooks Verdict Explained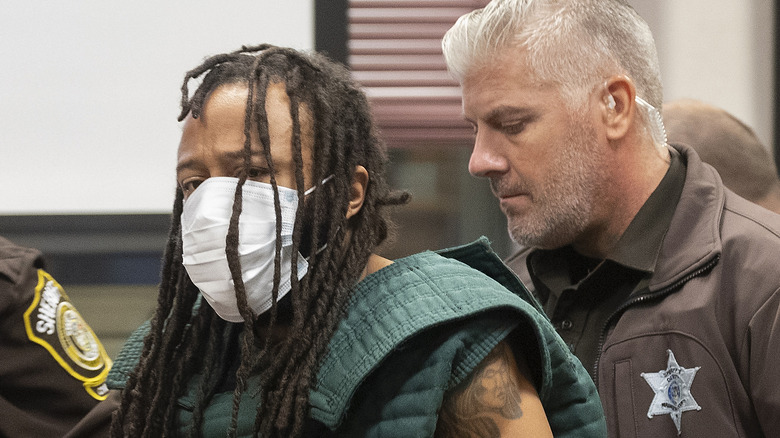 Pool/Getty Images
What had been a celebration of the holiday spirit suddenly became a day of mayhem and death when Darrell Brooks Jr. drove his red Ford Escape straight into the massive crowd at the Waukesha Christmas parade in Waukesha, Wisconsin, a Milwaukee suburb, on November 21, 2021. Driving at speeds of at least 30 mph, he barreled through bodies, killing six people, including an 8-year-old boy, and injuring 61 others, according to CNN. He'd only been out of jail less than a week at the time and was arrested soon after fleeing the scene of the parade rampage, according to The Washington Post and The New York Times.
Brooks, who was held on $5 million bail, faced 76 charges, including six counts of first-degree intentional homicide, related to his actions at the parade. He also faced a separate charge of misdemeanor battery for hitting the mother of his child with a car in early November 2021, per the Milwaukee Journal Sentinel and The Washington Post.
Darrell Brooks represented himself in court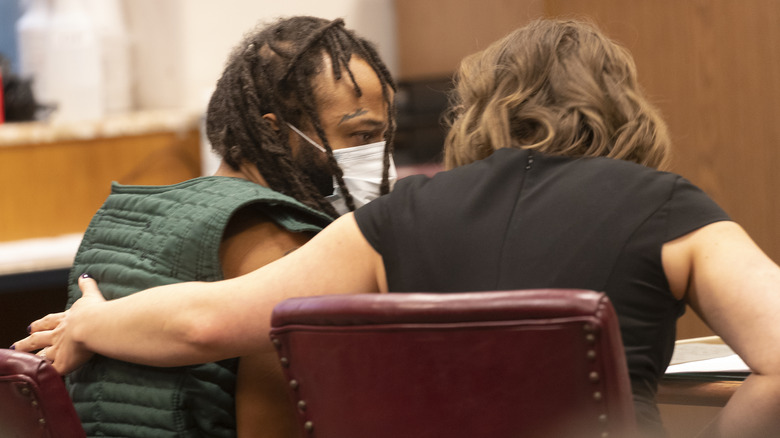 Pool/Getty Images
Darrell Brooks' trial began on October 3, 2022, and was often chaotic as the defendant, who represented himself in court, continually interrupted proceedings and argued with the judge, according to the Milwaukee Journal Sentinel. Public defenders originally represented Brooks. They withdrew a plea of not guilty by reason of insanity in September not long before Brooks decided to represent himself, per CNN and the Milwaukee Journal Sentinel.
Brooks, 40, who professes to be part of the Sovereign Citizen movement, contends that the U.S. legal system has no jurisdiction over him, according to The New York Times. "Essentially what these people are claiming or they believe is that none of the laws of the United States or any jurisdiction apply to them, they don't have to follow the laws that everyone else has to follow," attorney Julius Kim told CBS 58. Judge Jennifer Dorow, who oversaw the case in Waukesha County Circuit Court, called Brooks' stance "a thoroughly debunked" theory, per the Milwaukee Journal Sentinel.
The verdict against Darrell Brooks and what happens next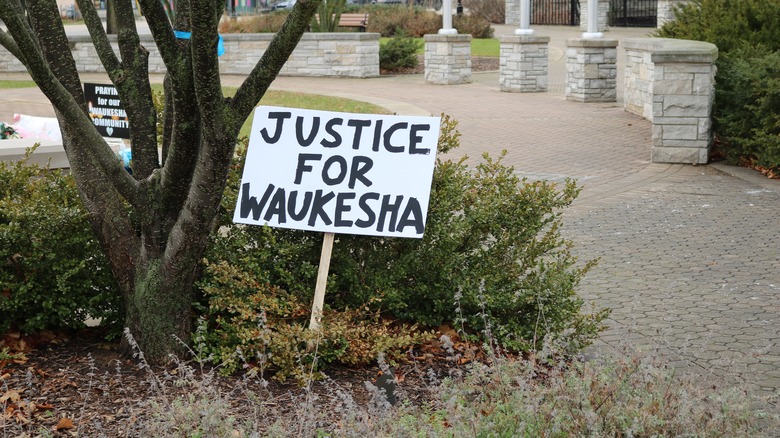 Robert R French/Shutterstock
During his closing argument, Brooks said he'd "never heard of someone trying to intentionally hurt someone while attempting to blow their horn while attempting to alert people of their presence," according to CNN. His argument fell flat. It took the jury less than three hours of deliberations over two days to return guilty verdicts on October 26 for all 76 counts against Brooks, per The New York Times.
The six convictions for first-degree intentional homicide are the most serious charges, carrying mandatory life sentences, per CNN. The judge could give Brooks concurrent sentences or could make them consecutive, meaning Brooks would have to serve them one after another. Judge Dorow set the initial hearing where they would schedule the sentencing for Monday, October 31, per the Milwaukee Journal Sentinel. Before sentencing, Brooks' victims will have a chance to tell the court about how the defendant's actions negatively affected their lives in what are called victim impact statements, in order to help the judge determine the proper sentence. But no matter how long Brooks' prison sentence, the city of Waukesha will take a long time to heal from his actions.