Jeffrey Dahmer's Baptism And John Wayne Gacy's Execution Share An Eerie Connection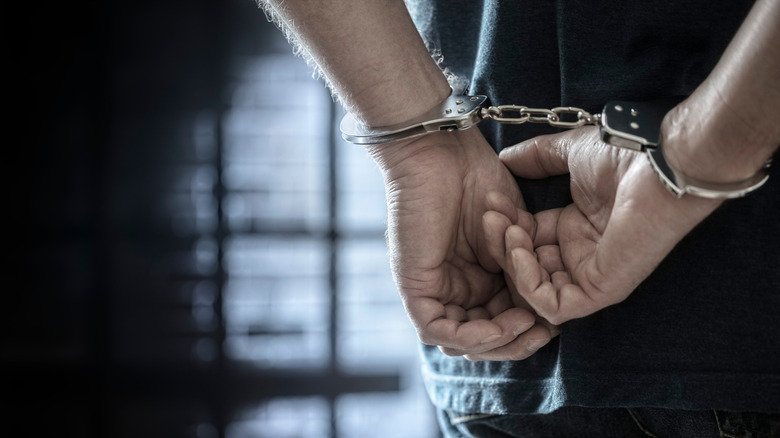 Brian A Jackson/Shutterstock
The names John Wayne Gacy and Jeffrey Dahmer still send chills down spines today, decades after both men died in prison. Gacy and Dahmer are two of the most notorious serial killers of the 20th century, their crimes dominating headlines across the globe. 
Dahmer, also known as "The Milwaukee Cannibal," was brought to justice in July 1991 after his final victim escaped his clutches (via Time). After police were brought to Dahmer's apartment, they soon noticed that it contained the body parts of the multiple victims that he had drugged, assaulted, and viciously murdered. Quiet, awkward, and socially subdued, Dahmer was a man who kept to himself, save for the cruising he did at local gay bars when he was hunting for victims.
Gacy couldn't have been more different by comparison. Though a sexual predator like Dahmer, John Wayne Gacy would lure young men and teenage boys back to his Chicago home so that he could sexually assault and torture them. While Dahmer's motivation was revealed to be his desire to create a sex zombie that wouldn't leave him (via The U.S. Sun), Gacy was a pure sadist. The Chicago murderer was also an outgoing, moderately successful small business owner and was involved in Chicago politics (via Biography).
Though both men committed terrible acts against a combined total that exceeds 50 innocent people, they were from different walks of life and had stark differences in how they were perceived by others in the community. Gacy was fairly well known, while Dahmer was almost invisible. But one interesting item ties the two of them together.
If you or anyone you know has been a victim of sexual assault, help is available. Visit the Rape, Abuse & Incest National Network website or contact RAINN's National Helpline at 1-800-656-HOPE (4673).
Gacy was executed after lengthy appeals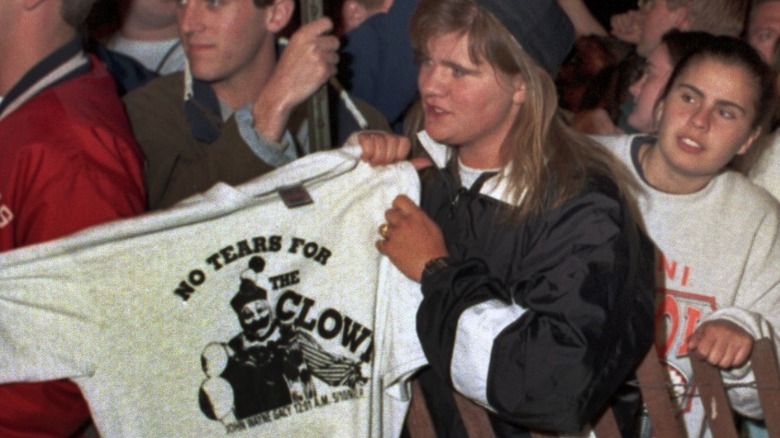 Stacia Timonere/Getty Images
John Wayne Gacy was found guilty of 33 counts of first-degree murder in 1980 (via the Associated Press). His sentence was death, and he was remanded into the custody of the Illinois penal system. Maintaining his innocence, he appealed his conviction to the United States Supreme Court. Attempting to get his death sentence commuted to life in prison, Gacy and his attorney argued that his death sentence violated his Eighth Amendment right to be free of cruel and unusual punishment. In 1985, the nation's highest court voted in a 6-2 decision to allow his sentence to continue. Justices Thurgood Marshall and William Brennan, both staunch anti-capital punishment justices, were the only two dissenters (per the Chicago Tribune).
Gacy sat on death row for another nine years before he was finally taken into the execution chamber and administered a lethal cocktail of drugs. He was executed on May 10, 1994, which just happened to be a significant date in the prison life of fellow predator and killer Dahmer (per Britannica).
Dahmer was baptized as a Christian on the same day as Gacy's execution
Though he was raised by a religious father and later lived with a church-going grandmother, Jeffrey Dahmer considered himself an atheist. But all of that changed after he was sent to serve his 15 consecutive life sentences. The New York Times reports that Dahmer sought to convert to Christianity and befriended a prison minister to lead him there. During the ceremony, Dahmer was submerged in a whirlpool tub that was at the prison for inmates recuperating from injuries. The date of his baptism was May 10, 1994, just hours apart from the execution of Gacy, who was waiting on death row one state away (per the Orlando Sentinel).
Christianity Today gives an account of the man who professes to have helped save Dahmer's soul. The outlet reports that the minister who baptized the convicted killer, Roy Ratcliff, had been visiting Dahmer in prison for seven months before the ceremony. Ratcliff wrote a book on his relationship with Dahmer titled "Dark Journey, Deep Grace." In his interview with the source, Ratcliff claims that Dahmer stated to him that he felt remorse for the crimes he committed and wished that the state had sentenced him to death. 
Even though he wasn't given the death penalty for his many crimes, Dahmer didn't live long in prison. In November 1994, Dahmer was beaten to death by fellow inmate Christopher Scarver, who attacked him with a metal rod while the two were cleaning the prison showers (via History).
It's also worth noting that May 10, 1994 was a day in which a solar eclipse was recorded (per the National Weather Service).