Disturbing Details About Robert Bowers, The Suspect In The Tree Of Life Shooting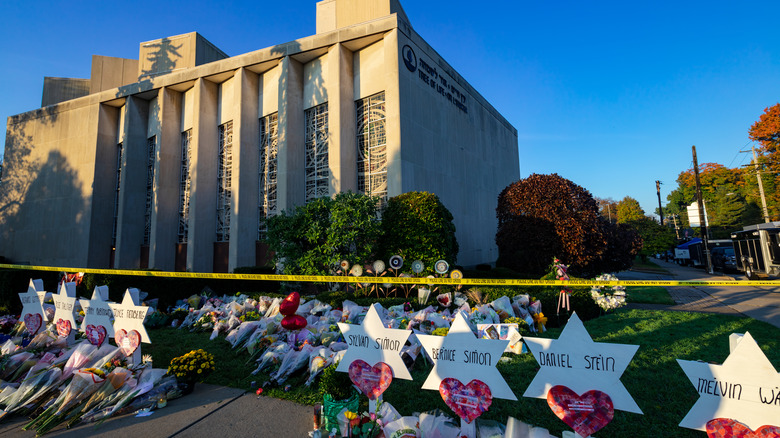 Brendt A Petersen/Shutterstock
"The actions of Robert Bowers represent the worst of humanity," United States Attorney for the Western District of Pennsylvania Scott W. Brady said in The New York Times in 2018. 46-year-old Bowers had walked into the Tree of Life Congregation that Saturday morning with an assault rifle and three handguns, and opened fire. He killed 11 congregants in and around the synagogue, and wounded six others, including four police officers. 
The attack, which took place amongst the kosher restaurants and bakeries of one of Pittsburgh's oldest, most vibrant Jewish communities, was the deadliest massacre committed against a Jewish community in United States history. As The U.S. Sun says, Bowers is still awaiting trial, set to start April 24, 2023. He could be given the death penalty if convicted.
While Bowers' actions are condemning enough in and of themselves, they become even more repugnant and atrocious when considering his motivations. And to be clear, Bowers didn't conceal or cover up anything. He stated blatantly, out in the open, what he intended to do and why. "Jews are the children of Satan," his bio read on Gab, a social media site that's become a hotbed for far-right, violence-inciting hate speech, much like Parler. "Open you Eyes!" he posted, "It's the filthy EVIL jews Bringing the Filthy EVIL Muslims into the Country!!" His final, self-incriminating message on the platform? "I can't sit by and watch my people get slaughtered. Screw your optics, I'm going in." Moments later he did just that, guns raised.
Terrifyingly normal
The truth is, aside from his hateful online rants, we really don't know too much about Robert Bowers — although maybe the rants, plus his subsequent murder spree, are all we need to know. The New York Times reports that he lived in a "brick apartment complex on a dead-end street" in Baldwin, a suburb of Pittsburgh, about 25 minutes by car from the Tree of Life synagogue. To complete the stereotype of a lethal, loner shooter, a neighbor reported not seeing Bower speak to anyone in two years. He went outside to smoke cigarettes, and drove a truck for work, per the BBC. That's it. Neighbor Chris Hall said, "The most terrifying thing is just how normal he seemed."
Bowers did, however, have an active gun license and owned 21 firearms. At least six of those guns were purchased since 1996, including the three handguns that he may have used during his murder spree, per Reuters. About a month before the attack he posted pictures of the results of his shooting range practice, where he described his "glock family" handgun trio. He had no prior criminal record.
Bowers also wasn't a fan of Donald Trump, and was registered to vote with "no affiliation" in Allegheny County, Pennsylvania. As The New York Times quotes, two days before the shooting he wrote, "Trump is a globalist, not a nationalist. There is no #MAGA as long as there is a [slur against Jewish people] infestation." 
An enraged, racist, and anti-Semitic digital footprint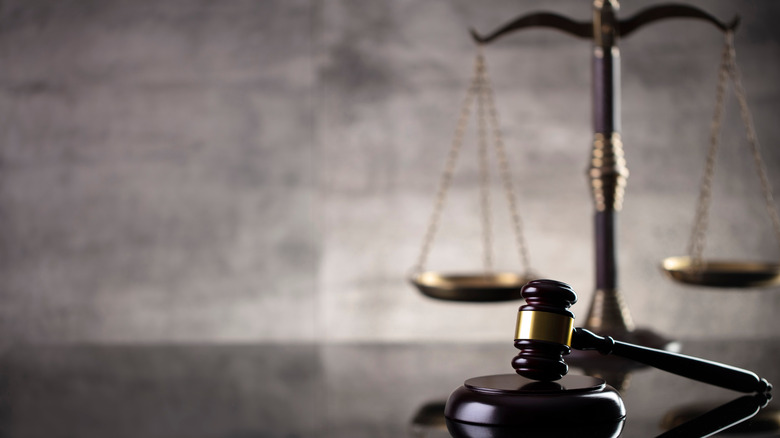 Zolnierek/Shutterstock
Everything else we know about Robert Bowers come from him spewing vitriol into Gab. As The New York Times cites, he commonly shared angry, racist, and incendiary memes targeting many groups, but particularly Jewish people. Immigrants were "invaders," and Jews the "enemy of white people." The January before his attack he posted, "Daily Reminder: Diversity means chasing down the last white person," per Reuters. On the day of the shooting, police radio transmissions recorded him saying, "all these Jews need to die," as CBS News says. 
There's no word on whether or not Bowers has recanted his stance now that he's been in jail for four years awaiting trial. For its part, Gab said, "Gab unequivocally disavows and condemns all acts of terrorism and violence."
As The New York Times reports, Bowers faces 44 charges in total, some federal, some state. In total, his charges total 11 counts of obstruction of free exercise of religious freedom resulting in death, 11 counts of using a firearm during a crime of violence, 11 counts of criminal homicide, and 13 counts of ethnic intimidation. If he isn't executed, he could face life in prison without parole plus 535 additional years of imprisonment. On the day of Bowers' indictment, Scott W. Brady, United States Attorney in Pennsylvania, said, "Today begins the process of seeking justice for the victims of these hateful acts, and healing for the victims' families, the Jewish community and our city."