Dolly Parton And Kenny Rogers' Last Duet Was Magical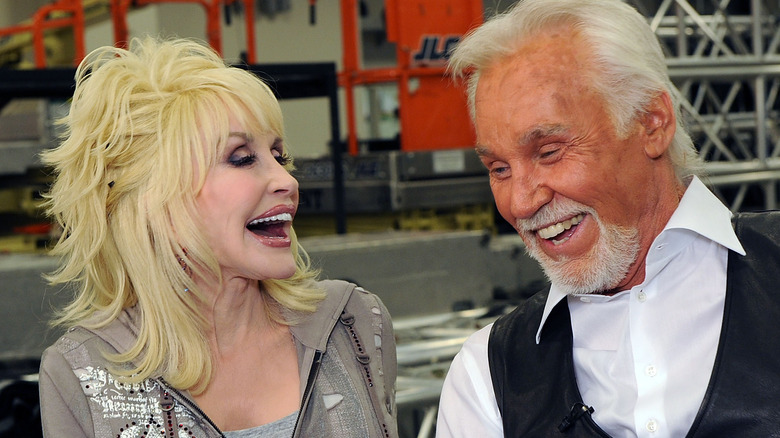 Rick Diamond/Getty Images
Crossover artist Dolly Parton — among the Rock and Roll Hall of Fame class of 2022 inductees, according to the Rock Hall website — is mostly known as a country singer. Over the course of her long career, though, Parton's songs have charted on both country and pop Billboard charts. One of Parton's most well-known songs is "Islands in the Stream," on which she's a featured singer. The hit is otherwise credited to her friend, Kenny Rogers and it was written by the Gibb brothers, also known as the Bee Gees, per Taste of Country. 
"Islands in the Stream" was the second song for both Rogers or Parton to reach the top of the Billboard Hot 100 chart. It was released in 1983, and the last time that Rogers and Parton performed the song on stage was in 2017 at "Kenny Rogers: All in for the Gambler," a tribute concert in honor of Rogers' retirement (via Blackbird Presents). Rogers died three years later, according to Britannica. Details of that final performance are a reminder of the ballad's poignancy, and the chemistry shared between the two classic country artists.
'All in for the Gambler' was broadcast on TV three years later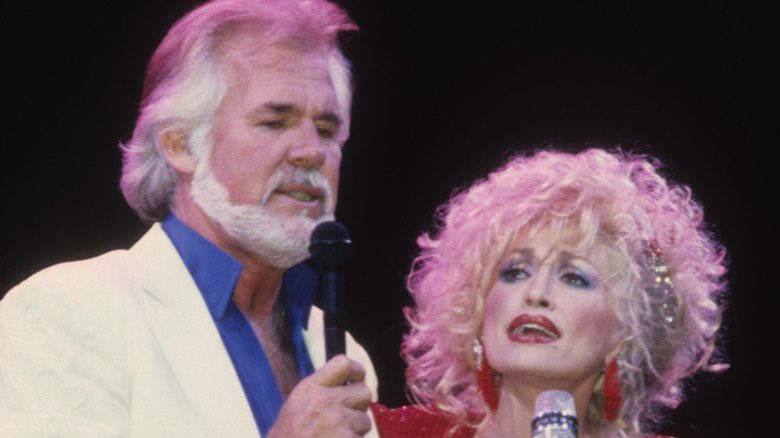 Jim Steinfeldt/Getty Images
The tribute concert honoring Rogers' retirement took place in 2017 at Nashville's Bridgestone Arena, but the show wasn't broadcast on TV until 2021 on the CBS network, according to IMDb. As well as Parton, artists like Idina Menzel, Chris Stapleton, and Reba McEntire turned out to honor the "Gambler," as Rogers was sometimes called. Another performer at the show was Lionel Richie — like Parton, a class of 2022 Rock and Roll Hall of Fame inductee (via the Rock Hall website).
At the concert, "Islands in the Stream" wasn't the only song Parton sang in honor of her old friend, as Newsweek notes. She also delivered rousing renditions of another all-time Parton classic "I Will Always Love You," and a late-career Parton-Rogers duet, "You Can't Make Old Friends," off Rogers' last full-length album of the same name (via AllMusic). That song was particularly moving since Rogers revealed he was in ill health two years earlier, in a 2015 Today interview. Fan video of the 2017 "Old Friends" tribute concert performance is posted on Youtube.
The Rogers family joined Parton and Rogers on stage
As Newsweek goes on to note, at the conclusion of Rogers and Parton's 2017 "Islands in the Stream" the Rogers' family joined the two singers on stage. High quality footage of the performance is posted by CBS on Youtube. After the 2017 "All in for Gambler" concert, Rogers embarked on a farewell tour which he was later forced to cancel due to health problems, as People reports. 
After Rogers' 2020 death at the age of 81 was announced, Parton posted her own tribute on Twitter, in which she wrote "You never know how much you love somebody until they're gone. I've had so many wonderful years and wonderful times with my friend Kenny, but above all the music and the success I loved him as a wonderful man and a true friend," along with an accompanying tribute video. In it, she said, "Well, I couldn't believe it. This morning when I got up and turned on the TV... they told me that my friend and singing partner Kenny Rogers had passed away."