The 300-Year History Of Japan's High-Speed Float Festival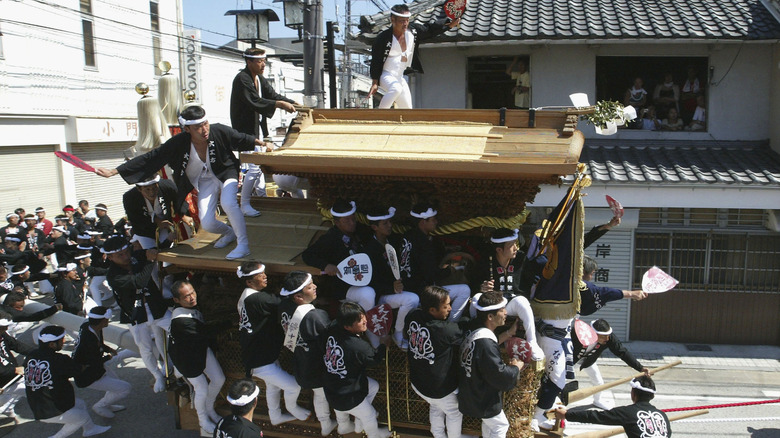 Koichi Kamoshida/Getty Images
Classic parades complete with confetti cannons, marching band music, and normal-paced floats (which are usually motorized), have nothing on the 300-year-old Japanese tradition of Kishiwada Danjiri Matsuri (via Kyma). While we all look forward to seeing Snoopy and other beloved cartoon characters soar through the sky at conventional parades, Kishiwada Danjiri Matsuri involves 34 shrine-carrying floats — which are all man-powered, at top speeds.
These four-ton behemoths are piloted by local townsfolk from the coastal town of Kishiwada, sans machinery (via Osaka Info). Along with a shrine, each float carries a person who has to leap and maneuver themselves along with every sharp turn down the Southern Osaka city streets. While the chaotic festival makes for an impressive visual, there is more to it than meets the eye. The festival has existed for over three centuries, not only due to the tourism it brings in, but because it honors the true pride of the town. And you'll never guess what that is.
The Story of The Festival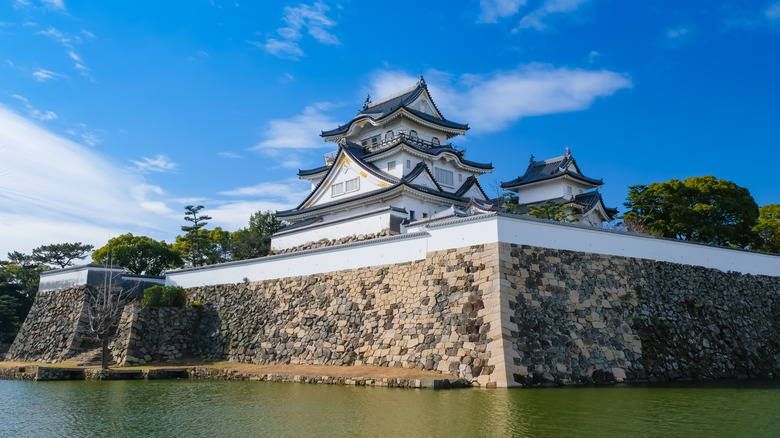 Gengorou/Shutterstock
Kishiwada Danjiri Matsuri originated in western Japan over 300 years ago, in the Southern Osaka town of Kishiwada (via Kyma). It's held twice a year, once in September and once in October, in honor of the first festival, which celebrated the building of the historic Kishiwada Castle (via Osaka Info). Although the original castle was damaged by lightning in 1827, a new castle was built, boasting impressive 360-degree views of the entire city and surrounding Osaka Bay. The castle also features a unique stone garden, which Japanese artist Mirei Shigemori created in 1953, with the intention of it being viewed from above.
This building is the pride of the city and in honor of it, master carpenters from each neighborhood are recruited to make gloriously carved wooden floats, which are then pulled by man-power alone, just a block away from the castle. The only other mechanisms used to safely and smoothly get the floats around each "yarimawashi" (a.k.a. corner turn), are levers in the back of each float, which break and help the wheels drift around turns (think Mario Kart, but more epic).
The Return of the Festival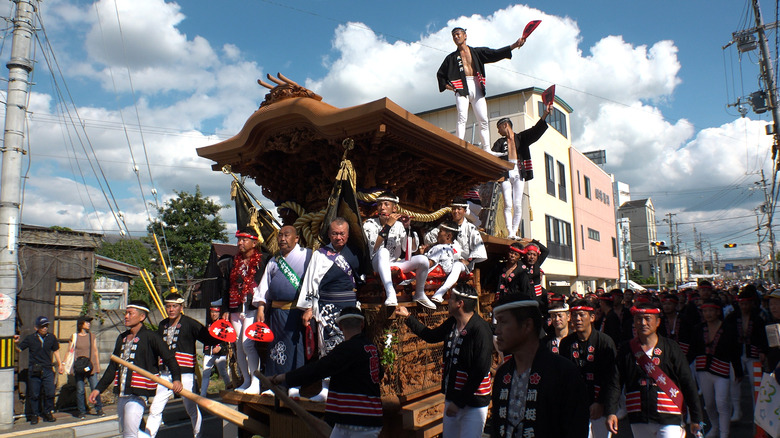 StreetVJ/Shutterstock
Although Kishiwada Danjiri Matsuri is one of those bucket list events everyone should see at least once, if you can't, and ever find yourself visiting this quaint city in Southern Osaka, there's a museum that will lay it all out for you (via Osaka Info). Known as Danijiri Kaikan, this exhibition hall is not only home to the oldest known float to participate in the 300-year-old parade, but boasts informational exhibits on the craftsmanship, clothing and fanfare that embody the festival. Visitors can also hold the honorary role of float jumper in an immersive 3D video at the museum.
Due to the COVID-19 pandemic, 2020 marked the first time in over 75 years that the three century-old tradition of Kishiwada Danjiri Matsuri was canceled (via Kyma). In 2021, a much smaller version of the festival was held, but without spectators to uphold social distancing precautions. In September 2022, however, the festival returned in its full glory, complete with 34 shrine-carrying floats, designated jumpers atop, shimmying around every turn. There were also rope pullers and lever operators from every neighborhood, working at top speeds to create the excitement of it all.