Dolly Parton Has A Hit Single Planned For 2045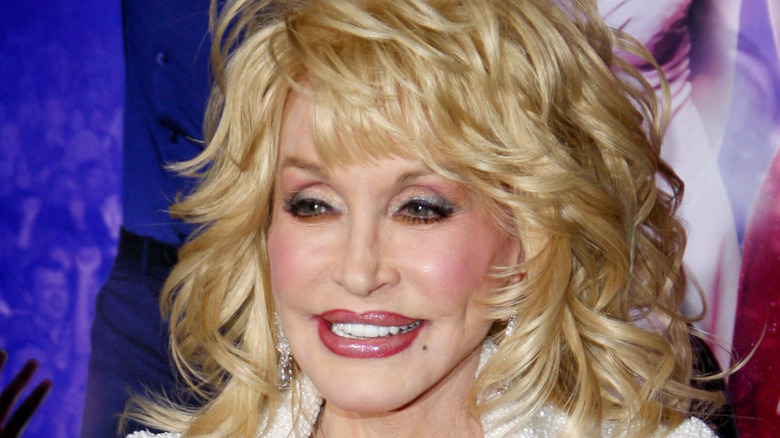 Tinseltown/Shutterstock
Everyone has mixed feelings about their jobs. Sometimes we love them, sometimes we hate them, occasionally we flit between those feelings over the course of an emotional rollercoaster of a day. However much you may revel in your job, however, you probably can't see yourself doing it forever.
Retirement ages differ across the world, and across the United States itself. According to Boston College's Center For Retirement Research (via Forbes), the average age of retirement in the U.S. in 2021 was 62 for women and 65 for men. In 1992, it was 59 for women and 62 for men.
Despite turning 76 in 2022, one particularly extraordinary American woman, Dolly Parton, continues to be the powerhouse and success story she's always been. She continues to have projects underway, including one especially intriguing one: a song she plans to release in 2045. Here's the incredible story of this surefire future hit.
The superstar still has secrets up her sleeves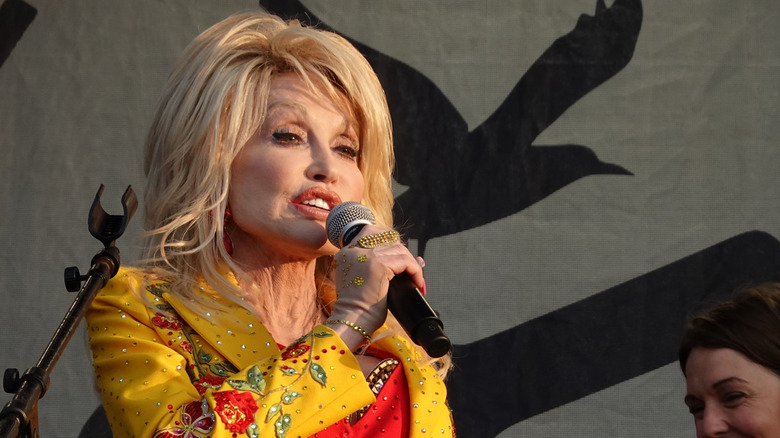 Adam Shanker/Shutterstock
If anyone has ever defined the term 'industry veteran,' it's surely Dolly Parton. In September 2022, according to her official website, she released "Diamonds & Rhinestones: The Greatest Hits Collection." The outlet described this very special album as "a career-spanning retrospective showcasing 23 essential recordings from 1971-2020." The very fact that this album includes almost 50 years' worth of classics such as "Jolene," "Coat of Many Colors" and her 2020 Covid-19 mood lifter "When Life Is Good Again" proves what a long-lasting and beloved musician she has really been. And continues to be.
Parton continues to have a lot of work in the pipeline. In November 2022, she told Pollstar, "as far as getting back into the movies, I am going to be doing a leading role in the "Run, Rose, Run" movie, from the novel I wrote with James Patterson that was a No. 1 bestseller!" What a media-spanning force she is. The music that means so much to her doesn't appear to be going anywhere either.
According to Taste of Country, Dollywood's DreamMore resort is home to a very special sort of time capsule: an unknown song Parton created and hid away, only to see the light of day again 30 years after the resort originally opened in 2015.
The song we'll have to wait until 2045 to hear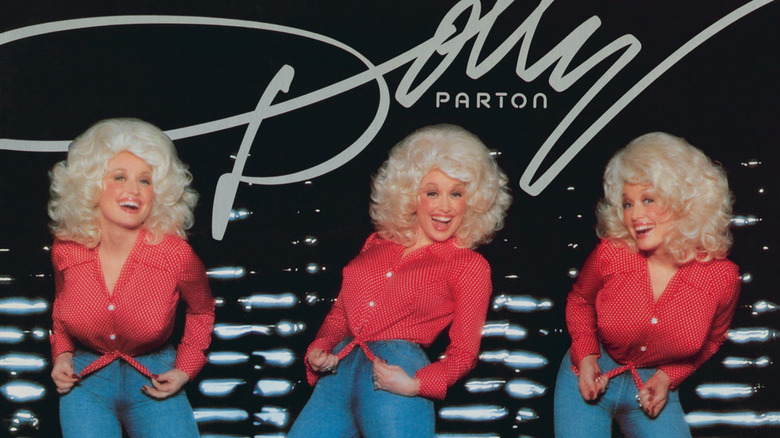 Donaldson Collection/Getty Images
Parton, always keen to find new ways to surprise and delight her legions of fans, explained what she had done in her book "Songteller: My Life In Lyrics." According to Taste of Country, a Dolly Parton insider suggested this intriguing slow-burner of a marketing stunt, and Dolly was all for it. "I wrote this song, and I can't say what it is," she writes in the book, reportedly stating that the song was locked away in a fine chestnut wood box at the DreamMore resort after writing. The locking away, it seems, was done by Parton's beloved uncle Bill.
This is fitting, considering how important music always was to Bill. "My uncle Bill was one of Mama's younger brothers. He loved music, and he loved playing," the country star wrote in "Songteller: My Life In Lyrics." How very special for him to have been a part of this. In the interest of future-proofing, the song was recorded on a CD, and a CD player is right there in the secret vault with it.
Nothing more is known about the secret song. Will Parton herself be around in 2045 to hear it play again, along with her eager fans? She writes that she's rather dubious, per Taste of Country: "I don't know if I want to live to be 100 or not ... if I do, I'm going to be at that opening."