Where Is The OJ Simpson Bronco Now?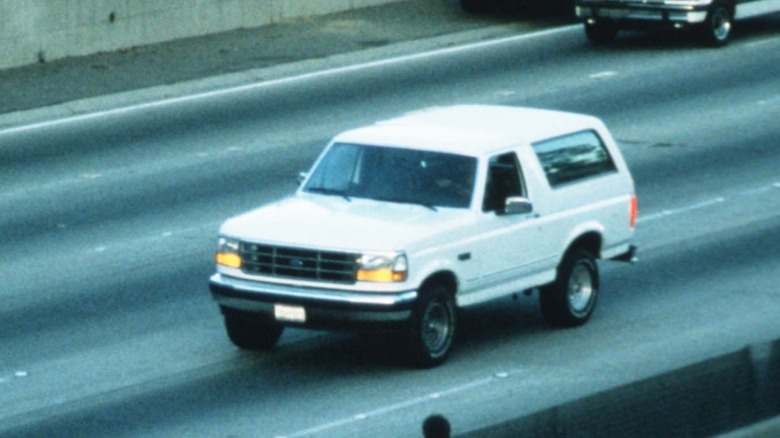 Jean-marc Giboux/Getty Images
One of the most memorable "where were you when" moments from the 1990s happened on the evening of June 17, 1994. Five days earlier, the ex-wife of retired NFL star O.J. Simpson and her companion Ronald Goldman were viciously murdered, prompting a high-profile investigation. On the 17th, prosecutors charged Simpson with two counts of first-degree murder, and a warrant was issued for his arrest. 
Many people in the United States were settling in to watch the NBA finals featuring the New York Knicks and the Houston Rockets. Before tipoff, it was reported that Simpson, who was supposed to have turned himself in to face charges, was fleeing police on a Los Angeles freeway. The networks all ran live footage of one of the most famous low-speed chases in history, with NBC showing the NBA finals game on a split screen with the news coverage of the pursuit (per CNN). 
Simpson was riding in a Ford Bronco driven by his friend and former football teammate Al Cowlings. The "chase" was captured by news crews from helicopters, which showed the slow-moving white SUV being carefully followed on an eerily vacant freeway by a legion of police cars. The chase ended as the Bronco pulled into Simpson's driveway and surrender negotiations began. Simpson was peacefully in police custody by 9 p.m., in an event that would kick off the "Trial of the Century." Some might be surprised to know that the white Ford Bronco seen on TV that evening is on public display at a unique museum in Tennessee.
The Bronco sat in a garage for 20 years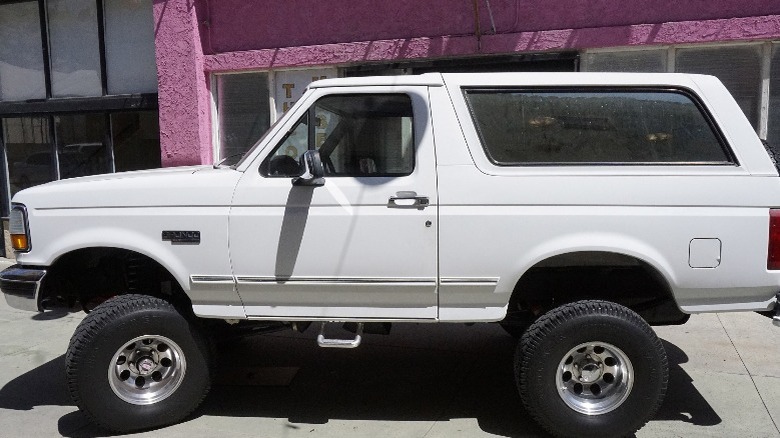 Joe Seer/Shutterstock
Alcatraz East, a crime museum in Pigeon Forge, Tennessee, now proudly boasts of the Bronco's temporary possession. The vehicle was originally owned by Cowlings, and should not be confused with a similar Bronco that Simpson owned. THAT Bronco had blood evidence inside it that the prosecution tried to use against Simpson in its failed attempt to secure a murder conviction. Though Simpson's Bronco was destroyed, Cowlings' Bronco used in the chase was going to be sold by him to a company called Starifacts for $75K (via Biography). When it leaked that the company would use it for reenacting the "chase," some of Cowlings' friends considered this a tasteless move. They gave Cowlings his price for the Bronco, and it was kept in a condo garage for years and out of the public eye. 
The owners displayed it at the Luxor Hotel in Las Vegas in 2012. It has toured a bit, being on display at the Brant Arts Center in Greenwich, Connecticut, and on a 2017 episode of "Pawn Stars." The ownership of the Bronco is split three ways, with Simpson's former agent Mike Gilbert being among the owners (per Inside Edition via Yahoo News). Several years ago, Gilbert loaned the Bronco to Alcatraz East, where it can be viewed today.
There are more vehicles than just the O.J. Bronco
The Bronco from the infamous 1994 police chase isn't the only vehicle with ties to true crime on display at Alcatraz East. The museum also boasts that it has five other vehicles that are affiliated with high-profile criminal cases or for use in law enforcement. Motor Trend Magazine reports that two vehicles sit in front of the museum, allowing members of the non-paying public to get a close look at legendary rides. The 1933 Essex Terraplane used by notorious gangster John Dillinger can be viewed in all its splendor. Dillinger reportedly used this car to successfully flee the FBI during a high-speed chase. There's still a bullet hole in it from the event.
The 1968 Volkswagen Beetle that belonged to serial killer Ted Bundy is also on display. This particular vehicle was used to help Bundy get convicted as DNA evidence was extracted from it and used in court. Also held by the museum are a Sevier County Sheriff's car, a government surveillance van, and the 1934 Ford V8 used in the filming of the 1967 film "Bonnie and Clyde."
Alcatraz East is open for tours seven days a week.