Inside The Mysterious 2013 Death Of Patrick Mullins From Netflix's Unsolved Mysteries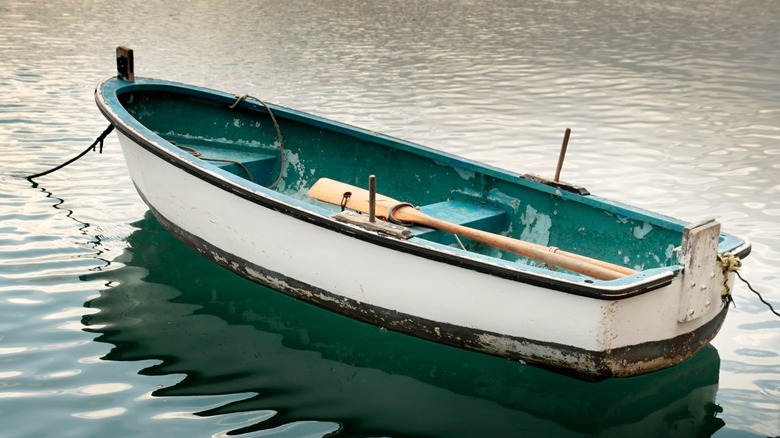 CreativeMedia.org.uk/Shutterstock
In 2013, just days after he disappeared, Patrick Mullins' body was found floating in a few feet of water in Tampa Bay. An experienced boater, Mullins was tied to the anchor of his own boat, based on Sarasota, Florida news outlet Herald-Tribune reporting. Mullins had suffered a shotgun blast to the head, and his death was at first ruled to be a suicide. Despite that official report, many inconsistencies and unexplained aspects of how Mullins died remain to this day. Some of those are explored in "Body in the Bay," episode seven of "Unsolved Mysteries" Season 3, available to watch now on Netflix.
Chief among the mysteries that remain surrounding Mullins' 2013 death: The high school librarian reportedly had no reason to kill himself, according to those closest to him; there's evidence that the investigation into his death was mishandled by the Manatee County Sheriff's office; and if Mullins really did kill himself, how can authorities explain signs that he was shot more than once, and the fact that Mullins never owned a shotgun, as the Herald-Tribune reports? For these reasons and more, after the Mullins' case was at first declared suicide, the official cause of death is now undetermined, as Newsweek notes.
There was no blood in the boat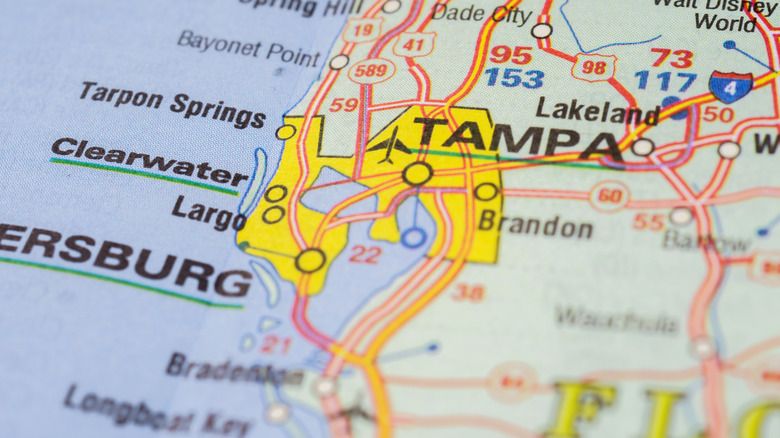 Alexander Lukatskiy/Shutterstock
According to the "Unsolved Mysteries" episode exploring Mullins' death (via Newsweek), there were also no signs of blood or blood splatters found in Mullins' boat, which is highly unusual if Mullins did in fact kill himself with a shotgun. What's more, Mullins, who was missing for several days prior to his discovery, showed few signs of decomposition and little evidence his body was scavenged by wildlife in the shark-infested waters of Tampa Bay (via Bay Soundings). 
There are several alternate theories about what actually happened, but not enough actual evidence to support any of them. One theory postulates that Mullins witnessed illegal activity while boating that day, and was killed to keep it quiet. Unsolved.com explains that Mullins' arms were found free, which could possibly explain how he tied himself to the anchor, though the shotgun blasts are also unconfirmed, and there's no evidence that Mullins ever purchased a gun. 
One possible suspect died in 2017
As the "Unsolved Mysteries" episode that addresses Mullins' death notes (via Newsweek), one possible suspect in the crime was a family friend named Damon Crestwood. Crestwood was reportedly a crystal meth user who died from a drug overdose in 2017, so his true involvement in Mullins' death may never be known. Circumstantial evidence that links Crestwood to the crime, though, includes the knot with which Mullins was tied to the anchor — a knot Crestwood knew how to tie — as well as the fact that Mullins' boat was found with a new scuff of red paint, later matched to Crestwood's boat.
According to Sarasota TV news station ABC 7, Mullins' wife Jill (pictured) — who believes her husband was murdered — said, "I've been told by many people let it go ... Pat was a very quiet and humble man, and he would hate that I pursued this. But nobody should get away with murder." Signs that local authorities reportedly mishandled the case involve those close to Mullins feeling pressured to accept the suicide explanation (via Herald-Tribune). The Mullins family has offered a $20,000 reward for information. 
On the Mullins case, Manatee County Sheriff's Office Lieutenant Ray Moss told ABC 7, "It's a case where we have lot of questions, but not a lot of facts."