Where The Macy's Thanksgiving Day Parade Balloons Are Kept All Year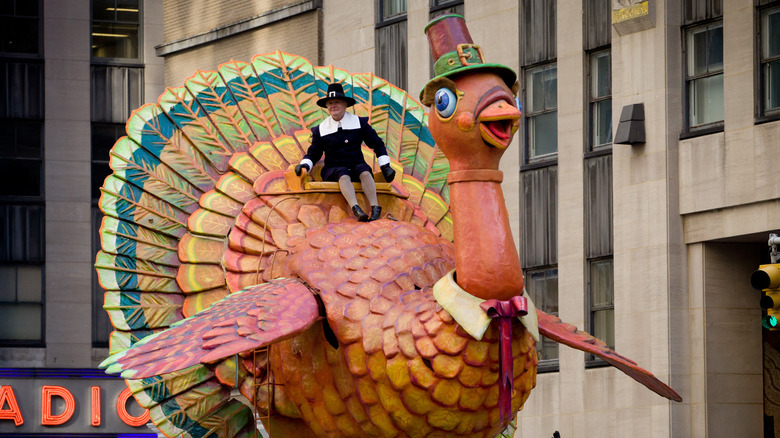 Photo Spirit/Shutterstock
Pop culture in the United States intertwines rather tightly with brands, many of which are household names. Though brands like Netflix and Disney have a massive presence in entertainment, pop culture is also associated with more physical items of consumerism. Things like Nike, Calvin Klein, and larger brands that reach further than clothing fit right in with everyday life.
With the rise of online shopping, major department stores like Sears and K-Mart have started to vanish, leaving massive empty buildings in their wake. However, Macy's is a brand of stores that has managed to fare a bit better in the 21st century. Though they did close some sites in 2022 (per WFTV), they have remained an icon of American retail.
Macy's began as a dry goods store in New York City in 1858. It moved to its current location at Herald's Square in 1902, just around the corner from Times Square. By 1924, it was the largest store in the world. That same year, Macy's put on their first parade, which eventually became known as the Macy's Thanksgiving Day Parade.
The balloons are created in a 72,000-square-foot warehouse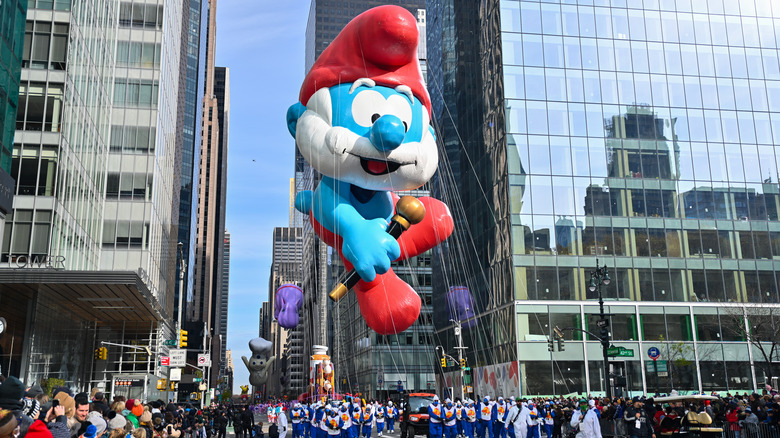 James Devaney/Getty Images
The Macy's Thanksgiving Day Parade is massive and covered live in New York City by the NBC television network. The parade route runs from the upper west side of Central Park down through midtown Manhattan (via Macy's). It ends at the Macy's location at Herald Square on 34th Street, from which the film "Miracle on 34th Street" takes its inspiration and name. The parade features colossal balloons, celebrity performances, and even high school marching bands.
Preparing for such an event is understandably a huge undertaking. A place as tightly packed as Manhattan is also not an ideal place to create balloon floats that are as large as those in the parade. Therefore, Macy's houses the creation of these balloons in the unassuming town of Moonachie, New Jersey. Artists work year-round in a 72,000-square-foot warehouse to create the balloon floats, according to the Macy's website. In the past, these included iconic characters like Pikachu, Ronald McDonald, SpongeBob, and Barney (via Pass It Down). According to a 2021 article posted by HowStuffWorks, an average balloon is going to be about six stories high, 30 feet wide, 60 feet long, and require as many as 90 handlers.
The parade costs over $11 million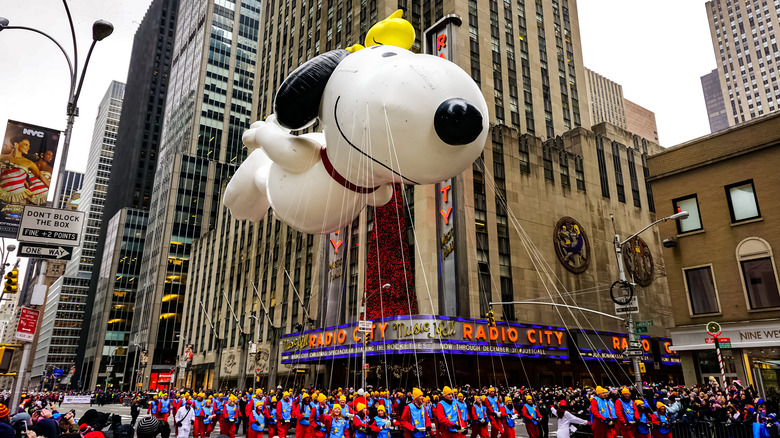 NYC Russ/Shutterstock
The artists who work at the warehouse in New Jersey see the floats from initial sketches to final product. By showtime, these artists have put in over 50,000 hours of work and designed over 4,000 costumes to go along with the floats (per Macy's). CBS News reported in 2019 that the total cost for the parade is usually between $11 million and $14 million. The helium for the balloon floats totals around $510,000. However, there are things that offset the costs. New companies looking to sponsor a float pay around $200,000 for a float. Returning companies only spend $90,000. Returning floats include the aforementioned Pikachu and Ronald McDonald.
This year marks the 96th Macy's Thanksgiving Day Parade. Among the floats are characters from PAW Patrol, the Pillsbury Dough Boy, and Papa Smurf. Celebrity guests on the lineup are Paula Abdul, Big Time Rush, and Gloria Estefan. And, as always, the parade will conclude with an appearance by Santa Claus (per Macy's Inc.).