How Eurythmics' Dave Stewart And Nelson Mandela's Unique Friendship Saved Lives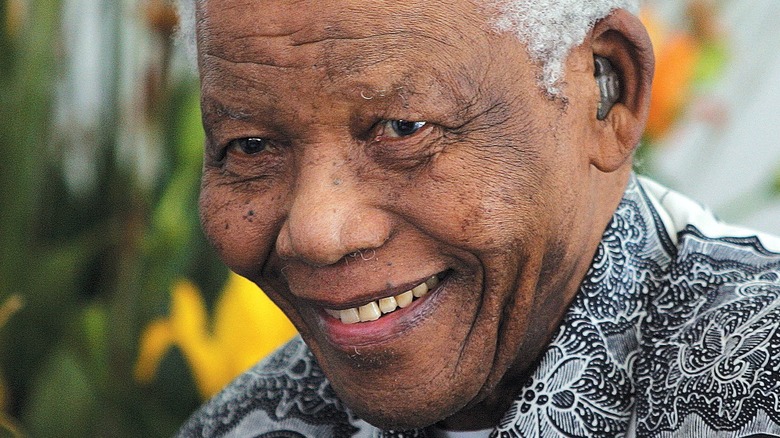 Media24/gallo Images/Getty Images
1980s-era synth-pop duo Eurythmics are among the 2022 class of Rock & Roll Hall of Fame inductees, via the museum's website. A number of music industry accomplishments justify Eurythmics' inclusion in the hall of fame. With a long list of best-selling albums and chart-topping singles to their credit, the group features the songwriting partnership of vocalist Annie Lennox and musician Dave Stewart (per AllMusic). Music aside, one lesser-known aspect of Stewart's time spent in the spotlight is his devotion to social activism. Nowhere is that fact better illustrated than in his long-time friendship and working partnership with South African anti-apartheid activist Nelson Mandela.
Stewart and Mandela first met at the first Free Nelson Mandela concert in 1988 at Wembley Stadium in London, and the English songwriter and South African social activist have since collaborated on a variety of important projects. That work culminated in the Nelson Mandela Foundation, 46664, and the 2003 "46664 — Give 1 Minute of Your Life to AIDS" concert held in Cape Town, South Africa, according to the Thirty-Three Productions website.
46664 was Mandela's prison number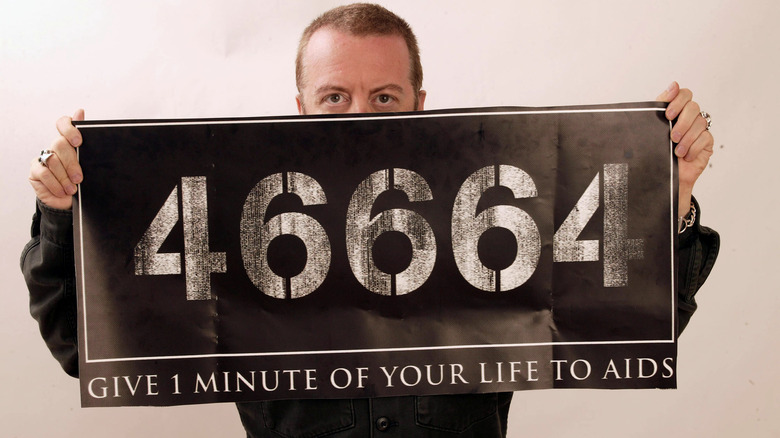 Dave Hogan/Getty Images
Speaking to NBC News in 2009, Dave Stewart himself explained that 46664 was Mandela's prison number. He was the 466th prisoner in Robben Island Prison, near Cape Town, where he was imprisoned in 1964 and served his sentence until 1982 before being transferred elsewhere, according to Britannica. Released in 1990, Mandela's long prison sentence was controversial, and well-known voices from all across the world called for his release. Mandela died at the age of 95 in 2013. As Stewart told NBC News, when he first met Mandela in the late 1980s, the social activist explained to him the significance of 46664 and how the number connected to that dark period in his life.
Recalling the conversation, Stewart said (via NBC News), "[Mandela] asked me if I would help with the concept that he had a prisoner number 46664, which was the most negative number in his life, and he wanted to turn into the most positive. I thought that was a brilliant thing, to make it a number that people could get information and awareness about the AIDS epidemic." The first stage of the 46664 project was a cell phone number that people could call to hear new music from stars like Stewart and Bono from U2. Those callers would then make donations supporting both the 46664 foundation and AIDS research. Stewart is pictured above with a 46664 concert banner.
The 46664 benefit concert raised AIDS awareness
Frank Micelotta/Getty Images
As the Thirty-Three Productions website notes, Dave Stewart (representing the 46664 Foundation) participated in the 2003 46664 concert in Cape Town alongside other well-known musicians like Brian May and Roger Taylor of Queen. Singers Beyoncé and Bono, as well as actress and beloved multi-media personality Oprah Winfrey, also participated in the project, which took place in a 60,000-person capacity football stadium (via NBC News). Stewart and Annie Lennox also performed as Eurythmics (pictured above). In total, more than 30 artists participated, reaching billions of people to help spread the word about the importance of AIDS research. 
Since then, other Nelson Mandela and 46664-related concerts and benefits have taken place. In 2009, Stewart said (via NBC News) that each Mandela-related event and benefit concert, which now most often happen on the late activist's birthday, serve to "remind people of who he was and who he is and what a great man he is and how that could help empower other individuals to make an imprint on the world." On the long friendship he shared with Mandela, Stewart said that prior to Mandela's death, he had "lots and lots of conversations with Nelson Mandela," and in those conversations, Stewart realized what an amazing person Mandela was.