What Steps Does A Person Have To Take If They Want To Sue A City's Police Department?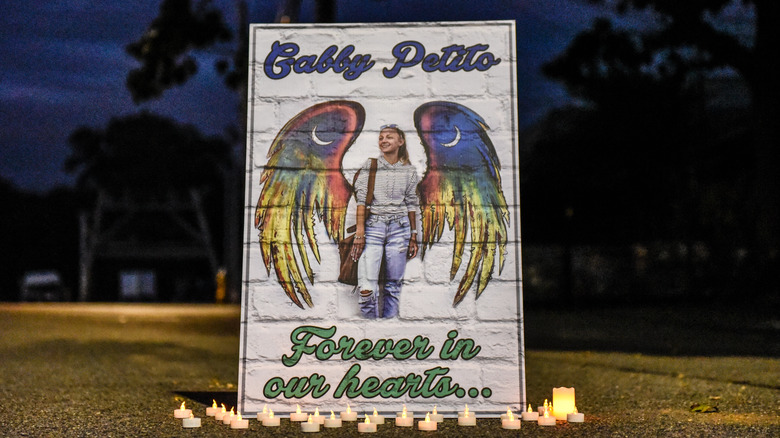 Stephanie Keith/Getty Images
In August 2021, aspiring #vanlife social media celebrity Gabby Petito and her boyfriend Brian Laundrie were questioned by police near Moab, Utah, over reports of domestic violence, based on The Salt Lake Tribune reporting. If not for the negligence of the Moab police who failed to intervene further on Petito's behalf, she might still be alive, according to allegations in a wrongful death lawsuit filed by the Petito family, as NPR reports.
When questioned by the Moab police, Petito and Laundrie were in the middle of a months-long cross country road trip. After they were questioned, the couple was allowed to leave. Petito was later found dead in Grand Teton National Park, and Laundrie's remains were later recovered in a Florida nature preserve near where he lived. Laundrie's death was ruled to be suicide, and in a written confession found with his body, he admitted he killed Petito, according to CNN.
According to the Morgan & Morgan law firm For the People website, such litigation is complicated.  But if a citizen's rights are found to be violated by the police, then lawsuits such as that filed by Petito's family against the Moab police department are an important part of our legal system.
Many types of police misconduct possibly warrant a lawsuit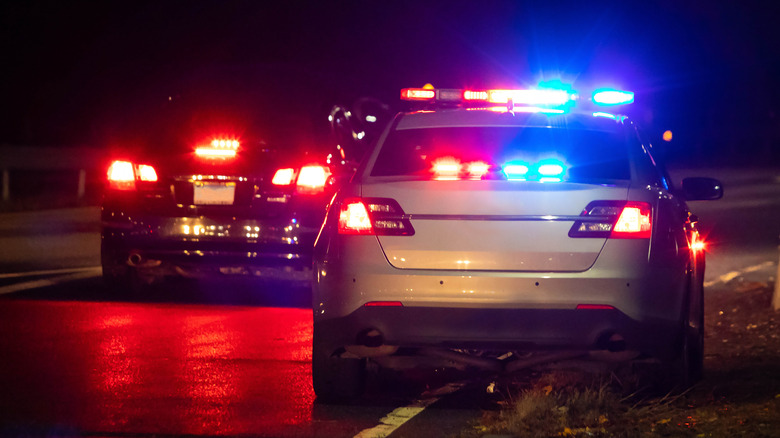 Photo Spirit/Shutterstock
As For the People goes on to note, litigation is an important tool civilians have if they believe their rights were violated by the police. Those violations might take the form of police misconduct, including, among other examples, excessive brutality, corruption, and perjury. As government agents, the police are charged with upholding the Constitution, and a number of police infractions could be seen as a violation of those outlined rights.
In the Petito case, the family alleges Moab police were negligent when they failed to cite Laundrie for domestic violence despite signs of abuse, according to NPR. As The U.S. Department of Justice website explains, litigation against a police department can be either civil or criminal in nature. According to the Department of Justice, the two types of cases are handled separately. Criminal cases involve individuals; civil cases involve agencies or "governmental authority."
In either situation, the individual whose constitutional rights were alleged to be violated by police misconduct is identified as a victim, and in turn, they will most often testify as a witness. As far as the Petito litigation, the family alleged Moab Police Officer Eric Pratt ignored evidence of domestic violence displayed by Petito and chose to believe Laundrie's version of events, instead.
A preponderance of evidence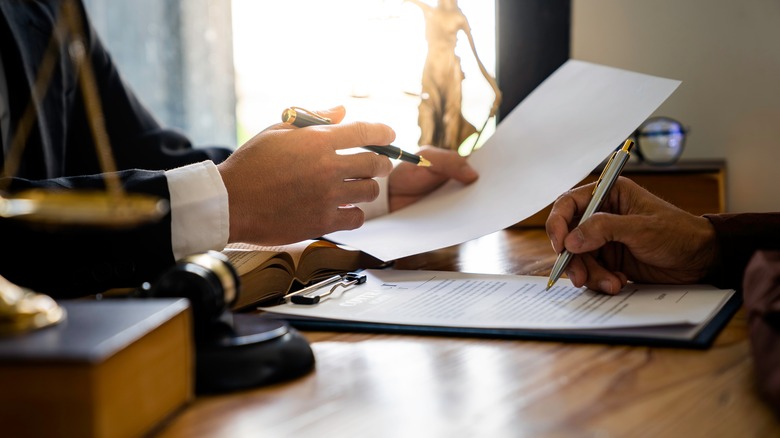 CrizzyStudio/Shutterstock
As the U.S. DOJ website goes on to note, in the instance of a criminal lawsuit brought against the police, misconduct must be proven beyond a reasonable doubt, while in a civil suit, most often brought by the DOJ against a department through a civilian complaint, a "preponderance of the evidence" is all that's necessary. Wrongful death litigation always falls under the civil category, according to the website of trial lawyer Ben Crump.
In certain instances, such as in case of discrimination, a pattern of misconduct must be established, as the DOJ also explains. Central to the Petito family's litigation against the Moab police department, Officer Pratt himself allegedly has a history of domestic violence, according to NPR reporting. The wrongful death lawsuit brought by the Petito family against the Moab Police Department is asking for $50 million in damages.
An independent investigation found the Moab police also failed to cite Petito for domestic violence after she confessed at the same traffic stop to hitting Laundrie. Of the lawsuit, Moab city spokesperson Lisa Adams said (via NPR), "No one could have predicted the tragedy that would occur weeks later and hundreds of miles away, and the City of Moab will ardently defend against this lawsuit."