The True Story Of How An Amateur Climatologist's Failed Earthquake Prediction Got School Canceled
In August 1990, Dr. Iben Browning predicted a major earthquake would occur along the New Madrid Fault around December 3 of that year. People had reason to believe him. He'd almost predicted the San Francisco earthquake of Oct. 17, 1989, his actual prediction being that a major earthquake would happen somewhere on Earth on October 16 (via KY3). Additionally, in September 1990, the New Madrid Seismic Zone was hit with a magnitude 4.7 earthquake, according to NPR. People thought this could be a prelude to the bigger one Browning had predicted, which he estimated at around a 6.5-7.5 magnitude (via 100.9).
KY3 explains Browning based his prediction on the fact that the moon would be unusually close to the Earth on December 3 and that the two bodies would be aligned with the sun. Though Browning claimed to be a "climatologist," his actual degree was in zoology, and earthquake experts didn't take him seriously.
But the New Madrid Fault's sensational history led further credence to his prediction in the eyes of non-experts. The earthquakes of 1811 and 1812 on the fault were infamous. Reports at the time said the quakes made the Mississippi River run backward and church bells ring as far away as Boston. The quakes — so strong they were felt in Canada — created Reelfoot Lake in Tennessee, as well as a temporary waterfall on the river itself (via St. Louis Post-Dispatch).
Earthquake preparations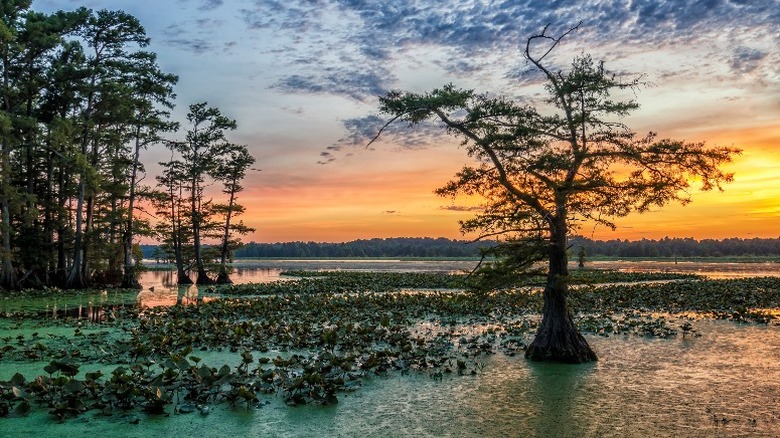 anthony heflin/Shutterstock
The earthquake prediction sent people into a frenzy in the areas nearest the fault line – roughly along the Mississippi River in the area near Missouri, Tennessee, Kentucky, Illinois, and Arkansas. Near Reelfoot Lake (pictured), residents were reporting weird phenomena to the local sheriff: boiling water, dead fish, and sulfur and snakes coming out of the lake. The sheriff didn't take it too seriously (via KY3).
In Memphis and St. Louis, people were stocking "Browning bunkers" with water, food, medical supplies, and other necessities (via St. Louis Post-Dispatch). Schools and businesses closed for the day or practiced earthquake drills, per WREG. Some residents even moved away completely.
In New Madrid, Missouri, at the heart of the seismic zone, the same stockpiling and school closures were happening, according to the St. Louis Post-Dispatch. The fire department's pumpers were at the ready in a reinforced building, and seven first aid stations were set up, staffed by volunteers. The police chief said they'd been preparing for three months, and people had been cooperative about it. Not everyone was concerned, though, even in New Madrid. An employer was giving out smoked turkeys so his employees would come into work anyway. The Missouri governor, John Ashcroft, continued with his plans to visit a local grain inspection office that day.
The day nothing happened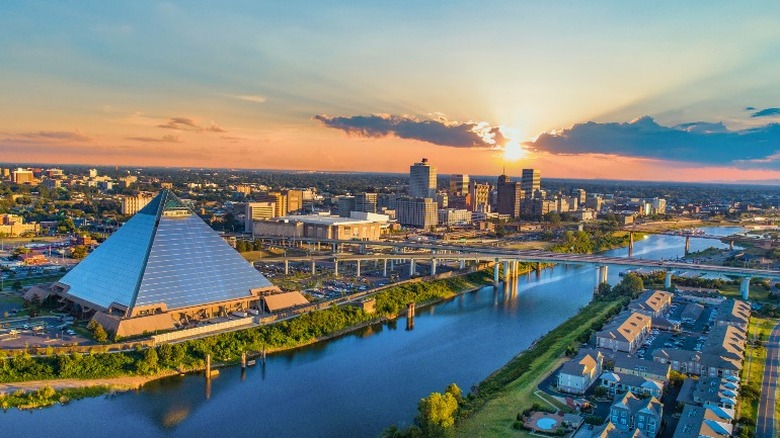 Kevin Ruck/Shutterstock
Ashcroft wasn't alone in his nonchalance. While some residents fled, people were coming into the area from out of town to witness the earthquake, KY3 said. In Memphis (pictured), a nightclub called The Fault Line offered Earthquake Shakes and promoted the "Crack Dance." People sold "seismic earthquake repellent" with the slogan "a few quick squirts keeps those nasty earthquakes away." Earthquake-themed shirts were also popular, reading, "are you staying or are you leaving?" (via WREG). The same shirts are now selling for as much as $100 on eBay, according to 100.9, a Quincy, Ill., radio station.
Come December 3: no earthquake. The day passed uneventfully. Browning was mocked for his false prediction, winning the very first Chicken Little Award from the National Anxiety Center for "scaring the daylights out of people in seven Midwestern states" and creating "one of the most dubious news stories of the year" (via St. Louis Post-Dispatch).
Just because Browning was wrong doesn't mean the New Madrid zone could never see another massive earthquake. However, according to NPR, experts say that over a 50-year period, there's only a 7-10% probability of an earthquake of the magnitude of those in 1811-1812 happening in the area.