Meet Titanoboa: The Monster Snake That Weighed Up To 2,500 Pounds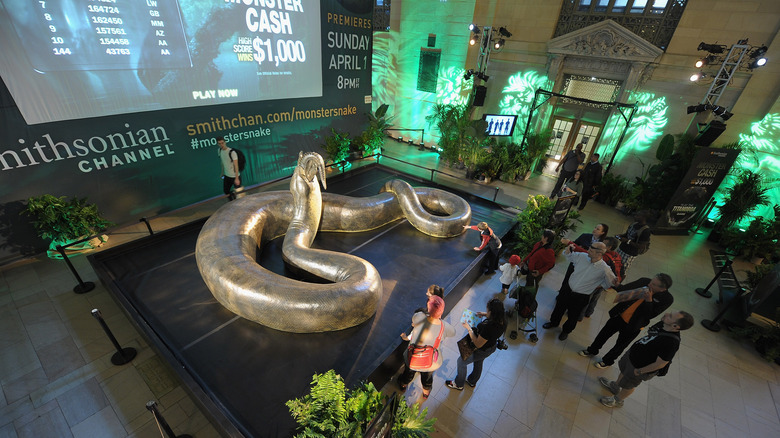 Michael Loccisano/Getty Images
Imagine you're taking a hike through a swampy area, or perhaps a rainforest. You're seeing all of the amazing wildlife, the magnificent trees that reach over the clouds, and the exotic fauna and flora that seems to be everywhere. But then, as you are strolling through, a 40-foot-long, 2,500-pound snake comes slithering up to you, ready to devour your entire body! Seems like a nightmare or something straight out of a fantasy book, doesn't it? Well, if you lived roughly 60 million years ago, this might've actually been a reality.
This creature is called the Titanoboa, and it is absolutely terrifying. It is currently the largest snake scientists have ever discovered, and around 30 different specimens have been recovered of this species, according to Britannica. It was discovered in 2004 when miners in the Cerrejón mine in Columbia discovered some remains of the creature. Most of the fossils that have been recovered of the snake species have been vertebrae, as is common with most other serpents. However, one specimen was almost fully in tact, with a skull and everything.
The habitat of the Titanoboa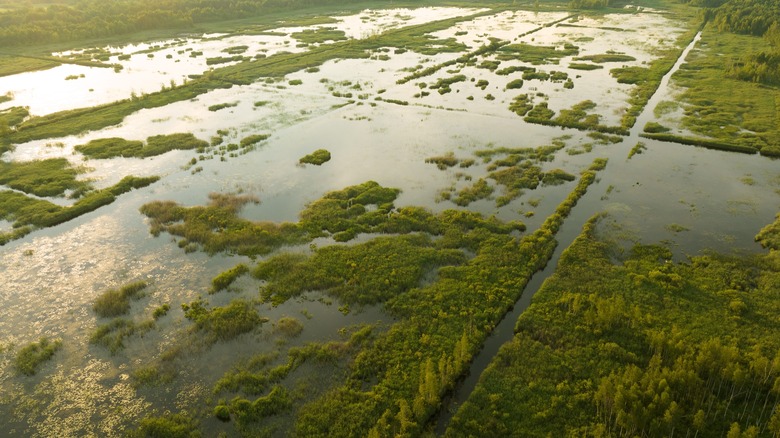 Maksim Safaniuk/Shutterstock
The Titanoboa most likely lived during the Paleocene period, shortly after the dinosaurs went extinct. During this time, Earth's climate was much warmer than it was today, and this would've allowed a snake to get as large as the Titanoboa, since the ability for snakes to grow is largely dependent on climate, according to Britannica. It most likely lived in swampy environments, where it would eat much of its prey underwater.
The Titanoboa was most likely a generalist consumer, much like its other snake descendants. Snakes will eat anything, but more often than not eat what is most available to them, or what is the easiest prey, according to Prehistoric Wildlife. It may have been likely that since the Titanoboa was found near a more swampy area, that much of its prey probably consisted of fish, turtles, and even crocodiles. This may help explain why many turtles found in the same region as the Titanoboa have larger shells, since it could theoretically protect them from predators such as the Titanoboa (via Prehistoric Wildlife).
Don't move a muscle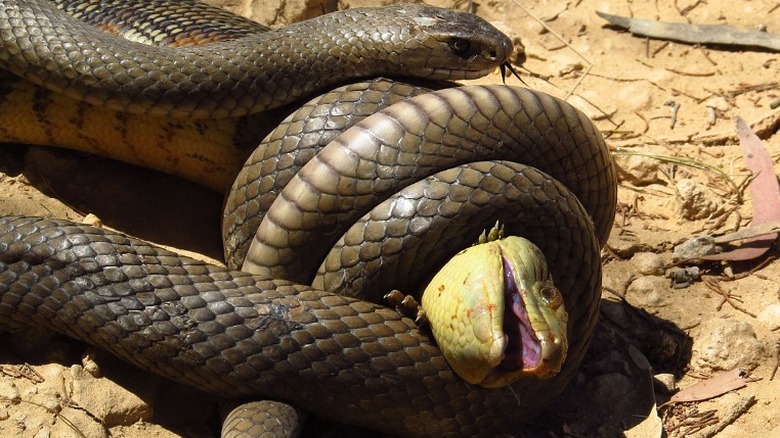 Shutterstock
Don't get too relaxed yet. Remember, the Titanoboa would consume everything that it could get its tail on, and that could've included those funny-looking primates we know as humans. But the way this devilish creature would eat its prey was terrifying in itself. It was once thought that boa snakes killed their prey by constricting the oxygen supply before devouring its prety whole, but the truth may be even more morbid. This evidence comes from an older study in 2015, but in the paper, scientists believe they discovered that these snakes actually cut off the blood circulation of their prey, completely killing it before eating, according to National Geographic.
Compared to their venomous cousins, boa snakes also have teeth, but they aren't used for the purpose of poisoning other creatures. These teeth are hook-shaped and grapple into their prey's skin, making it nearly impossible to pull yourself out of its grips, according to Prehistoric Wildlife. This made these snakes fearsome predators to watch out for, and we can all be thankful that their legacy is left solely on the pages of history.