How 49ers Player Steve Young Has A Connection To The Earliest Days Of Utah History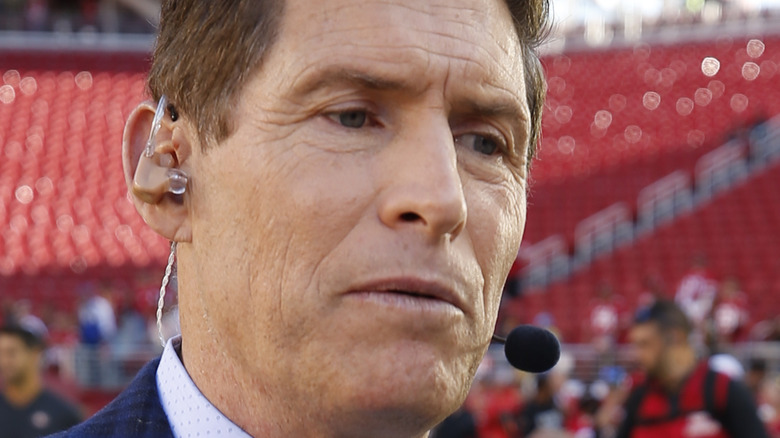 Michael Zagaris/Getty Images
Steve Young started his National Football League career with the Tampa Bay Buccaneers, but in 1987, they traded him to the San Francisco 49ers — a trade that would open up an opportunity for Young to make football history, per the Pro Football Hall of Fame. In 1991, starting 49ers quarterback Joe Montana was injured, and Young got the chance to helm the team's offense. He went on to become one of two quarterbacks in history (the other being Sammy Baugh) to attain six NFL passing crowns.
In total, Young threw 20 or more touchdown passes per season over five different seasons, according to the Pro Football Hall of Fame. He threw 3,000 or more yards on six different occasions. He also notched 43 rushing touchdowns and ran a total of 4,239 yards.
Young was declared the league's Most Valuable Player twice. He earned all-NFC honors thrice. And he joined the Pro Bowl seven times over the course of his career, per the Pro Football Hall of Fame. He signed on with ESPN in 2001 and was inducted into the Pro Football Hall of Fame in 2005, according to Sportscasting.
Young has a famous great-great-great-grandfather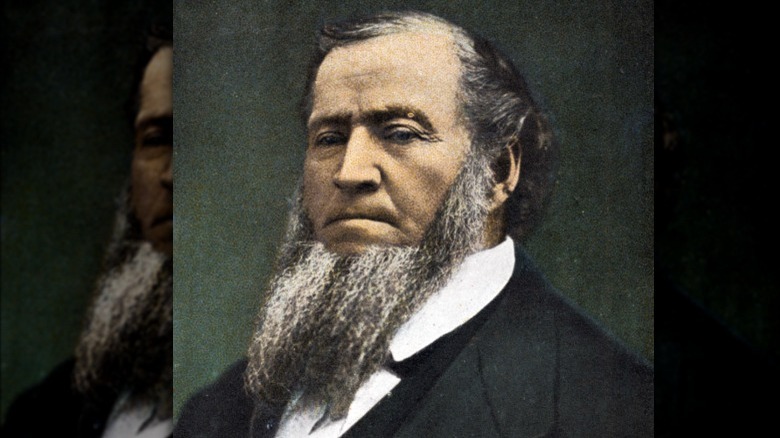 Culture Club/Getty Images
But for all he's accomplished in his own life, Steve Young has another claim to fame: He's the great-great-great-grandson of Brigham Young, who followed Joseph Smith, the founder of the Church of Jesus Christ of Latter-day Saints, as the leader of the church. As Steve told NPR in 2016, he is indeed a descendant of Brigham, who had 55 wives and 56 or 57 children. Steve Young himself is a practicing member of the church.
After a violent mob killed Smith in 1844, Brigham led a migration of a group of Latter-day Saints from their settlement in Nauvoo, Illinois to the Great Salt Lake Valley, per History. They arrived at their destination in the summer of 1847. In 1848, Brigham was formally declared the church's new president.
The following decades of Brigham's life remain controversial to this day. Besides embracing polygamy, he liked to compare himself to the prophets of ancient times, and upon being appointed governor of the newly-minted Utah Territory in 1850, he elevated church doctrine above the laws on the books, according to History. He died in Salt Lake City in 1877, age 76.
Becoming a football legend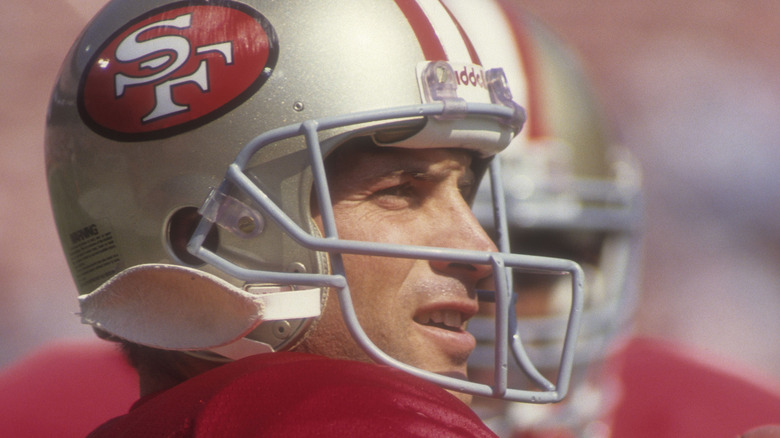 Al Pereira/Getty Images
However, those details tend not to take center stage at Brigham Young University, where Steve Young attended college and played quarterback for the BYU Cougars. According to Sportscasting, Young led BYU to a 30-7 record during his three seasons as quarterback. He scored 33 touchdowns over the course of his regular-season games.
In Young's senior year, his school set a new NCAA record with an average of 584.2 yards of offense per game (370.5 of which were thanks to plays by Young), per BYU Football Fandom. Young would go on to be inducted into the College Football Hall of Fame. He also won the National Quarterback Davey O'Brien Award, for America's best collegiate quarterback of the year.
All those achievements foreshadowed Young's professional success, which has made him a legend of the sport. And while he's happy with his life post-NFL, he still looks back on his glory days, providing football commentary and speaking out on issues like concussions in contact sports. "The demands of excellent NFL quarterbacking I always said took every piece of me, emotionally, physically, mentally, spiritually. It was like it just took it all, and I think that was what was so energizing about it and unreplicable," Young told Frontline in 2013. "My life is more sublime now. It's wonderful. It's better in many ways, but you can't say, 'Oh, I'm going to find that somewhere else.' You just can't."