Creepy Presidential Assassin Facts
Getty Images
Throughout American history, there have been numerous attempts to assassinate the president. Some assassins have succeeded; others failed. Regardless of the outcome, the dudes doing the dirty work turned out to be legitimately (and unsurprisingly) creepy. From President Lincoln to Reagan, check out some truly bone-chilling facts about the men who attempted to—and in some cases were able to—take the lives of our nation's most powerful leaders.
Lincoln saw a play starring John Wilkes Booth long before he was killed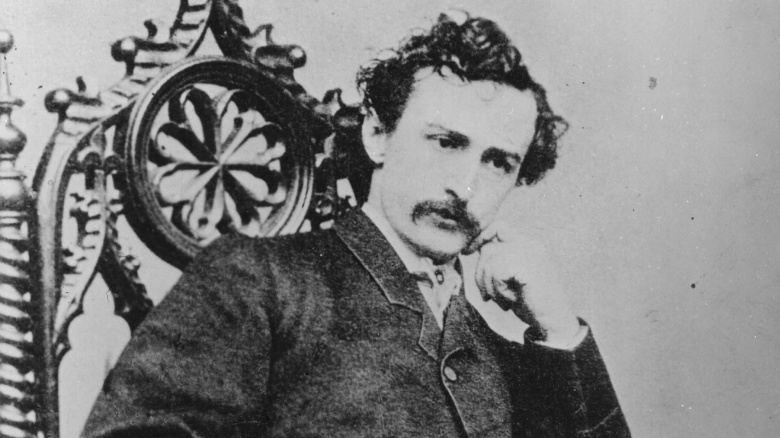 Getty Images
About a year and a half before President Abraham Lincoln was assassinated by John Wilkes Booth at Ford's Theater in Washington, D.C., the duo actually met under eerily similar circumstances. According to the New York Times, Lincoln attended a production of Charles Selby's play The Marble Heart at Ford's Theater on November 9, 1863, in which Ford played the lead role. If that wasn't creepy enough: according to the Times, one of the guests who accompanied Lincoln to the theater, Mary Clay, noticed that during the play, Booth appeared at times to be reciting his lines directly at Lincoln. "Twice, Booth in uttering disagreeable threats in the play came very near and put his finger close to Mr. Lincoln's face," Clay wrote. "When he came a third time I was impressed by it, and said, 'Mr. Lincoln, he looks as if he meant that for you.' 'Well,' he said, 'he does look pretty sharp at me, doesn't he?'" Incidentally, the Times report also pointed out an incident in which Robert Todd Lincoln, the oldest son of President Lincoln, was unknowingly rescued by Booth's brother, Edward, after Robert Todd fell onto the tracks at a train station in Jersey City.
Richard Lawrence thought he was going to become the King of England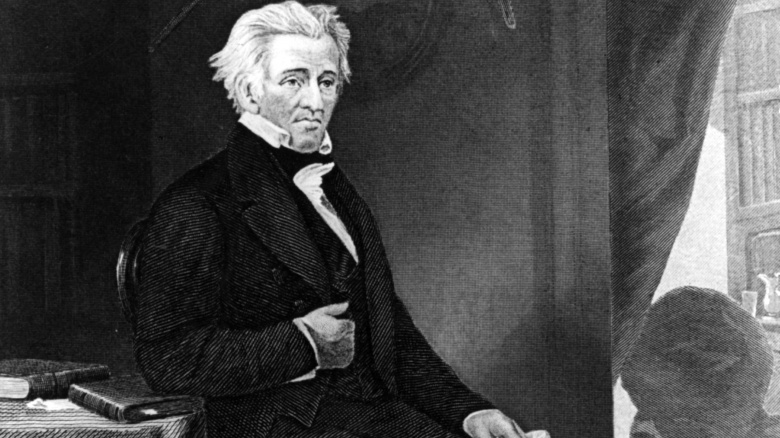 Getty Images
Whenever you hear about a murder or an attempted murder, one of the first thoughts that always comes to mind is, "How could a person do that to somebody else?" In the case of Richard Lawrence, who attempted (and failed) to assassinate Andrew Jackson in 1835, the answer was fairly obvious: the dude was just plain crazy. Recapping the January 30, 1835 incident, Politico says that Lawrence went after Jackson because he claimed the U.S. Government owed him a whole lot of cash and Jackson was somehow keeping him from getting it. Even crazier, Lawrence allegedly thought that getting the money would "allow him to take his rightful place as King Richard III of England." Subsequent reports also write that Lawrence claimed he was going to become the King of Rome, as well, making him sound straight out of a horror movie from the 1960s. Naturally, Lawrence spent the rest of his life in mental institutions.
President Garfield was nearly shot weeks before his assassination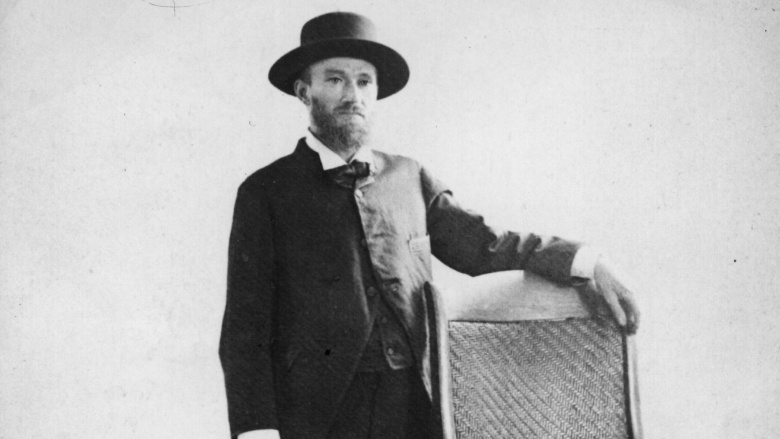 Getty Images
One of the most terrifying parts of reading about certain murders is finding out that they were heavily pre-meditated. Such was the case for Charles J. Guiteau, who shot and killed President James A. Garfield on July 2, 1881. According to a New York Times article published on October 8, 1881, Guiteau confessed that he had been tracking Garfield from May 18 until Garfield's fateful day on July 2, waiting for the perfect opportunity to strike. Guiteau actually came close to pulling the trigger when Garfield visited Long Branch, New Jersey, in June, but held off due to Garfield wife's ailing condition. "My mind was made up," Giuteau confessed, according to the Times. "I had all my papers with me; I had all the arrangements to shoot him...[But] Mrs. Garfield looked so thin and she clung so tenderly to the President's arm that I did not have the heart to fire on him." Instead, he went and sat in a park for a few hours.
John Schrank: President McKinley told me to shoot Teddy Roosevelt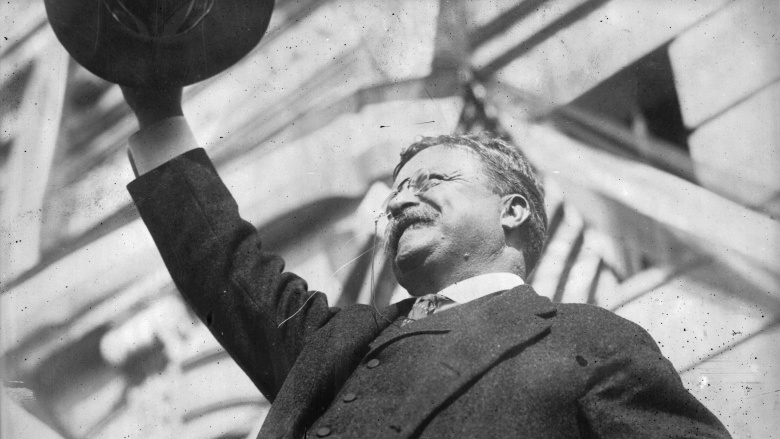 Getty Images
One of the weirdest facts about John Schrank's failed attempt to assassinate Theodore Roosevelt is that it was linked to Leon Czolgosz's assassination of President William McKinley about 11 years prior. Well, if you believe insanely wacky dreams from a clearly mentally unstable person, anyway. In his horrifying confession, Schrank—who shot Roosevelt outside a Milwaukee hotel in 1912—revealed, "I was living at my home address at the time, but soon after I had a dream in which former President McKinley appeared to me." Then, his confession took a turn for the crazy: "I was told by McKinley in this dream that it was not Czologsz who murdered him, but Roosevelt. McKinley...told me that his blood was on Roosevelt's hand, and that Roosevelt had killed him so that he might become President." Cut to: everyone slowly stepping away from Schrank.
Giuseppe Zangar's last words were bizarre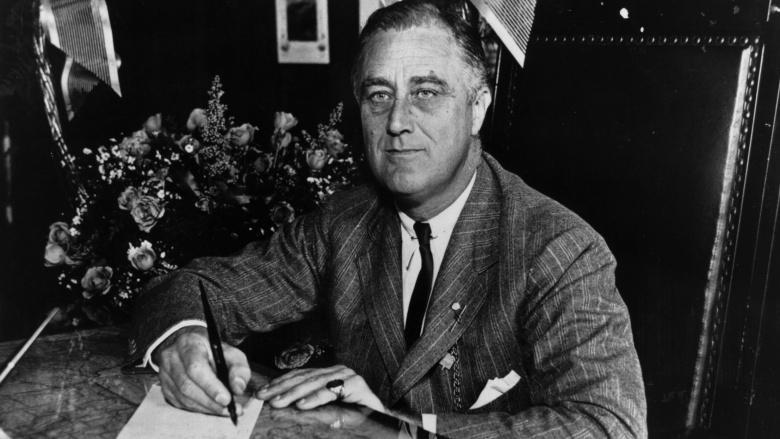 Getty Images
Although it doesn't receive much coverage today, President-elect Franklin D. Roosevelt almost didn't make it to the White House. Just weeks before his inauguration, Roosevelt was the target of a failed assassination attempt by a man named Giuseppe Zangara on February 15, 1933, in Miami, Florida. The incident—which ultimately killed two other people, including then-Mayor of Chicago, Anton Cermak—led to a quick arrest and an equally swift conviction; Zangara was executed by the electric chair on March 20. And it was on that day in which Zangara exhibited behavior that would send a chill down any normal-thinking person's spine. According to a review of a book written about Zangara (via the Florida Department of Corrections), Zangara was described as "stoic" and "cocky" in the minutes before he was executed; like a "man hopping into a barber's chair." Case in point: the terrifying final words he gave to the sheriff who performed the execution. "Pusha da button!" Zangara declared. Yikes.
John Hinckley, Jr. really, really loved Jodie Foster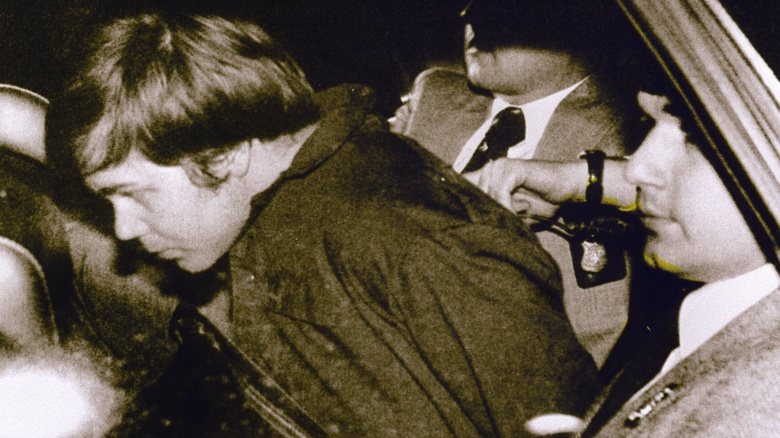 Getty Images
Attempting to assassinate the President of the United States is crazy in of itself. But doing it to try to impress a famous actress is just plain nuts. Such was true of John Hinckley Jr., who famously shot and wounded President Ronald Reagen in 1981 in a bizarre attempt to impress Jodie Foster. About an hour before Hinckley's assassination attempt occurred, Hinckley penned a letter to Foster, whom he had been stalking for months, declaring his intentions. "I am doing all of this for your sake!' he wrote in one of many letters to Foster. "By sacrificing my freedom and possibly my life, I hope to change your mind about me." Suffice it to say, Foster never changed her mind; Hinckey was sentenced to live in a mental hospital later that year. Ironically, Foster came out as a lesbian in 2013.