Why James Cromwell's Role In Babe Led Him To Become A Vegan Activist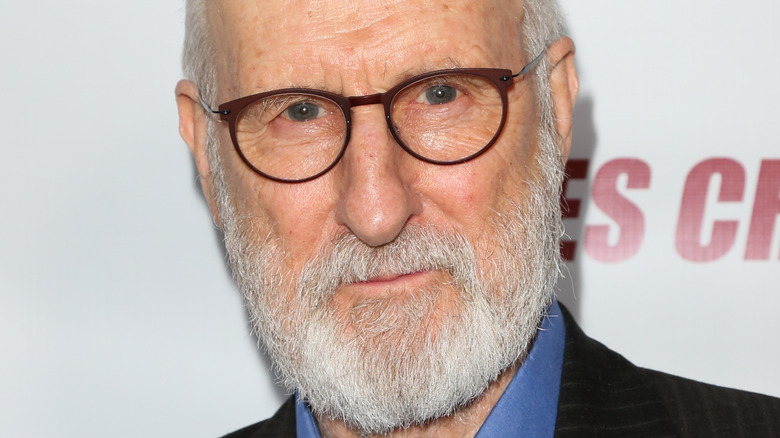 Paul Archuleta/Getty Images
People go vegan for different reasons. Some want to be kinder to animals, others want to leave a lighter footprint on the planet, and others do it for their health. But actor James Cromwell's inspiration came in a most unusual way. He decided to become a vegan while he played a film role alongside a cast of farm animals in the 1995 hit movie "Babe."
In the movie, Cromwell plays a kind farmer named Arthur Hoggett who wins a piglet at the county fair. Babe, as the piglet is named, is destined to become Christmas dinner until Hoggett spares his life and soon learns Babe is no ordinary pig.
Cromwell's real-life decision to become a vegan seems to take a cue from the movie's plot. Cromwell had been a vegetarian since the mid-1970's, according to Vintage News. But while working on Babe his views progressed and he decided to spare animals' lives, much like Hoggett decided to save Babe.
Going whole hog
Why go from vegetarian to vegan? James Cromwell explained his motivation to TakePart saying it happened during the filming (via VintageNews). "I was doing a picture in Australia called 'Babe,' working with a lot of animals and animal trainers. I cared about their welfare and then, of course, you have lunch and it's all there in front of you, and I thought, I should go the whole hog, so to speak. So I made that decision and kept that during the shooting. When I came back, I got involved with PETA, and of course, the film opened and it was very successful".
Successful is an understatement. "Babe "grossed more than $250 million and is widely recognized as a classic, according to Forbes. The tale with its sweet, talking farm animals, and precious piglet who goes on to become a sheepherding pig, is loved by both children and adults alike. Cromwell earned a Best Supporting Actor Oscar nomination for his role in the film. He's also gained prominence for his roles in "Succession," "Six Feet Under," and "ER."
Vegan and animal activist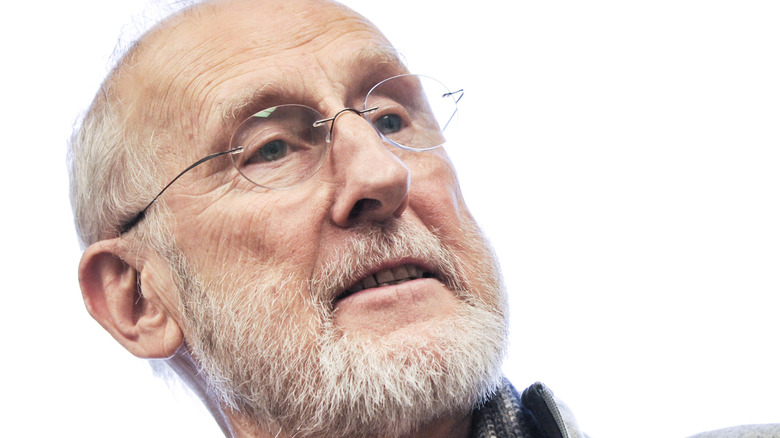 Kris Connor/Getty Images
In January of 2022, James Cromwell voiced a pro-vegan ad released in the U.K. encouraging people to try going vegan. "Do the planet and yourself a favor. Take the Veganuary challenge. Make a difference with little or no effort," he told PlantBasedNews. 
In addition to his support for the vegan lifestyle, Cromwell is an animal advocate who's not afraid to speak up for animals. In May of 2022, he took part in a protest at a New York Starbucks in which he glued his hand to the counter to bring attention to the coffee chain's upcharge for non-dairy milk substitutes, according to Deadline.  He also narrated a documentary exposing animal welfare issues in the meat and dairy industries called Farm to Fridge. Some of the PETA protests he's taken part in, including one at SeaWorld in San Diego in 2017, led to arrests, according to Deadline. But the actor remains committed to protecting animals.
In the movie Babe, Hoggett takes Babe to the county fair where he's chided by almost everyone for believing a pig can herd sheep. But Babe succeeds at his task and gets the most points, earning newfound respect for his owner. That's when Cromwell in his understated way utters one of the most memorable lines of the movie — a line that seems to convey the kindness and respect for a fellow creature that Cromwell has taken beyond the big screen — "That'll do, Pig. That'll do."