The Death Of Gallagher Explained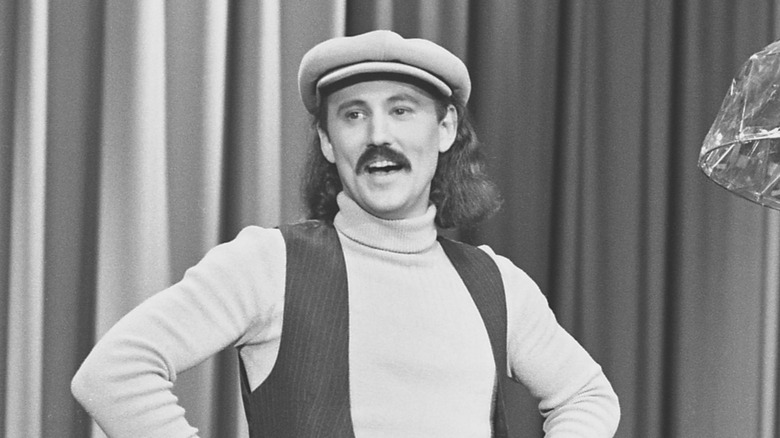 Michael Ochs Archives/Getty Images
The world of comedy lost another legend on November 11, 2022, with the death of Gallagher. TMZ reported that the prop comic's long-time manager informed the outlet that his client had been experiencing ill health for an undisclosed number of years, citing massive organ failure as the cause of death. Gallagher had previously had multiple heart attacks and collapsed on stage during a March 2011 show in Rochester, Minnesota (via TMZ). He was 76.
Born Leo Anthony Gallagher, Jr., Gallagher was a chemist by trade while he honed his comedy skills (per KPCC). He got his break on "The Tonight Show" in the 1970s, performing for Johnny Carson's late-night audience. From his debut in 1975 until his final performance a decade later, he appeared a total of 18 times on the show (via IMDb).
Gallagher was a comedy machine in the 1980s, writing and performing 11 standup comedy specials. The following decade saw some continued successes, but the shows were certainly past their peak. Nonetheless, he still amassed quite the comedy resume. His 14 Showtime specials cemented him in fame, as does his impressive 3,500+ live shows. His booking website boasts that he was the "No. 1 comedian in ticket sales and ratings" for over a decade.
In 2004, Comedy Central released its list of the top 100 comics of all time. Gallagher was rated at #100. Last, but still on an impressive list that includes comedy greats Richard Pryor, Lenny Bruce, Phyliss Diller, and Wanda Sykes (via IMDb).
Gallagher's signature Sledge-O-Matic was the subject of some controversy
Michael Ochs Archives/Getty
Gallagher's signature closing bit was to bring out his handy Sledge-O-Matic and morph his comedy routine into a mock infomercial. The product itself was a giant mallet that the comic used to smash various items that he placed on a stool in front of the stage. Audiences would get a lot of wet debris from his downward swings, which culminated in him using the prop to smash watermelons. The audience in the first several rows were known to bring clear plastic to shield them from his closer, and many of them can be seen wearing ponchos. This bit got him sued after a woman in a 1990 audience claimed she was struck in the head by debris, causing harm and loss of wages from injury. The Los Angeles Times reports that a jury found in the comedian's favor after a 1993 trial.
Gallagher's jokes weren't all about drenching his audiences with smashed fruits and vegetables. Aside from the prop comedy and observational humor he was most known for, modern audiences have taken issue with some of the homophobic material he used to generate laughter during the 1980s and early 1990s. In a 2011 interview with fellow comedian and podcast host Marc Maron, Gallagher is taken to task for his use of controversial material. The Portland Mercury tells us that Maron was patiently trying to explain why racial and ethnic stereotypes can be hurtful, but it was to no avail. Angered by Maron's line of questioning, Gallagher stormed out of the interview after a heated argument.